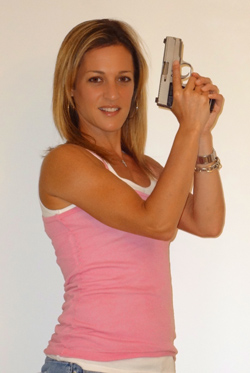 "Washington D.C. is a city of Southern efficiency and Northern charm."  –John F. Kennedy.
Washington Times senior editor Emily Miller once encountered a gang of burglars armed with nothing more than her Blackberry phone, and like any sane person she reckons she'll need a bit more firepower if that sort of thing ever happens again.  Bucking all of our stereotypes about both East Coast city-dwellers and professional women, Ms. Millier (pictured) wants a handgun for self-protection.
Years after the Supreme Court's decision in District of Columbia v. Heller, handguns are still rarer than hen's teeth in The District.  But Miller isn't taking DC's draconian, Orwellian and Kafka-esque gun ban control scheme sitting down.   Instead, she's taking her Quixotic quest public on her blog and twitter feed as she tries to navigate the corrupt, inbred, and despotic DC bureaucracy and obtain the unobtainable: a District of Columbia handgun permit.  And a handgun.
Lots of folks in her situation would take a much easier route (GTFO of DC, and move to Virginia) but Miller has the guts to stand and fight for her safety and her constitutional rights.  This gumption is all too rare in big-city news desks (cough New York Times cough) and Miller may have just become my favorite big-city newspaper editor ever.
She deserves respect for her willingness to Fight the Good Fight, and for her laudable trigger discipline. I expect she'll kick ass and take names, or maybe name names and kick ass. Either way, I don't envy her the process.
Her photographer, however, could use some help: with the all-white drywall backdrop, this photo looks like Farago might have taken it in his office.
If I could offer one bit of advice to our new Dona Quixote, it would be this: make sure your Sancho Panza is a lawyer.