Snowflake objects to being labeled a snowflake . . . NRA Recruitment Video Basically Labels the Left Violent Snowflakes
So, basically, the NRA thinks "they," or the "left," are violent, even though they've repeatedly referred to those on the left as basically having the fortitude of snowflakes.

So these violent snowflakes, the ones who are still waiting for the NRA to speak about the police killing of Philando Castile, and countless similar deaths at the hands of police officers, are the ones the NRA needs protection from. And NRA members need to protect themselves by arming themselves with guns.

OK. Got it.
This was somehow published by The Trace…and Mikey Moneybags isn't going to be happy about that . . . My Abuser Shot and Killed Our Son. I Found Healing at the Gun Range.
I told my parents, "You guys have to get rid of [your guns], don't clean them in front of me, don't have them near me, I don't want to see them." As time went on, I had to face that head-on because owning and shooting guns is big in my family. I thought, "I can't force them to change their lives because of my fears and maybe this is one fear I have to conquer." And so, one day I said: "He shot me with a 9mm Glock, and that's the gun I want to shoot."

So I got a Glock; a 9mm. We went out to a friend's junkyard in Colorado. I will never forget it. Even just talking about it makes me choke up. I remember how difficult it was to feel the force that killed my son.

I was with my husband, my stepdad, my mom, and my younger brother. It was this big family event. They taught me about gun safety, and I started shooting. I cried my eyes out. While we were driving back, my stepdad talked and talked about what a good shot I was.
Looks like a baffle system may be in their future . . . Sig Sauer gun ranges closed after bullets found to be falling on Route 101
State police announced the range closure Monday following an investigation that began in April when Kristen Burke of Hampton reported that a bullet had struck her windshield while she was traveling westbound between Exits 7 and 8.

According to state police, detectives concluded that the round that hit Burke's car likely came from Sig Sauer, which is located just north of the area where it was struck.

State police said that while the investigation revealed that rounds being fired from the ranges at Sig Sauer were falling onto Route 101, they determined that the bullet that shattered Burke's windshield wasn't fired from a pistol at the time that she was passing through the area.

The results of the investigation have forced Sig Sauer to shut down the firing ranges facing Route 101 until a proper round retention system is installed, state police said.
Finding out the hard way that removing a magazine doesn't mean the chamber is empty . . . Teen charged in friend's death didn't think gun would discharge, he told St. Louis County police
Edwards, of the 1200 block of June Avenue in unincorporated north St. Louis County, admitted to officers that he pointed a gun at his friend's head and pulled the trigger. But he told officers that he "did not believe the firearm would discharge without the magazine inserted."

St. Louis County Police Officer Benjamin Granda said the two teens were friends. Granda said he didn't know why Edwards pointed the gun at Hatcher.
Someone had a tragic boating accident . . . Father, son on fishing trip haul rifle from Augusta river
A father and son reeled in an unexpected catch on the Kennebec River over the weekend — a rusted bolt-action rifle.

The unidentified pair were fishing near the northern end of Canal Street when they brought in a Remington 700 with scope and bipod still attached and several rounds in the magazine, according to the Kennebec Journal.
New From Strike Industries: Viper PDW Stock
The Strike Industries Viper PDW stock represents the pinnacle of ultra compact PDW systems. At the compressed position, the compact Viper PDW allows for effortless maneuverability particularly in close quarters and vehicular operations. With the press of a button, the rapid deployment system instantly springs to the extended position for greater shot stability. Previous PDW systems for ARs have been notorious for expensive proprietary systems, spotty reliability and poor ergonomics.

The Viper Stock is designed to able to drop into your existing platform. The buffer system is carefully engineered to provide for high reliability while allowing for the use of standard bolt carriers, allowing for multi-role use with a single system. The included flat wire spring increases bolt load despite the compact dimensions for greater reliability, even in extreme short barrel configurations.
Incremental progress in Washington state . . . Another stun gun ban repealed, this one in Tacoma
Yesterday, the City Council of Tacoma (the third-largest city in Washington) repealed its stun gun ban; thanks to Stephen Stamboulieh and Phil Watson of the Firearms Policy Coalition. In recent years, stun gun bans have also been invalidated or repealed in Michigan; New Jersey; Wisconsin; the District of Columbia; the Virgin Islands; New Orleans; Overland Park (the second-largest city in Kansas); and Annapolis, Baltimore, Anne Arundel County, Baltimore County, Harford County and Howard County (all in Maryland).
Shannon's tired, bless her heart . . . I Am Tired Of Correcting Joe Scarborough — Gun Safety Is A Winning Issue
I am tired of correcting Joe Scarborough. Nearly every day, Joe Scarborough gets on the air, or Twitter, or writes a Washington Post column claiming that Democrats are losing elections because they're not "pro-gun" enough. Well, Joe ― and everyone else who likes to peddle this falsehood  ― do I have some morning java for you. Not only is gun violence prevention supported by a majority of Americans from both parties, but it is also a winning issue. …

So given the new polling showing that Americans support gun safety and aren't aligned with the NRA, why does Joe Scarborough believe candidates need a high rating from the NRA to win? An A-rating from the NRA signifies a candidate supports the gun lobby's dangerous agenda of rejecting background checks, arming abusers, and supporting open and permitless carry. That high rating may earn you support from certain members of Congress, but not from your constituents.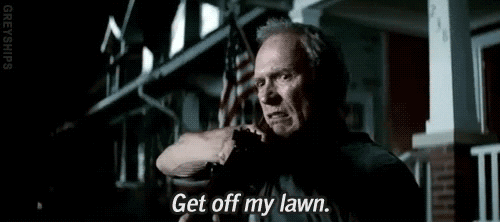 Thank God Steffie wasn't on the old man's lawn . . . Police: Elderly man threatens neighbor with rifle to turn down music
Police say Robert Woollam, 76, was upset about music his neighbor, Samuel Steffie, 46, was playing in his yard. Wollam went into Steffie's back yard armed with a rifle, pointed it at him and demanded he turn down the music, according to police. Police say Woollam then went back to his home.
It's so much easier when the morons self-identify . . . Social media-fueled attack leads to 6-year sentence
According to an affidavit, (Felipe) Villalba said he had been taking Xanax, an anti-anxiety drug, before the shooting. He grew paranoid about a Facebook post made by someone who lived in the house that they said they would "catch" him. Villalba decided to "catch" them first. He went to Talent and shot through a window into the house.

Three people, including a baby, were sleeping inside a bedroom that was hit with the shotgun blasts — some of which came within inches of their heads. One of the adults was struck in the arm and leg with shotgun pellets. Talent police found four spent shotgun shells outside the bedroom window, the affidavit said.

Villalba reportedly bragged at school that he was responsible for the shooting, and before the incident had posted a photo of himself with the shotgun on Snapchat. The shotgun belonged to Villalba's friend, the affidavit said.
Kurdish YPJ Sniper almost hit by ISIS Sniper inside Raqqa. She just laughs it off. pic.twitter.com/G49lJAlpwR

— Lalo Dagach (@LaloDagach) June 27, 2017