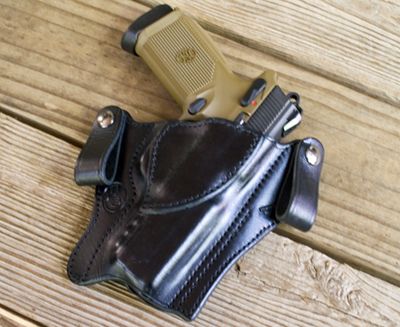 A few readers have requested a review of a holster that is not made of Kydex, and the one name that seems to come up repeatedly in the comments section is Winthrop Holsters. When I checked out their website, I discovered that they actually make an IWB holster to fit my FNH USA FNP-45. That was all the persuasion I needed. After going over the details with the friendly folks at Winthrop, I had one on its way . . .
Once the holster arrived, I was very impressed with the hand-made craftsmanship. The heavy leather is sturdy enough to protect your valuable firearm and, if properly cared for, last a lifetime. For me, the most impressive thing was the stitching. There were no loose threads dangling, no oddly spaced stitching, no unintentional overlapping and no crooked stitching. To put it simply, the whole thing is visibly flawless.
Winthrop wet-molds their holsters to fit each model of gun, which leaves a perfect three dimensional impression of the pistol in every detail on the inside of the holster, right down to the serrations on the slide. This makes for a fit that snugly holds the weapon in place without adding unnecessary bulk.
The model for the FNP-45 is molded for the safety selector to be in the off position, which works out great for me, since I carry with the safety off and the hammer forward. Not to worry, though — if you're more of a "condition one" kind of person, flipping the selector to safe has no real effect on the fit of the holster, and it will eventually remold itself to fit.
I carefully read the instruction sheet that came in the package, which includes both fitting and care instructions. I opted to fit the holster to the gun and break it in the easy way: just use it. I opened the box, read the instructions, tossed the universal holster that I've been using for the last year aside, inserted the gun into the holster, tucked it into my waistband, and walked out the door.
The first thing I noticed while walking around town was how comfortable the holster makes carrying even the big FN pistol. Summertime in South Carolina is already in full swing, but I had no trouble concealing it while wearing a pair of cargo shorts and a baggy t-shirt. The dual belt loops securely hold the pistol with a nice forward cant that reduces the pistol's tendency to print.
Fitting the holster to the gun wasn't necessary for me. The molded leather already fit the pistol like a mini dress fits Sophie Turner. Being a non-retention holster, I felt more comfortable leaving it a little more snug than I would if it were equipped with a thumb break. So far, this has been a wise decision. Even though it has loosened up some on its own, I've unsuccessfully made every effort to shake the gun loose from the holster. I've tried running, jumping, aggressively riding an ATV, and even standing on my head. (Yes, really.) The gun simply stays put, but still draws easily with a firm tug. For those familiar with the heft of a fully loaded FNP-45, you'll understand why this is an impressive feat.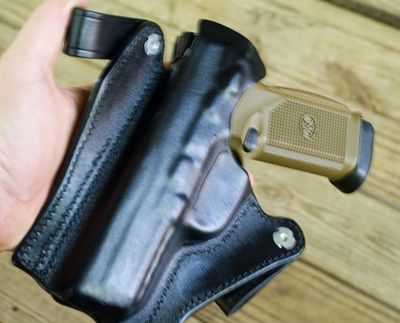 I wouldn't have thought it possible, but after wearing it daily for the last few weeks, it's getting even more comfortable than it was originally. The sides are molding themselves to my hip and I no longer even notice it when sitting down. If the Winthrop can make carrying a large-framed doublestack .45 comfortable, then their holsters for more reasonably sized concealed carry weapons have got to be amazing.
In just a few short weeks, I've put this holster through as much or more abuse as most people will in a year. It's been subjected to rain, dust, mud, sweat, and probably worst of all, the Carolina summer heat inside of my black car's interior. And it still looks no different from when I removed it from the package. These photos were all taken after the test, not before.
For once, I can honestly say that I have found nothing negative to say about a product. Nothing. This holster simply does what it does, and does it damned effectively. Fit and finish are among the best I've seen, even on holsters that cost two and three times as much. I will definitely be purchasing holsters for some of my other pistols from Winthrop.
Winthrop IWB Holster for FNP-45:
Available features include left or right hand specific models, dual belt loops with snap closure
MSRP: $55.00 +shipping
Ratings (out of five stars):
Fit and Finish * * * * *
The leather is thick and sturdy, stitching is top notch. The fact that these holsters are all hand-made shows.
Customization * * * * *
While Winthrop has a standard line of holsters that are stocked, off-the-shelf items, they can customize your holster to fit accessories, different sights or other deviations from the standard models. They can also add accents to the holster made from a variety of exotic animal hides. I'm partial to the look of shark skin accents on brown leather, myself.
Concealability * * * * 1/2
I'm impressed how well this holster manages to hide a gun that was never intended for concealed carry use. With a smaller-framed gun or even a full sized one with a slimmer profile like a 1911, it would virtually disappear. The ability to adjust the angle would be nice, but is entirely unnecessary since it already sits at the best possible angle for maximum concealment.
Comfort * * * * *
The only way to make this holster any more comfortable would be to buy the OWB model instead. It conforms nicely to the hip, pulls the gun in close to the body and has leather covering all the gun's sharp edges that used to keep me constantly readjusting. I catch myself leaving the gun on me around the house where I used to take it off immediately upon walking in the door.
Overall product rating * * * * *
What else can I say about this holster that I haven't already covered? Great product from a company with a super-friendly staff.