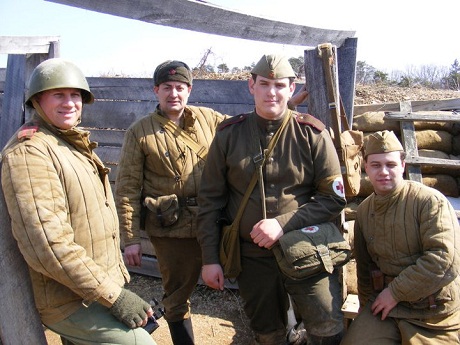 Men in Soviet uniforms huddle for warmth in a trench as it begins to snow, clutching their bolt action Mosin Nagant rifles. A flare goes up. All eyes instinctively start scanning the no-man's land in front of them for movement. A DP-28 down the trench opens fire, sending a few bursts of blinding white light into the night. A Nazi flag is seen fluttering on the opposite trench line. It disappears as the flare goes out and night creeps back onto the line. The political officer pats a man on the back and hands him some warm tea, PPS-43 slung across his shoulder. This isn't 1940's Stalingrad. It's rural Pennsylvania, March 2011. And these people do it for fun.
Of all the firearms related hobbies, historical reenacting is the least understood by the public. Some can't understand why anyone would want to relive a scenario that scarred soldiers for life. Others think it might be a disgrace to the people who actually fought. I spent some time this past weekend with the men of the Soviet 3rd Rifle Division RKKA finding out what it's like to be a WWII historical reenactor and why they do it.
"For me, it's historical." Rob Bell, mid-twenties, reenacts a Soviet political officer. "It's an academic pursuit. I've done a lot of research into Russian history, I've studied Russian language. It seemed like a logical next step. Another reason I do it is because WWII vets are dropping like flies these days. In a few years there's not going to be many left to remember the way things were, so this is the next best thing."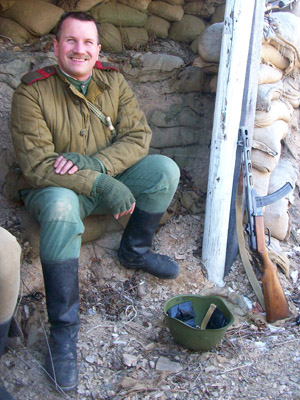 Marty, 46, plays a Nazi paratrooper. "A friend of mine begged me for years to do this, and I thought he was insane. Being former military I said I had done this for real. After about three or four years of him trying to get me to come out I decided what the hell, I'll come out (I was laid off at the time). And something like $6,000 later I'm still going. It's been a 12 year trek."
Chris, also mid-twenties, plays a Soviet sergeant and became involved for a more personal reason. "My family put enormous pressure on me [to not] join the military, so I met them halfway and said I won't go, but I will do reenacting. I've always been into history."
When I asked the reenactors why they chose to be Soviet soldiers instead of American, the response was almost unanimous. "Starving college student." A complete Soviet outfit, including firearms, typically costs less than $500. For American units their kit can cost ten times as much.
It's not as easy to understand why someone would want to dress in a Nazi uniform. Even amongst the Soviet reenactors there were mixed feelings, with one soldier remarking that "some of them are cool, some of them are dicks." He then related a story about how he was once at a reenactment where the first thing the Nazi soldiers did when setting up camp was to hang a noose in a tree, an act that offended him personally and that he took as the Nazi reenactors going a step too far.
"How can anyone understand what they fought against without seeing what they fought against?" replies Marty, the Nazi paratrooper. "That's one of the reasons, being an adversary. The main reason, truthfully, is the people. You're not going to find a better group of people than this unit. They're family to me."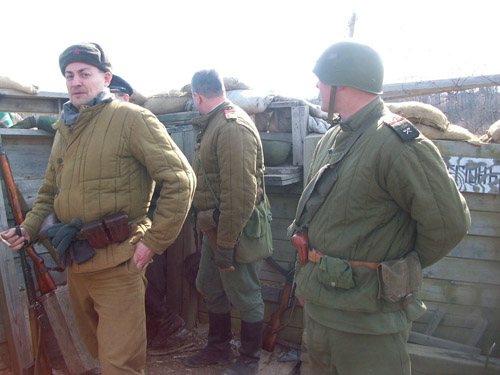 Second only to safety during the weekend: the pursuit of "period." Historical accuracy was the goal, with everything from historically accurate battle tactics to food contemporary of the period. Dinner for the Soviet troops consisted of a meager half canteen lid full of borscht and some stale brown bread.
Once in a while, one of the soldiers would pull out a modern cigarette or check their digital watch, and the faint whisper "farb" would be heard. I asked them what "farby" meant after the event was over, and one of the Soviets jokingly responded "anything on the other side of the trench," referring to the Nazi units. "I've taken it to mean anything that is an anachronism," Rob answered, explaining that it's just part of the reenactor slang. As for its origins, Mike, mid-forties who is the commander of the 3rd, offered an explanation that it is derived from the sarcastic phrase "far be it from me to tell him what's wrong or right."
There's an old Zen expression: the map is not the territory. For men who want to understand military history, there is no substitute for living it. Obviously, reenactment is not the real thing. But it offers new insights—even to people already equipped with a vast knowledge of their chosen time period is already vast. Or is that especially?
For me, the weekend felt like half endurance test and half history thesis. For those of us who want to know what it's like to walk a mile in another man's shoes, the combat boots of men far from home with everything to lose, it's an ideal combination.