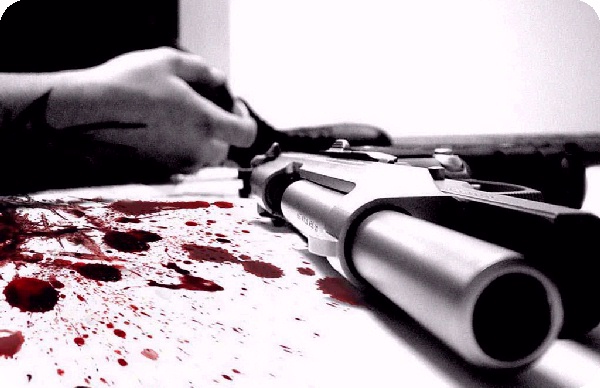 I heard the news through Facebook. Again. It seems that Facebook is the 21st Century town crier, passing along news you'd otherwise miss, or not hear until months after the fact. Another friend of mine took his own life. With a gun. And that brings up all sorts of memories, feelings, and thoughts about the value of a life, the tragedy of suicide…and guns.
This makes two guys I've known at the same company that have decided to take their own lives. I worked with both of them. One of them worked for me, in my art department. Both of them were strong guys – not the kind of 'sensitive' males that Hollywood told us we should all be in the 80's. Just regular guys. They worked hard. They played hard. Nothing really out-of-the-ordinary about them. But now they are both dead, and they've left a bunch of people that loved them and cared about them wondering why.
The guy that worked for me – we'll call him "Hector" because I don't wish to cause his family and friends any additional pain – was divorced and unemployed. He felt as if he had no friends left. And so he drove around until he found a place to stop on an interstate, and shot himself. I don't know if he left a note. Contrary to what you see on TV, suicides don't always leave a note. From other friends, I've heard that Hector was despondent over his life and fortunes, and just couldn't take it any more.
The real tragedy, aside from a senseless death, is that my best friend (who was also close to Hector) could have (and would have) found Hector a job in a heartbeat, had he known that Hector needed one. I've not seen my best friend cry before. He's a tough guy. A man's man. But this death drove him to tears.
The most recent death came around Valentine's Day. I don't have any details to speak of. And I'm not going to go prying into it, because the family he left behind needs time to grieve. I'd known him and his wife for around 25 years. We weren't close. But we were friends. All of us – we'll call them "Bob" and "Maryann" as well as "Hector" and I had all worked together at this software company. It was like one, big family. So losing Bob and Hector is like hearing that a couple of cousins have died.
Now a lot of people on the left would use this as an excuse to rail against guns in the home, as if that caused the problem. Or they'd try to gin up some stats that having a gun in the home leads to more gun violence. I don't know about you, but I'm inherently distrustful of stats, when they are cited without attribution, and without having access to the raw data. It's too easy for someone with an agenda to twist facts to suit their own purposes.
It's also equally wrong for pro-gun activists to try and exploit these tragedies to benefit their cause, although that's much less likely to happen, because of the nature of the events.
But while I'm ruminating on this, I'd like to bring up a couple of salient points. First of all, the kind of depression and despair it takes for someone to decide to take their own life is vastly different from the kind of thing most people experience as a normal part of their lives. You don't just wake up one morning and say "gee, I've got a lot of problems in my life that are not easily solved. I've got it – I think I'll blow my brains out." If that were true, the suicide rate in this country would rival the number of deaths from cancer, AIDS, and car accidents put together.
No, the kind of clinical depression that it takes to become suicidal is much, much worse. And the thing is, people that are suicidal fall into one of two groups – those that plan, and those that do it on impulse. Not having a gun in your house would not stop either group. Until you find a way to ban not only guns, but gas stoves, bathtubs, razors, rope, knives, automobiles, automobile exhausts, tall buildings, bridges, bodies of water, poison, narcotics, blood pressure medicine, blood thinners, wild animals, and about a thousand other things, someone who is suicidal is not going to stop until they find a way to do what they intend to do.
Not having access to a gun won't even slow 'em down. And if you're dead-set (pardon the pun) on death by lead poisoning, you don't even need a gun. There's always "death by cop" whereby you provoke an officer of the law in a situation where you compel them to shoot you in order to save someone else. (I'm NOT recommending that – or any other suicide method. It's just an example, people.)
I don't care which side of the issue you're on – pro-gun or anti-gun. When it comes to suicide, it's NOT a gun issue. It's a mental health issue. If we could all stop and think about it for a minute or so, I think it might be easy to see that, if society can do anything to cut the suicide rate, it would be in the realm of mental health, rather than in the area of gun control.
Don't get me wrong. I fully realize that some people shouldn't have guns around. And if you know someone who is clinically depressed, you should concentrate on getting them help from a mental health professional, and if they so advise, clearing their home of anything that would make it easier for them to hurt themselves. But if you actually care about someone, and you know they are depressed, get them professional help. Worry about the whole gun thing later. Job one must be helping those that need your help.
One last thing. If, for some reason you ever get to the point where you think seriously about taking your life, look around you. Think about the people that depend on you. Think about the lives you've touched. The people that know you. The people you've loved, and the friends you've made. And then think about how you'll be leaving them with an empty place in their lives where you once stood. Because for you, it will be all over. But for them, they will have to live with the consequences of your actions forever.