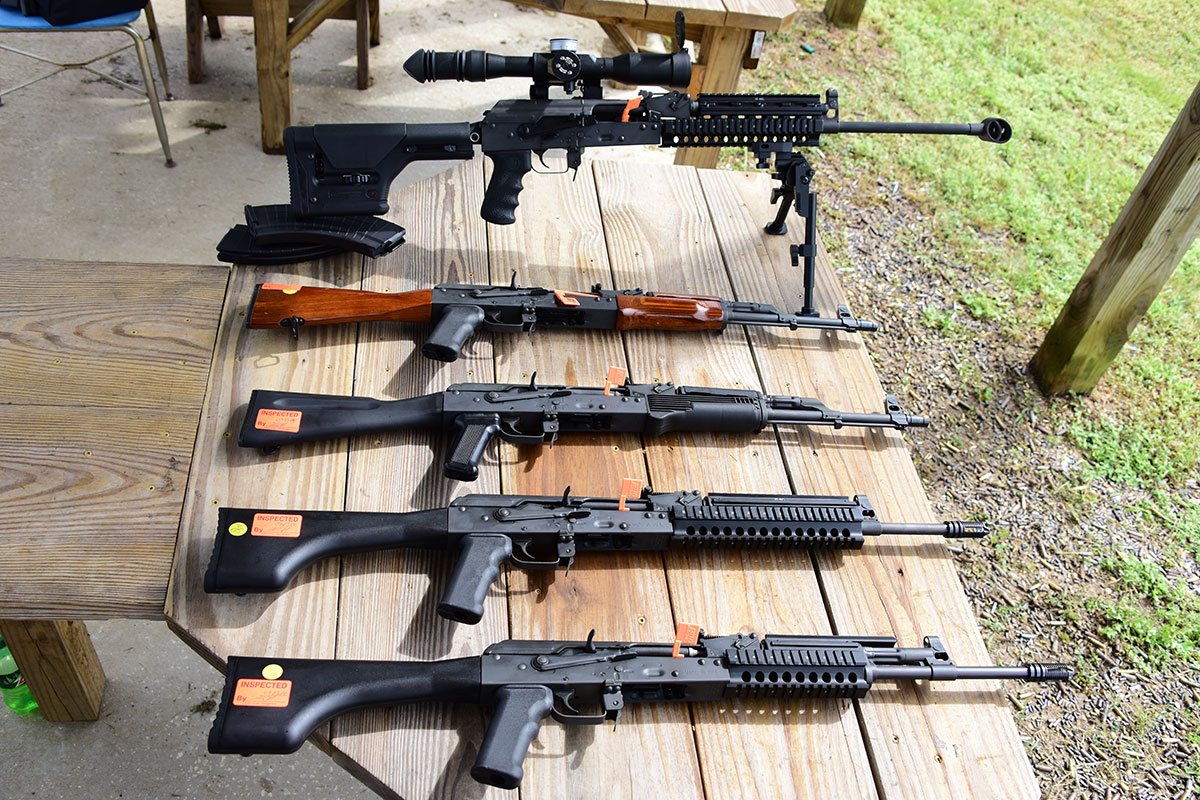 If you haven't heard of Inter Ordnance, or IO Inc., they manufacture various models of AK-47s, AR-15s, a couple variations of 1911s and are working on more… Many of their AR/AK variations are 100% American made, with some having a combination of Domestic and Imported parts (mostly imported furniture).
We recently got to head out to their Palm Bay, Florida facility and check out their AK and AR lineups.

AK-47
IO currently offers 7 AK models, the AKM247, AKM247C, AKM247E, AKM247T, M214, M214 Nano and M214S. Of those models, they also offer 3 California legal variations, the AKM247, AKM247C and AKM247T.
Overall, the AKs seem to be really well built, reliable, and pretty darn accurate (for an AK). They seem to have good tolerances, but do require a little break in (IO says about 60-100 rounds). The ones I shot were definitely smooth, and worked quite well.
AKM247 / AKM247C / AKM247E / AKM247T
The AKM237 line is Inter Ordnance's main AK line, they offer multiple variations on the same chassis.
The standard AKM247 comes standard with a bolt hold-open safety latch, recoil buffer, 100% new parts, integrated heat shield in the front furniture, extended magazine release, a fully heat-treated receiver, and of course the life time warranty.
They are also starting to use black nitride coated barrels for improved accuracy and durability (I'm a big fan of black nitride and the more modern types of coatings available these days).
The AKM247C, uses the same features as the standard AKM247, but uses wooden furniture. The wooden components are imported, but everything else is made in the US.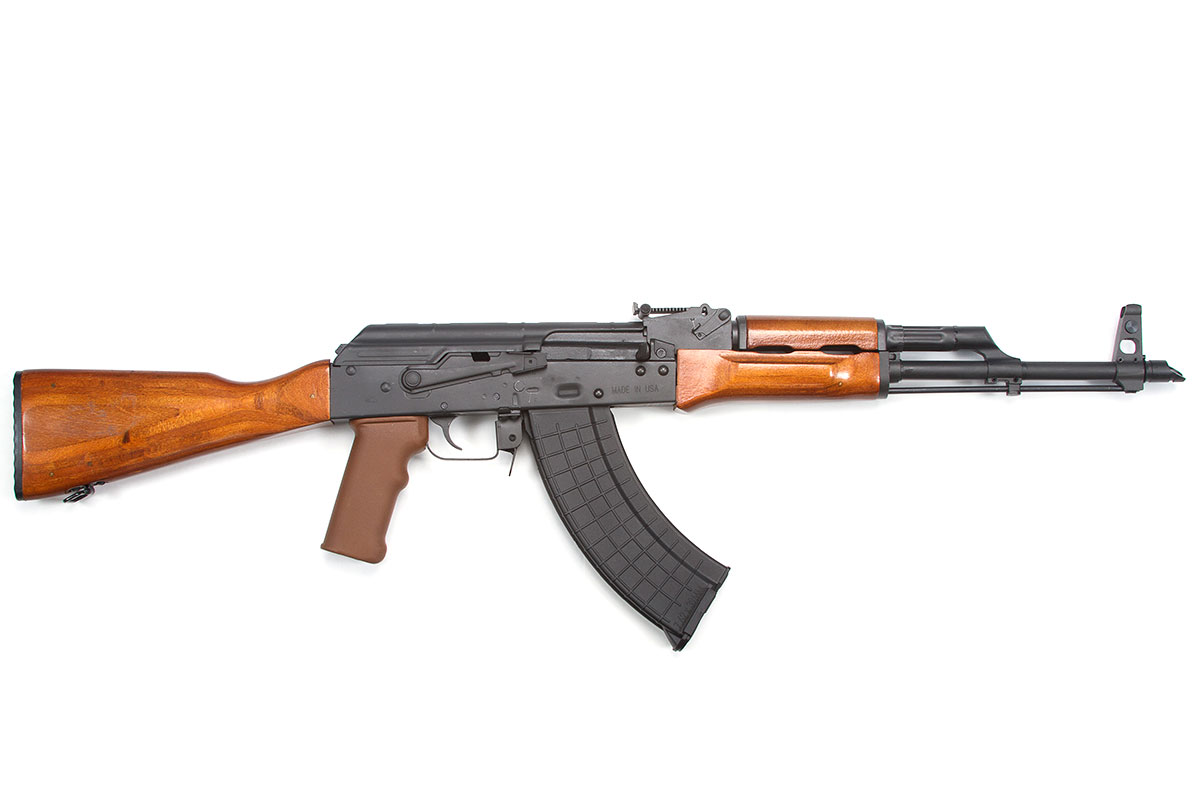 On the more "tacti-cool" models, like the AKM247T, they are offering things like short quad rails as well as included side attachments for optics.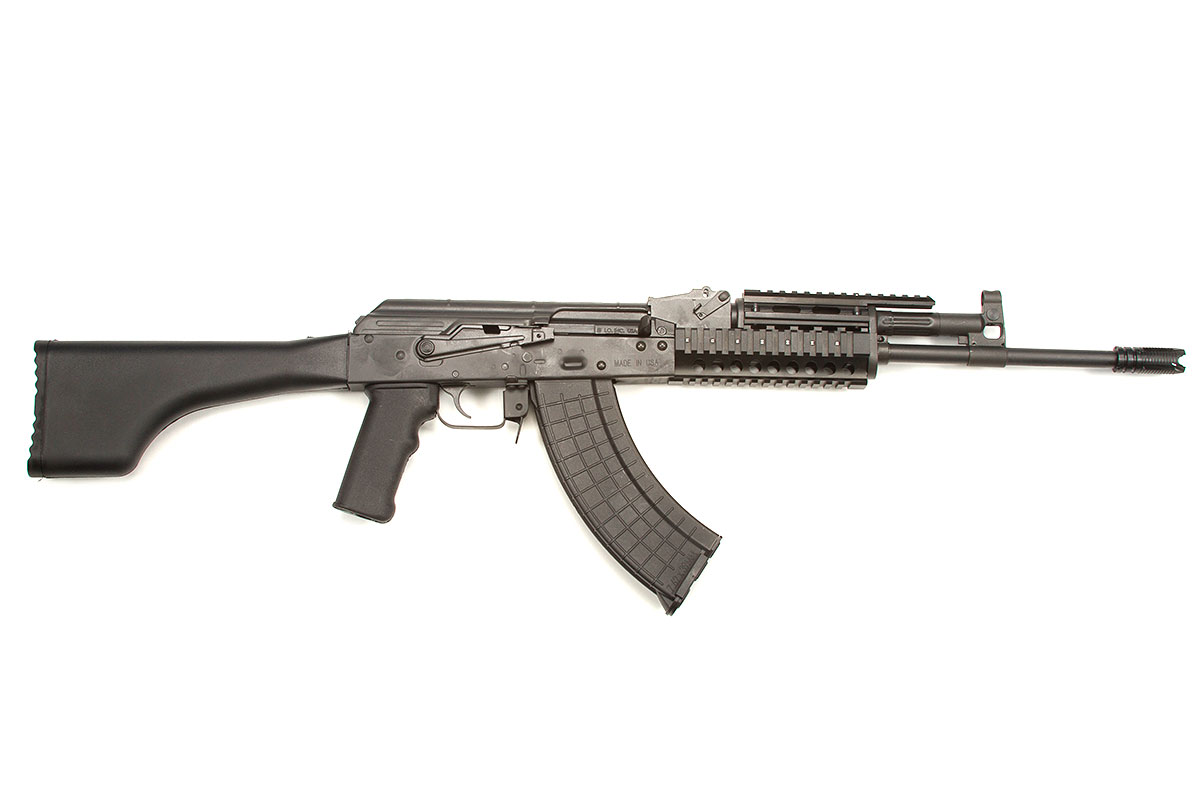 M214 / M214 Nano / M214S
The M214 line of AKs that IO offeres are their more "customized" models, the M214 has an extended quad-rail, scope rials, and an upgraded trigger group, as well as all of the bells and whistles of the AKM247 rifles.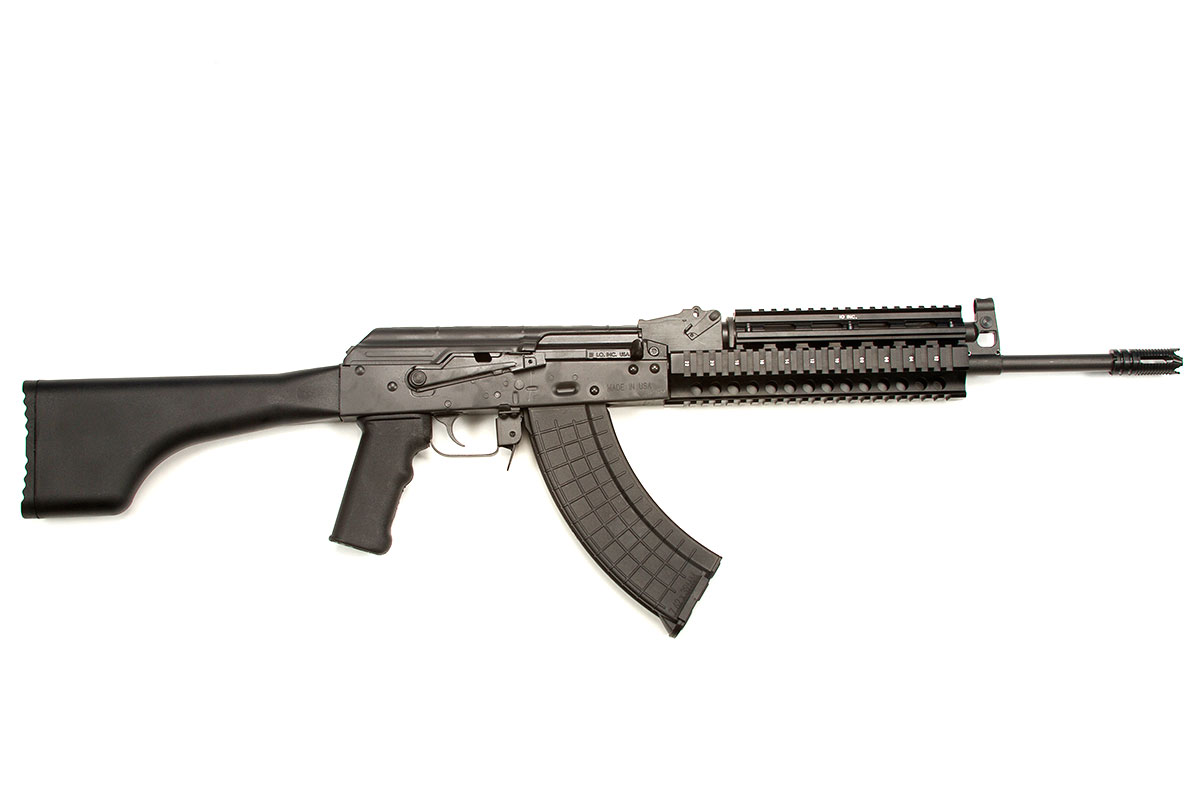 The M214 Nano is a small little AK, with a 7in barrel weighing in at 5lbs. It's an interesting little monster. Personally, I'm not a huge fan of rifles turned into pistols, they are just not my cup of tea, so to speak. But this thing is definitely pretty entertaining. If you are in the market for an AK pistol, definitely check it out.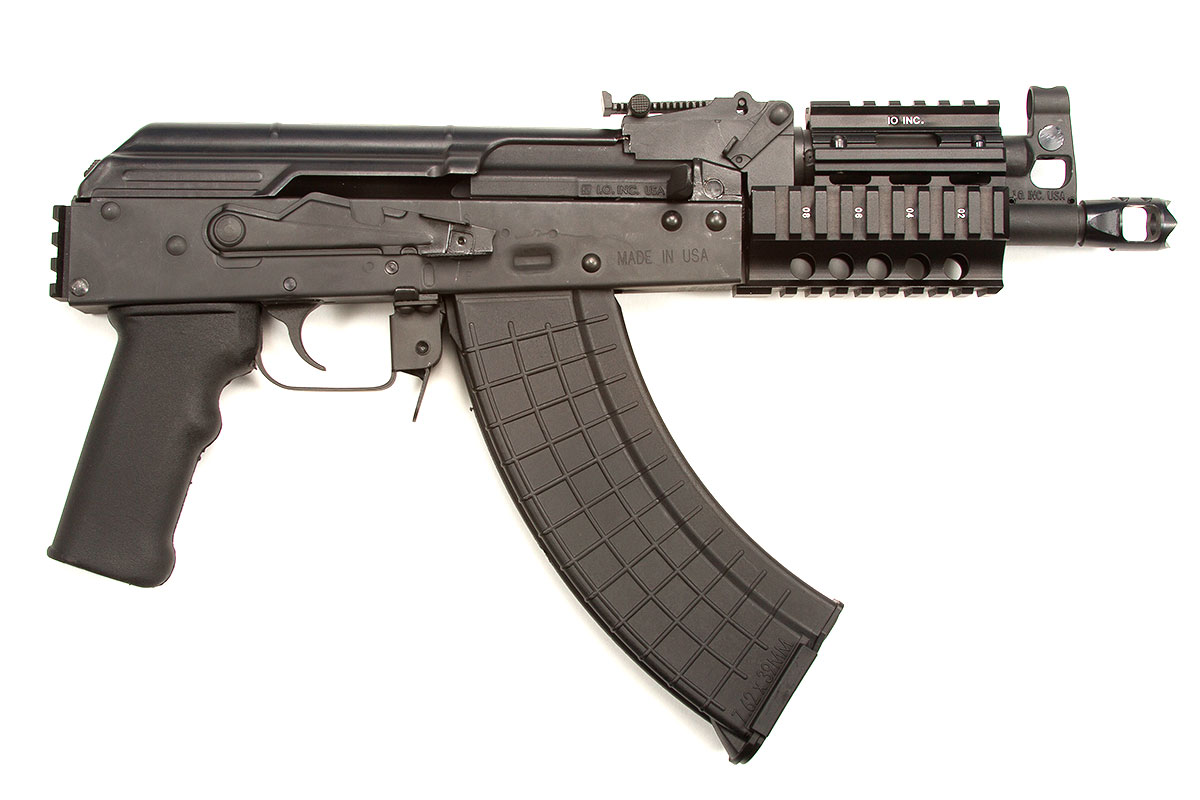 And next up the M214S, yeah, the "S" stands for Sniper… An AK sniper rifle, sure why not… This was actually pretty fun to shoot. It's smooth operating, pretty minimal recoil; you can stay on target through glass when firing, etc. But unfortunately the one at the range wasn't sighted in, so I couldn't really tell too much about accuracy. But it's definitely an interesting concept.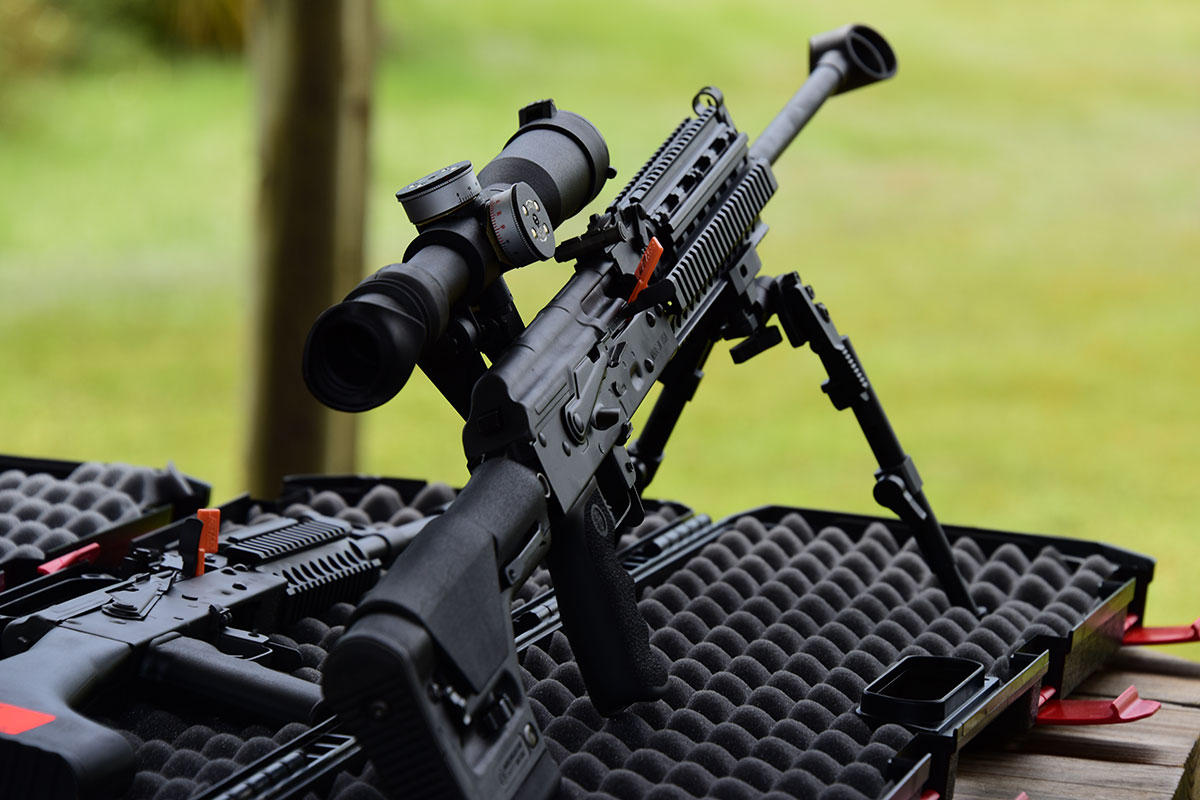 AR-15
IO currently offers 2 AR models, the M215 A Frame and the M215 Low Profile. These ARs really seem to be price point style guns. They are lower price, not super tight guns. But they do shoot well; I put 20 or so rounds through one, and it shot well. More or less it works like a standard AR-15 does… Nothing special about the trigger, nothing really crazy about how they operate, they just go boom. So if you are looking for a good entry level AR-15 to take out to the range, they are worth a look.
A couple of the guns in the picture are peoples personal guns that they brought (that have a lot of additions on them).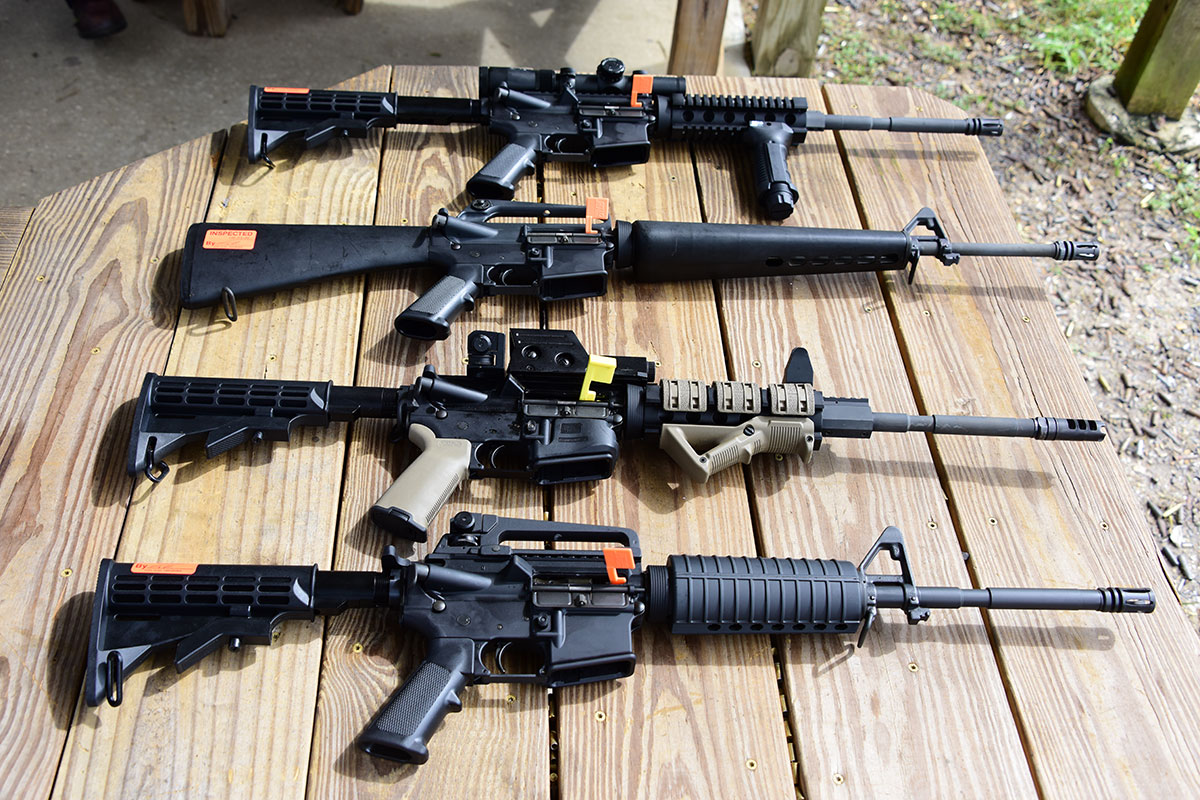 Bottom Line
The bottom line is that I was really impressed with the quality, care and pride everyone that works for Inter Ordnance shows. If you are in the market for an AK, definitely check them out. And I'm exited to hopefully get a couple guns for a more through T&E. But from what I saw, and got to shoot, I was impressed.
---
For more information, you can check out there website at, http://www.ioinc.us/ or on their Facebook at https://www.facebook.com/I.O.incfirearms.