Buying your first 1911 pistol? Congratulations! It's great when someone has actual taste in firearms.
Just kidding. Many pistols are great, and the classic 1911 platform – while it has its limitations – is a proven and effective pistol for almost any application, from sport to personal defense and all points in between.
John Moses Browning's meisterwerk is still wildly popular to this day for a lot of very good reasons. With its slim design, it carries incredibly well. It feels good in most shooters' hands and the single action only trigger is typically among the best you'll find in any handgun.
But what should you look for in your first 1911 pistol?
Well…that's actually a complicated question.
The absolute basics?
It should fit well in your hand, and point naturally. You should be able to get a natural shooting grip, reach the trigger easily, and manipulate the slide and controls. And you should be able to see the sights on the model you buy. That's about all you need in any gun, really. It should fit your hand and have a trigger you can use effectively.
All the other bits and features – what kind of sights, construction method, different types of safety levers, recoil spring systems, etc., would – and has! – filled entire books. We'll go over that a little more, but this is about getting your first 1911 pistol.
Outside of the basics, what you should look for in a 1911 pistol depends a lot on what you're getting the gun for. If you understand that, then you can make a purchase that best suits you and your needs. That gets you into a gun that you're going to like a lot more.
You can get a 1911 for literally any and every purpose; the platform is that diversified. There are some that will do basically everything. Target shooting, home defense, concealed carry, collecting, even handgun hunting. That much is your decision; you have to figure out what you want it for. So let's go over some basic features and how they matter.
So let's talk chambering. The classic 1911 chambering is .45 ACP, and the pistol will hold, with most magazines, 7+1 or 8+1 rounds. Another popular option is 9mm, and in truth it's better in that the smaller round increases capacity to 9+1 or 10+1 (depending on magazine). It's also cheaper and easier to shoot.
Other common chamberings include include .38 Super, 10mm, .40 S&W, and .22 TCM. If you're interested in handgun hunting, 10mm or a pistol converted to .45 Super (basically .45 ACP +P+) are the better choices, but 9mm or .45 ACP is best for most purposes and shooters.
Next, let's talk frame size. We will be discarding, for these purposes, the micro 1911s, i.e. the Colt Mustang and its various clones.
Most common is the Government frame 1911, which has a 5-inch barrel, a 5.5-inch tall grip, and is around 8.5 inches in total length.
The Commander size frame (pictured above) cuts barrel length to 4.25 inches and overall length to around 7.75 inches, but otherwise remains the same.
The Officer size frame and CCO (Concealed Carry Officer) frames have a shortened grip, usually down to 5 inches. This costs you one round of capacity, so .45 ACP pistols will have a 6+1/7+1 capacity, and 9mm models will have a 8+1/9+1 capacity, depending on the magazine.
The Officer frame classically has a 3.5-inch barrel, and the CCO classically has a Commander slide and barrel on an Officer frame.
Keep in mind that Commander, Officer and CCO frames can vary in specifications between manufacturers. Some Commanders have a 4-inch barrel (such as Kimber) and some have a 4.33-inch barrel. Some Officer frames have as short as a 3-inch barrel.
The Government frame is renowned for target shooting, as it remains a popular competition pistol to this day. It CAN also be carried every day, and plenty of people actually do; it's one of the more popular full-size pistols for concealed carry.
Officer and CCO pistols are the easiest for concealed carry, but are a little livelier to shoot. Commander and Lightweight Commander (alloy frame for lighter weight) pistols are a middle ground between the two.
Another feature to be aware of is whether or not you want to use a laser/light with your pistol. Laser grips are certainly available, but a mounted light requires a railed pistol. However, if this is going to be a carry gun, look before you leap. Not all 1911 frame rails are the same, so make sure that you can get a holster for the pistol and light you're considering.
Another feature you need to look at is the sights and sight cuts. Sights are the most commonly upgraded part of any handgun, and 1911 pistols are no exception.
The available sights on factory pistols range from basic black steel sights (above), white dots, fiber optic and night sights. You should get a pistol with a sight set that fits your desired purpose. However, if upgrades are in your future, select a pistol with sight cuts that make this easy.
The classic sights are a pinned front sight and a dovetailed rear sight, often called the Government sight cut. Other pistols will have use Novak dovetail dimensions. Some, and it's incredibly annoying when this is the case, will use a proprietary dovetail cut.
If upgrading your sights is likely, the classic Colt Government sight cut or Novak sight cut is what you want. This way, you can either leave the stock sights as is or upgrade them easily, without having to get the slide milled. These are, far and away, the most popular dovetail cuts among pistol makers AND aftermarket sight producers when it comes to 1911 pistols.
You might have heard of Series 70 and Series 80 trigger systems. Series 70 and Series 80 refers to pistol model lines made by Colt, used colloquially to refer to pistols without (70) and with (80) a firing pin block. This feature is to prevent the possibility of a discharge if the pistol is dropped; the firing pin is blocked unless the trigger is pulled.
Some insist a Series 70 pistol has a better, crisper trigger pull. This is a matter of some debate; my experience is that it comes down to who makes it. A good trigger is a good trigger, firing pin block or not; excellent and lackluster examples of both can be found. Your mileage may, of course, vary.
Now let's talk about certain other optional extras. Another common upgraded feature is the grip safety, as many people will add a beavertail grip safety lever to their pistol.
This enables a higher, tighter shooting grip on the pistol and will also prevent hammer bite. They aren't strictly-speaking 100 percent necessary, but they are darned nice to have.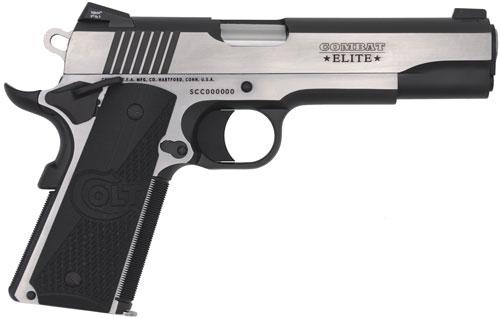 Ambidextrous safety levers are a plus, especially if you train to shoot with both hands. However, some people find them uncomfortable; you'll have to figure that out for yourself.
Now let's talk price. How much should you spend on your first 1911 pistol?
The truth is that you can spend not too much or you can spend A LOT, and you can also get a decent pistol at almost any price point.
Entry-level 1911 pistols can be purchased for as little as $300 for bare-bones imports. Most first-time buyers will spend up to $1,000. It depends a lot on who makes it and what adornments they want.
Guns with a bit more in terms of bells and whistles will demand a bit more. There are so many on the market that this post would be book-length if we got into it, so we'll button this like so:
First, consider what you're going to do with the gun, then figure out which features you want. After that, hunt down the different makes/models with the specs and features you're looking for. Handle a few, and rent a few if you can and shoot them.
The 1911 is still popular today because the design shoots and carries so incredibly well. What you're really looking for is a good fit in the hand, a gun that fits what you have in mind to do with it, sights you can see. All the rest…is really up to you.
So…what do you think? Any recommendations as far as first 1911 pistols go in terms of make and model? Sound off in the comments.