One-handed shooting can often be neglected as part of the regular practice a person does for concealed carry and personal defense.
The sentiment you'll find espoused often when it comes to concealed carry/self-defense pistol/whatever-you-want-to-call-it is "train how you fight," or something to that effect. In other words, you want to train with your typical carry gear, in your normal clothes, and with your normal carry gun.
If you then also train properly, using the correct stance and grip and so on, your muscle memory will kick in if the moment of truth ever arrives. The idea, of course, will be that your instincts and training will take over and you'll shoot the way you've trained to shoot.
Does that actually happen in the real world?
Not as reliably as you'd think. Under stress, muscle memory and fine motor control can fall apart. Not only that, but circumstances may be such that you CAN'T use the same perfect technique that you learned and used under range conditions.
I'll give you an example. The Weaver stance, popularized by Gunsite (and other instructors) found adoption because of its success in competitive pistol events in the early days of IPSC, IDPA and so on. As a result, it was taught as a self-defense technique to civilians and law enforcement.
Despite wide dispersion by instructors and training bodies, it was observed that the Weaver tended to fall apart under stress. An article that appeared in a 1989 issue of the now-defunct Law And Order (dun-dun) magazine (digitized by the Department of Justice) by Harold Westmoreland looked at a force-on-force training class for cadets and the shooting stance they used.
The training sessions involved 39 incidents of spontaneous (meaning they didn't know it was coming or had no time to really prepare) force-on-force situations at under 10 feet, and 27 events of force-on-force situations at more than 10 feet.
Under 10 feet, 10 recruits never drew their weapon, and only one of the remaining 29 assumed a Weaver stance. The remaining 28, despite being trained in the modern technique, assumed an isosceles stance. Of those, 18 used only one hand.
At more than 10 feet, 25 cadets assumed an isosceles stance and two a Weaver.
Granted, these were cadets, but evidence was accumulating by that point (the article cites Mas Ayoob and others) that seasoned officers who were trained in the Weaver stance instinctively revert to isosceles under stress, too.
Additionally, since most self-defense shootings occur just outside of arm's reach, there's every possibility you'll only have one hand to use. Therefore, one-handed shooting is something you'll need to practice.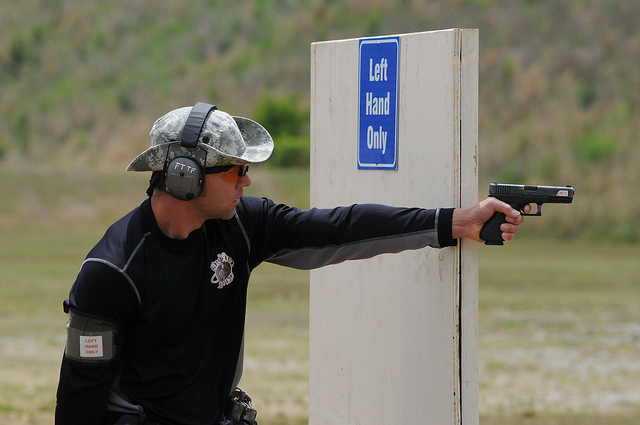 The point here is that the perfect/classically correct technique you learn and use on the range might not be what you use on the street in a critical situation. That could be due to stress or it could be because you physically can't given the circumstances.
A good deal of defensive shootings occur wherein the shooter has only one hand to use.
Watch this video from Active Self Protection:
The shooter – a firearms trainer, no less – is holding the gun in his right hand, and trying to keep his assailant at bay with his left. It isn't until he's cornered and given no choice that he fires. It all takes place at very close.
That whole "rule of threes" thing – 3 shots or less, in 3 seconds or less at 3 yards or less – has some truth to it. A review of five years of "The Armed Citizen" shooting incidents, covering the years 1997 to 2001, by the Tactical Professor backs up the idea that most self-defense shootings (or at least those in the sample) occurred just outside arm's reach, as most did.
Massad Ayoob, in an episode of the ProArms podcast, interviewed Lt. Robert Stasch, a 37-year veteran of the Chicago Police Department and survivor of 14 gunfights. Stasch (now retired) was able to assume a two-handed grip only twice. It's a long interview, but it's worth a listen.
Stasch, interestingly enough, used a combat point-shooting method to lethal effect; he found he didn't have time to use his sights in a fight. The relevant bit starts at about 22 minutes in.
Granted, take all this with a grain of salt. While some trends can be identified in what little information is out there on defensive gun uses, nothing is 100 percent certain. Each situation is unique and has its own complications. It all devolves into a cavalcade of "if-thens."
The bottom line is that you can't anticipate the conditions under which a fight will happen. That's why you should be prepared and train for one-handed shooting as well as two-handed.