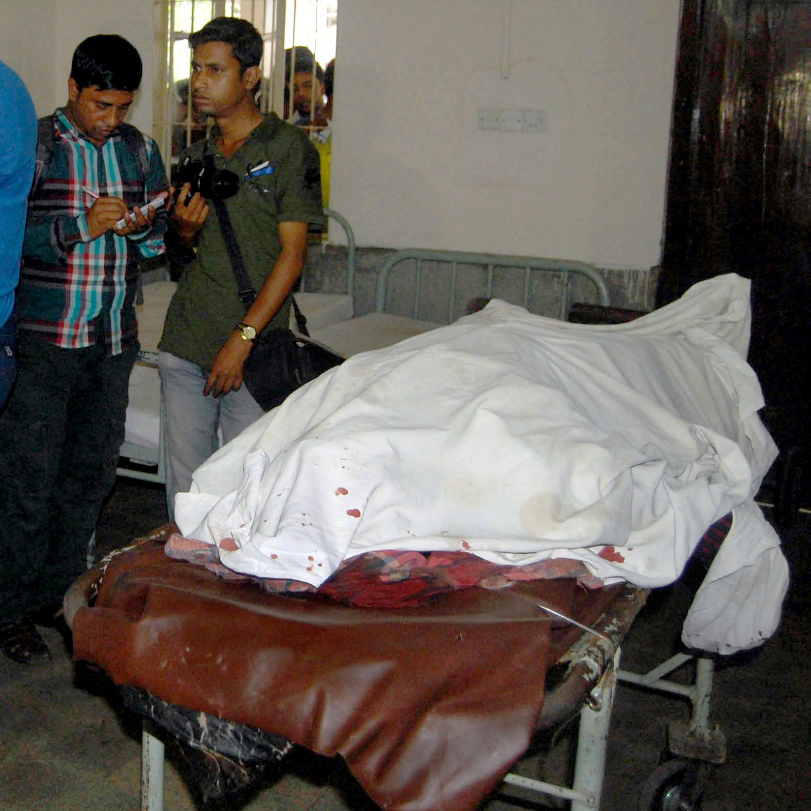 Islamic fanatics determined to silence their critics — stopped by hot lead and cold steel recently in Texas — managed to claim a victim in the People's Republic of Bangladesh on Tuesday morning. Ananta Bijoy Das, a writer for the blog Mukto Mona–which publishes writing by secularists, atheists, freethinkers, and the like–was brutally hacked to death by four attackers in the Bangladeshi city of Sylhet on Tuesday morning . . .
CNN quotes Sylhet Police Commissioner Kamrul Ahsan as stating that Das' attackers "hack[ed] him to death with cleavers and machetes." DNA India reports that Al Qaeda in the Indian Subcontinent is claiming responsibility for the murder and quotes sources as stating:
"Four armed assailants attacked him when he was going to the town in a rickshaw," Airport Police Station Officer in charge Gausul Hossain said.

"They (killers) attacked him from behind…he was hit with machetes on the head and died instantly…"
Das' death is the third this year of someone who'd posted pieces online critical of Islam, carried out in public on city streets in Bangladesh. Earlier this year, an American writer for Mukto Mona – Avijit Roy — was also hacked to death in front of his wife while the couple were visiting Bangladesh for the nation's annual book fair. Washiqur Rahman, a writer on science and religion was killed near his home in Dhaka, Bangladesh in March. According to the BBC, two Islamic seminary students were arrested for Rahman's murder; a Muslim fundamentalist blogger was arrested in connection with Roy's murder.
Despite winning its independence from Britain in 1947 (and Pakistan in 1971,) Bangladesh has retained a 140-year-old gun control laws imposed by the British Raj in 1878 (when the Brits' primary objective was to ensure that a captive subject people remained disarmed and submissive to the Empire.) The Arms Act pretty much makes sure that the average Bangladesh stays disarmed. The act regulates "fire-arms, bayonets, swords, daggers, spears, spearheads and bows and arrows, also cannon and parts of arms, and machinery for manufacturing arms…" and requires licenses simply to possess arms in the first place, let alone carry them. In fact, the law even specifies: "the Government may by a notification in the official Gazette cancel or suspend all or any licenses throughout 11[ Bangladesh], or any part thereof."
So it was highly unlikely that these men, murdered for speaking and publishing unpopular religious opinions, could have had access to the tools that might have helped them out. Would those four assailants have been so bold knowing that their intended victim might have been armed with a semi-automatic pistol and a "high capacity" magazine or two? Maybe an "assault rifle" would've helped the victim? Even an old M1 Garand could have evened the playing field against the murderers.
I suppose we can play counter-factuals like this all day without achieving much — just having a firearm doesn't make you an expert, and four against one are not odds I'd volunteer to take no matter how well-armed or trained I am. But I can draw two conclusions so far: it is a dangerous time for secular atheists or anyone who criticizes Islam In Bangladesh, and Bangladesh's gun control laws are making Islam's critics easy pray for gangs of murderers.
DISCLAIMER: The above is an opinion piece; it is not legal advice, nor does it create an attorney-client relationship in any sense. If you need legal advice in any matter, you are strongly urged to hire and consult your own counsel. This post is entirely my own, and does not represent the positions, opinions, or strategies of my firm or clients.