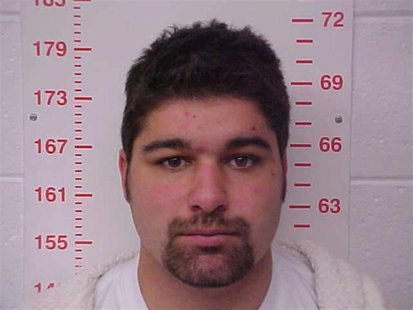 A Missouri man has been sentenced to 15 years in prison after telling police he was gathering weapons for a mass shooting at a movie theatre or Walmart. His mom called police back in November 2012 and said her son had purchased weapons like those used in the theatre in Colorado. Blaec Lammers told police that he'd bought two AR-15s and 400 rounds of ammunition, and planned to use it to shoot up a movie theatre in Bolivar, MO. He also said he was worried about running out of ammunition, so he planned to go to a Walmart in Bolivar where he could stock up on ammo and shoot people there. He was convicted on charges of first-degree assault and armed criminal action. Missouri law allows the charges . . .
because even though he didn't carry out his plans, he was gathering weapons and ammunition. He was also charged with the lately-popular "making terroristic threats," but the judge dismissed that charge since he hadn't actually threatened anyone, only told police of his plans after his arrest.
A Goodwill store in Augusta, GA is donating just over 1100 rounds of turned-in and found ammunition to the Richmond County Sheriff's Office. Though a lot of the ammunition was given to Goodwill inadvertently, like a few rounds in the bottom of a donated purse, or a round or two in the pocket of some jeans, some folks are dropping of new, boxed ammunition as well. Part of the donation was 25 boxes, 250 rounds total, of 12-gauge shotgun shells, as well as a 400 round box of .22LR. Of course, there was also a large quantity of loose ammo. Lt. Lewis Blanchard, who accepted the ammo, said the boxed rounds will be used for training, if possible, but the loose rounds will be disposed of, for safety reasons. A full list of the donated ammo can be seen over at The Augusta Chronicle.
A collection of Wyatt Earp memorabilia and artifacts that might be the largest in the world is going under the gavel next month. Included in the sale is the Colt .45-caliber revolver that is believed to have been carried by Earp during the OK Corral shootout in Tombstone. The collection was part of the Glenn Boyer estate, who spent more than four decades researching and collecting items related to Earp and his family. It includes 32 boxes of research documents, photos and other memorabilia. Josh Levine, owner of J. Levine Auction and Appraisal in Scottsdale, AZ, said "All of the guns will be sold individually but we are keeping the archive together as one lot." The auction will take place at 6 p.m. on April 17th, and online bidding will be available.
A woman in Amherst Township, Ohio was cleaning out a closet inside her home when she came across some interesting items: a styrofoam sandwich container containing a hand grenade and a cigar box full of (unspecified) large caliber ammunition. Not knowing what to do with them, she left them on the front doorstep of the Amherst Police Department. She called dispatch after leaving the items, and told them that the items had belonged to her late husband, a Korean war vet who died a dozen years ago. To get an idea what they were dealing with, Amherst police Chief Joseph Kucirek showed the woman a police lineup of grenades, and she pointed out a WWII-era pineapple grenade. A member of the bomb squad later determined that the grenade had a blue spoon, and was a training round.
Dugan Ashley is back with a truly awesome ugly sweater, for a pretty great video about a bunch of different AK-47 variants. As he says, "Today we're gonna fire… mmmmmmm… all of 'em." I really enjoy Carnik Con videos, because if I can stop laughing long enough to wipe the tears out of my eyes, I usually learn a thing or two.

"They basically ran a coat hanger from the trigger to the sear." That's quality stuff, right there.