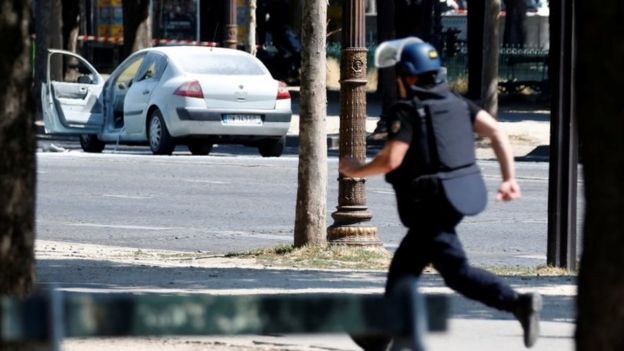 Yesterday, Adam Djaziri drove a Renault Mégane into a Paris police convoy on the Champs-Élysées in an act apparently inspired by Islamic chauvinism. Fortunately for humanity, he died for his efforts and no one was injured as a result. According to the BBC, police " found a Kalashnikov rifle, handguns and gas bottles in the car."
Mssr. Djaziri was "known to intelligence services." The 31-year-old from the Parisian suburb of Argenteuil also had contact with another department of the Fifth Republic. Specifically, he had a license to own firearms.
With this bit of official French approval, Mssr. Djaziri legally owned several firearms, including what Agence France Presse calls "Kalashnikov-type assault rifles."
Like many American gun owners, you probably think that's a case of ignorant journalists breathlessly describing every firearm as a "Kalashnikov." How can a French national own an AK — isn't France the place where gun rights go to die?
No it isn't — that's the United Kingdom, twenty miles to the north. Gun rights are still alive for the French citizenry, although it isn't all sunshine and beignets.
People can actually own — although not necessarily bear — a number of firearms that would make an American feel at home. The approved list includes semi-automatic rifles chambered in 7.62x39mm based on the AK design — provided they're willing to jump through a number of bureaucratic hoops, including an application process, background checks, firearms training, and even a psychological evaluation.
British writer Alan Pearce, who has enough time living and owning guns in France to write a book on the subject, puts it succinctly: "In France, having a gun is not considered odd." Click here for TTAG's review of French gun law.
Suffice to say, Mssr. Djaziri jumped through the requisite hoops to join a club, go through the background check and testing process, obtain a license, purchase legal semi-automatic rifles, and then followed all of the "declaration" and safe storage laws, meaning the Kalashnikov in the backseat of the Mégane may have been legally owned. Even in France.
French government officials are already giving Gallic shrugs and wringing their hands in front of cameras about that.
Prime Minister Edouard Philippe expressed dismay that Djaziri was able to have a gun permit despite being on a jihadist watchlist.
"What I know at this stage is that the first weapons permit was given before this individual was flagged up," he said in an interview with BFM television and RMC radio.
He added that "nobody can be satisfied — and certainly not me" that Djaziri had still been able to possess dangerous weapons.
There's another possibility, of course. Djaziri might have simply have purchased a fully-automatic AK illegally on the black market.
France is apparently awash in such things, if you know that right people to ask. He was already planning to break some laws; in for a penny, in for a pound and all that. Background checks and other gun control laws don't actually stop criminals from acquiring outlawed firearms; they simply stop people who comply with the law from getting them.