By Tim Stetzer
If you're a fan of the Fallout or Cyberpunk video games, or the sci-fi or post-apocalyptic genres in general, then you probably know that writers and game designers seem to think that the 10mm is going to be ubiquitous in the future. They're the most common guns you run across in those mediums and they're generally cheap.
In real life, in the here and now we know that 10mm pistols aren't actually all that common, or all that cheap. Or are they?
Thanks to Hi-Point that 10mm future might just be now. At SHOT Show in January Hi-Point released the new JXP 10 10mm pistol. The JXP 10 is a large frame pistol like their existing .45 ACP JHP 45. It comes with a number of improvements, but possibly the most exciting thing about it is the price.
The JXP 10 has an MSRP of only $225. That's practically beer and pizza money. Maybe a case of good beer, and a couple large supreme pizzas, but still, that's very affordable. With a price like that it's no wonder that 10mm's are everywhere in the future.
Let's take a look at what barely more than a couple of Benjamins will buy you in the 10mm world.
Aside from the 10mm being a new caliber in the Hi-Point pistol lineup, the JXP10 also brings some new features along with it. It has newly designed texturing on the grips that incorporate the Hi-Point logo, a GLOCK-compatible front sight so you can swap it out with a fiber optic or night sight if you want, forward slide serrations, a threaded barrel, and last round hold-open.
There's also the option to swap the rear sight out for a Picatinny rail for optics mounting. There's a version with a non-threaded barrel also if you don't think you'll use it, or if your fascist state prohibits that kind of thing.
The 10-round magazines are compatible with their Model 1095 10mm carbine, and the gun is rated for +P loads. Hi-Point guns are all American made in Ohio and come with a no questions asked lifetime warranty.
Like other Hi-Point pistols, the JXP 10 is a blowback action, typically more associated with lighter calibers like .32 ACP or .380 ACP. Basically the gun uses the recoil spring and weight of the slide to keep the breach closed until the recoil of the fired round pushes the slide back, ejects the empty and picks up a new round from the magazine. The heavier the caliber, the more mass you need to make that happen.
That means that when you move up to a 9mm, let alone a .40 S&W, .45 ACP or 10mm, you end up with a bigger, heavier slide. Coincidentally, Hi-Points tend to big, kind of chunky guns. The upside is, a blowback action is a simple system that tends to be reliable.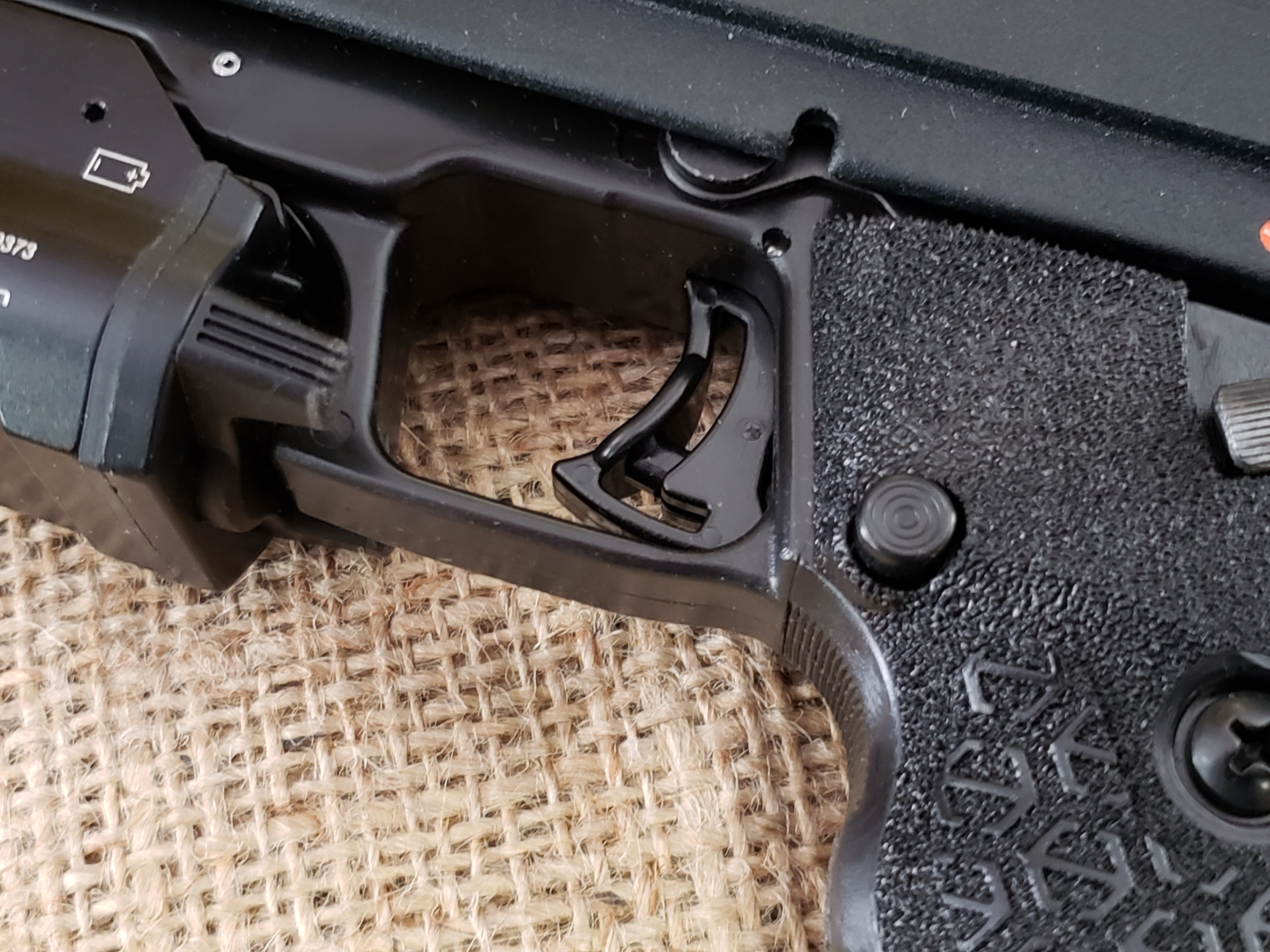 Controls are pretty simple. It has a conventional mag release located on the left side behind the trigger guard.
There's a frame mounted thumb safety, also located on the left side of the frame, which also operates as a slide hold open lever. There's no take down lever, as you actually need a punch to push out a take down pin to field strip the gun. That's kind of a pain if you need to field strip at the range for some reason but not a big issue at home on the workbench.
The JXP 10 ships with one magazine, a cable lock and a really nicely done manual. Honestly, it's a better manual than I've gotten with guns five times its price.
Spare mags are available through Hi-Point for a reasonable $19.50 each or a little less elsewhere. A variety of muzzle brakes, the optional optics rail, and some basic holsters are also available through Hi-Point.
So What is a 10mm Good for?
What would you use your 10mm Hi-Point for? Well, first off it's an affordable range gun if you just want to blast away with 10mm. It'll also work just fine as a defensive gun just like millions of other Hi-Points out there.
Yes, I know gun snobs dismiss the Hi-Point, but the fact is that they're reliable and there are heck of a lot of them in glove boxes and night stands all over the country doing personal defense duty. It's kind of big for concealed carry, but it'd probably work for some folks.
One of the things the JXP 10 is really good for is outdoors use. 10mm's have become popular guns with guides and woodsmen in recent years. They put out .41 magnum power levels in an easy-to-shoot package with more capacity than a revolver. Most 10mm's handguns, though, tend to be in the $500 and up range. The JXP is less than half of what any of those other will cost you. It's also a heck of a lot less than other good outdoor options like a .357 Magnum or .44 Magnum revolver.
So the JXP 10 is a very affordable option for folks who want backup gun for fishing, camping, or other outdoor activities. It'd pair nicely with the 1095 carbine as well, especially since they share the same mags. At $225 you could pretty much afford to just keep a JXP dedicated to your camper, Jeep, snowmobile or fishing kit.
And let's not forget roaming the radioactive wastes or cyborg-infested cities of the future either. On those post-apocalyptic landscapes, the 10mm should do a pretty good job of putting down mutants and cyberpunk gangmembers alike.
Ammo 
I got a variety of ammo for my field tests from Freedom Munitions, SIG SAUER and Steinel Ammunition.
I used both 180gr RNFP FMJ and 200gr XDef hollow point rounds from Freedom. The SIGs used were a mix of 180gr RNFP FMJ and 180gr JHP rounds. From Steinel, I tried both 180gr RNFP FMJ and a lighter 140gr hollow point running at a screaming 1400fps, as well as their heavy 220gr hard cast lead (coated) round, which would be excellent in bear country.
I also had a couple other odd varieties of 10mm laying around the ammo locker that I tried out as well.
Function was perfect with all loads tested after a single hangup on the feed ramp in the first magazine I fired. Recoil was interesting. Not bad at all, even with the 220 hard cast loads or those zippy 140gr rounds.
You feel that massive slide cycling, but it isn't unpleasant or hard to manage. In some ways it reminds me of shooting a black powder muzzleloader. There's a lot of bark, but the recoil is more like a slow push than a sharp punch.
I ran a few hundred rounds of mainly 10mm — as well as some .40 S&W through the JXP 10 with no hand fatigue or discomfort. More on that .40 S&W bit in a minute.
Generally speaking the big frame and texturing give you a firm grip and plenty to hold the gun steady while shooting and under recoil. The only issue I had was that towards the end of the rage session I started noticing two spots on the web of my hand where the top of the grip hit on either side that became abraded. I'll take a closer look and see what's causing that hot spot and probably take some sandpaper to the grip and knock off the edge at that point. Or I won't shoot so much in my next range session.
Accuracy was reasonable, but no one will mistake this for a match gun. The sights are pretty basic, and the trigger pull is…mushy. Trigger pull weight on my gun was around 8 pounds on my trigger gauge.
Most groups were in the 2 to 3-inch range at 15 yards. I could hit the center plate on my half-sized steel silhouette target at 25 yards more often than not. I tended to shoot low and left but I was able to dial that in with the adjustable rear sight.
The best groups I shot were actually with those heavy Steinel 220gr loads. With a 10-round mag I'd get about half the rounds in one ragged hole and then the others within 2 inches or so.
Steinel's 140gr load printed the second-best groups at around 1¾ inches. Being that one of the roles I see the JXP excelling in is as an affordable back country critter defense gun, the fact that it reliably shoots the heavy hard cast loads so well is a bonus.
The Forty Factor
Should you shoot .40 S&W in your 10mm autoloader? No, you should not. Always follow the guidelines provided by the manufacturer and only use approved ammo listed in your manual. Hi-Point will disavow all knowledge of your actions and probably secretly hate you too. I'm just guessing, I can't actually speak for them.
With that caveat out of the way, did I shoot .40 S&W out of my 10mm Hi-Point? Yes. Yes I did.
The .40 S&W round is literally a shortened 10mm so the case head and rim are the same. If your gun's extractor holds the round in place, it will fire and feed .40's. Hey, I saw it on the internet so it must be okay. I actually did talk to someone in the industry as well who advised that they've fired thousands of .40's through 10mm guns over the years.
I had a box of Steinel .40 S&W on hand as well as a mixed ammo can of old Speer Gold Dot HP, FMJ's and frangible rounds, and even some kind of crusty old Federal Hydrashock HP's. They all fed fine and extracted well in the gun. Your mileage may vary.
Recoil was, as you'd expect, very mild. Similar to shooting .38's from a full-sized .357 revolver. Accuracy with the Steinel loads was actually pretty good with best groups in the 1½ inch range.
Again, always listen to what the manufacturer and manual recommend; don't listen to random guy on the internet. It was interesting to know though that in my case it did work fine.
I like the idea of a post apocalypse gun being able to use a variety of ammo that you might stumble across. How about this? Just lodge that in the back of your head and don't try it until the apocalypse actually happens. You won't have to worry about your warranty at that point and Hi-Point won't have to deal with you.
Holster Up
When I started looking, there weren't a lot of holsters listed specifically for the JXP 10, other than the few basic nylon ones that Hi-Point offers. To be accurate, I found only one. It was a leather and Kydex belt slide Outside the Waistband (OWB) model from Kinetic Concealment. I reached out to them and had a sample shortly after.
It's a simple holster but the build quality is good. It slides on your belt with the two belt loops on the leather backer and is geared toward strong side carry. I recommend using a wider gun belt. The JXP 10 pistol is no lightweight, and you'll need the support.
With that said, the holster held the big gun close to the body and was comfortable enough to wear and carry. Being that retention is provided through the molded Kydex your draw isn't unimpeded by any thumb snap or other secondary retention. Price on the Kinetic Concealment OWB is $49.95. They're made in the USA and available through their website.
For outdoor use I thought a chest rig of some sort would be the way to go and, while not listed specifically for the JXP 10, I came across the Military Shoulder Holster from Elite Survival Systems. It's a durable nylon shoulder rig done in the style of the old military tanker holsters used by soldiers and airmen since 1942.
It holds the gun on the left side of the chest, as opposed to under the armpit as a conventional shoulder holster would. The position is more comfortable in my opinion, and situates the gun better for easy access. It works well when wearing a pack, hip waders, or the like too.
The holster has an adjustable shoulder strap and a retention strap secured by velcro. The JXP is at the upper size limit of the HN45BR size holster, but it works perfectly. It's a great choice for outdoor use and the durable, heavy duty nylon should stand up to the elements really well. Elite Survival System's Military Shoulder Holster is also made in the USA and available for $52.95 from their website.
The Backwoods and Beyond
If you've been interested in a 10mm, but the price of entry has kept you away, the JXP 10 might be just what you were looking for. It's a really affordable way to get into the 10mm market but with its GLOCK-compatible front sight, optics capable slide, light mount and suppressor ready threaded barrel, it offers most of the features of its more expensive competitors.
Okay, it may also be bigger than most of them. It's for sure heavier, and it's not really a looker. But the Hi-Point JXP 10 does exactly what it's supposed to and goes bang when you pull the trigger. It hits what you need to hit and does it all at a fraction of what the competition charges.
Specifications: Hi-Point JXP 10 10mm Pistol
Barrel length: 5.2″
Weight: 49 oz.
Capacity: 10-round magazine
Overall length: 8.5″
Rear Sights: Fully-adjustable & Red Dot Ready
Frame: Standard 1913 accessory rail
Finish: Black powder coat
Front Sights: Compatible with Glock® front sights
MSRP: $225
Rating (out of five stars):
Overall * * * ½
Some will raise an eyebrow at an above-average rating for a Hi-point, but it's a matter of perspective. I'd give it 5 in value when you consider you're getting a reliable 10mm auto with a light rail, threaded barrel and capable of taking an optic, albeit with an optional mount. The JXP 10 brings some nice upgrades over older Hi-Point pistols with the new grips, forward slide serrations and updated sights too. It is a big, clunky gun that goes bang every time you pull  the trigger. Most of its non-1911 based competitors are carrying more rounds. Still, none of the other 10mm's on the market come close to the price point of the JXP 10. It's a good, very affordable way to take a step into the brave new 10mm future.