nrablog.com writes [via ammoland.com]: The NRA's National Firearms Museum is full of eminent collections and is honored to showcase a Colt revolver, on loan, that once belonged to W.F. Cody. Complete with an illustrious past, this Model 1851 "Navy" revolver supposedly was used by Samuel Colt to set up the production line at his London factory overseas, and at one time was possessed by the poet scout, Captain Jack Crawford, along with many other famous American arms collectors.
It would be an oversight to not mention that this engraved Colt "Navy" bears serial number one. Attributed by requests as on loan from "A Friends of the NRA," this .36 caliber percussion Colt bears a hand-punched series of dots that spell out Cody's name in an overlay of the original engraving on the sides of the barrel.
William Frederick "W.F." Cody was a frontiersman of the first order, having been a buffalo hunter that supplied the railroads moving west, an army scout during the Indian Wars, a Pony Express rider, and was to become a world-renowned showman with a traveling Wild West show that toured Europe and America from 1883 to 1906. His colorful life of adventure began at the age of 14 while he was en route to California in search of gold.
He, instead, started as a dispatch rider for the transport firm of Russell, Majors and Waddell, the company that later created the Pony Express. His later fanciful recollections of his work involved traveling hundreds of miles on horseback, but in reality, he had to travel with those messages only to a telegraph station just three miles away.
While the Pony Express was to last for only nineteen months, the young Cody had already headed off to join the military. The fictional accounts of what Cody did during this period of his life included becoming a trapper, stagecoach driver, Colorado miner, and even a hotel manager, but these exploits have never been able to be fully documented. But in the West, when facts appear to confront legend, it is usually long after the legend has been published.
Serving as an underage teamster, Cody was able to finally enlist in 1863 and worked with freight caravans in Wyoming that supplied Fort Laramie. His military service continued until his discharge in 1865. Taking a short break, marriage was the next of Cody's endeavors and took Louisa Frederici in the bonds of matrimony in 1866. Their union, often tempestuous, would last more than fifty years.
Back in the military, Cody was to serve as a scout (and later chief of scouts) for the Third Cavalry during the Indian Wars and participated in 16 battles. When not engaged actively in scouting work, Cody was to earn his nickname "Buffalo Bill" for his hunting buffalo for both the Army and the Kansas Pacific Railroad. There was even enough spare time available that Cody was also able to provide his scouting services for a Russian Grand Duke in 1872. By this time, Cody was also to receive the Medal of Honor for gallantry as a military scout. This award was to be later rescinded, but in 1989, it was restored.
It was in the midst of this busy period on Cody's life that he created the larger than life persona that was to leave his biggest footprint in history and with that, the entertainment role he was to portray around the globe. From a small start in dime novels that captured the varied adventures of Buffalo Bill, Cody starred in stage productions next to Texas Jack Omohundro and "Wild Bill" Hickok, fellow westerners.
But it was only Cody that held onto the growing limelight, broadening his involvement with the entertainment industry to support a national touring show.
In 1893, that show became known as Buffalo Bill's Wild West and Congress of Rough Riders of the World. Cody's show toured the United States, traveled throughout Europe and brought a sense of the American frontier to Great Britain. For many abroad, this was to be their first experience with Western culture and Cody brought along cowboys, Native Americans, a plentitude of props including stagecoaches, actual historical figures, and buffalo; all to reveal the story of the Wild West. This show made Cody the best-known person of the age, on equal standing with kings and queens, and honored around the world.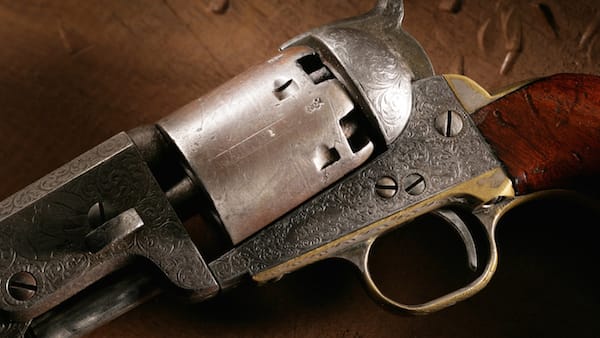 Cody likely received his Colt revolver as a gift during this time period, likely from one of his many admirers of the day. It is probable that the Colt factory passed this c. 1853 production handgun to Cody, although with its connection to Colt's London enterprise, it is equally possible that he received it overseas.
From its stylistic characteristics, we can determine that this Colt was made in Hartford and that it was later taken to Britain to serve as a model for the London revolvers. We know that Cody later presented this Colt to Captain Jack Crawford, the "Poet Scout" of the West and who was most likely the individual who rendered the punch-dotted name on the side of the barrel.
However, after that presentation, the trail goes cold for many years, with the revolver finally surfacing reportedly from a collection purchased in Mexico in the 1960s. From there, this historic handgun passed from one famous collection to another, with names like Gordon Frost, Henry Knode, Peter Buxtun and others associated.
This historical treasure is currently on exhibit at the NRA National Sporting Arms Museum at Bass Pro Shops in Springfield, MO. Visit in person or click here to view the gallery online. (All photos courtesy/NRA Museums)