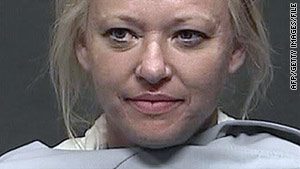 Pictured above: convicted murderer, Shawna Forde. In the press she's referred to as "Arizona Vigillante Shawna Forde." And that's certainly accurate. But the story goes deeper, and so does how it's been covered in the press. Here are the facts . . .
Ms. Forde is a past member of the "Minutemen" – the non-vigilante group of volunteers that patrol the Arizona/Mexico border, and calls U.S. Border Patrol agents when they spot illegals sneaking across the border. They are non-violent. They carry cell phones. Not Uzis.
Ms. Forde was drummed out of the organization for being – how can I put this delicately – a whack job. So she formed her own, similarly-named group. Only this group was a bunch of thugs. She decided to step over the line, take the law into her own hands, and go find herself some ill-eagle Messkins to roust, rob, and rape (as in abduct).
Impersonating U.S. Border Patrol officers, Forde and two accomplices staged a home invasion at the home of Raul Flores. Flores and his daughter, nine-year-old Brisenia Flores were shot to death. They were both U.S. citizens, by the way. Not that it makes one damn bit of difference in this crime. The wife/mother, Gina Gonzales, was wounded. We'll let CNN pick up the story here:
Posing as border patrol and law enforcement officers, Forde, Gaxiola and Bush, whom prosecutors identified as the gunman, showed up at the Flores home after midnight, several hours after the family had returned from a shopping trip in Tucson to buy shoes for their daughter for summer camp.

Brisenia Flores was sleeping on the couch with her puppy when the killers demanded to be let into the home. They accused Flores of harboring illegal aliens and said the house was surrounded by agents.

Once inside, the gunman shot Flores in the chest and Gonzales in the leg. Later Brisenia was shot as she pleaded for her life.
Forde & Co. proceeded to rob the home. Apparently, their goal was to steal money, jewelry and drugs (?!) to finance an anti-immigration hit squad.
This all took place in 2009. Yesterday, Forde was found guilty of a double-homicide, with a side of six other charges, including attempted murder. The sentencing phase starts today.
Lots of questions on this one. First of all, why is a racist, bigoted thug like Forde and her minions being characterized as a part of the Minutemen movement in the press? They threw her out for being full-goose bozo.
You can bet that somebody in the left wing-nut blogosphere will characterize her as a Tea Partier, sooner or later. And they will attempt to tar the Tea Party, Conservatives, 2nd Amendment advocates, Border security advocates and anyone who's not for open borders as all guilty of these murders.
Bank on it. CNN showed impressive restraint in their story. I don't expect others will follow suit.
Simply put, Forde and her accomplices were murdering thugs, using the issue of illegal immigration as a cover, to justify their own illegal acts. They belong behind bars, or on Death Row (my personal preference for this kind of criminal).
I read almost every post and comment here on TTAG. Robert reads all of them. I know of not one of you that would advocate the kind of senseless, criminal actions that this scumbags perpetrated. Even those that are passionate about border security and keeping illegals out do not, to my knowledge, believe that vigilanteism is a good idea or acceptable in any way.
The sad fact, though, is that, to the average person, it's all too easy to take an example like Forde and assume that those on the Right are like-minded. That's ridiculous. But it's all but inevitable. And given the virtual media blackout on the Project Gunwalker story, I wouldn't be surprised to see this story used as a stalking horse to try and deflect attention away from the ATF and over to those who are concerned more with their own safety and security, than some mythical "river of guns" the ATF keeps talking about.