Doug Gilmer writes [via ammoland.com] The quarter bore cartridge family of ammunition is caught in the middle between the popular 6mms, such as the 243 Winchester and the "all the rage today" 6.5mms (26 caliber). Growing up, I read about the 25 calibers in gun magazines where they were described as western calibers. While many trusted the 243 Winchester for deer hunting where I grew up the 25's were overlooked.
The Quarter Bore Cartridge Family
Today, while not breaking sales records, 25 sales remains steady, their effectiveness on medium game is undisputed, and they remain an excellent option for shooters young and old, big or small, needing power without punishing recoil. While some 25s have faded into obscurity, the following chamberings remain viable for today's hunters.
250 Savage Cartridge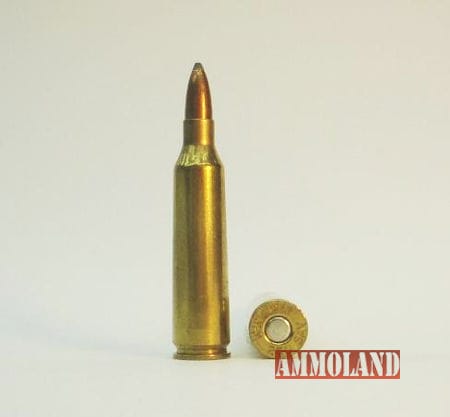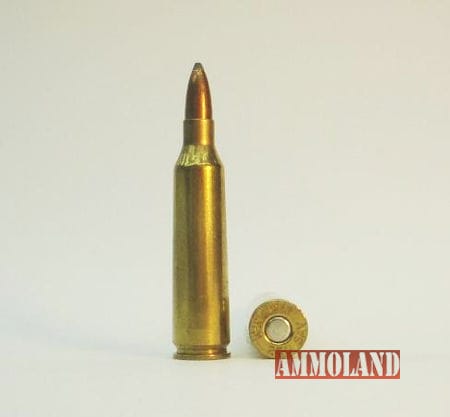 The 250 Savage was first developed in 1915. Also known as the 250-3000 it was the first American commercial cartridge to achieve 3000 feet per second, hence the name. The cartridge did so with a lighter 87 grain bullet.
While a bit scarce, it is still an effective whitetail cartridge and it helped launch the 25 caliber craze in the U.S. Remington loads their 250 Savage with 100 grain bullets at over 2800 fps. If you handload, more potential can be gained with sleeker bullets and modern powders. Some are converting their standard 250s to Ackley Improved versions drawing out more velocity and downrange energy.
257 Roberts Cartridge
The 257 Roberts is a very effective hunting round and is a great choice for new shooters or those who may be recoil sensitive. (Used with permission)"
The 257 Roberts cartridge came along in 1934, beginning life as a necked down 7×57 Mauser. It was the top selling deer and varmint cartridge for over 20 years until the 243 and 6mm came along. The "Bob" out performs the 243 with its heavier 117 and 120 grain bullet but with minimal recoil.
For these reasons, the 257 Roberts is an excellent choice as a starter rifle for young people or small statured shooters. Ammunition is available with Remington, Federal, Hornady and even Nosler loading the 257 with powders and bullets to bring out this round's full potential. Hornady's 117 grain Super Performance leaves the barrel at 2945fps and delivers 2253 foot-pounds of energy. It provides about a 100 yard advantage over standard 243 factory loads.25-06 Remington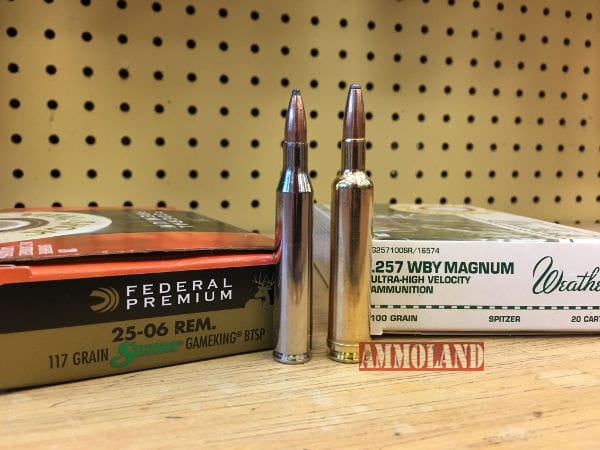 Introduced commercially by Remington in 1969, the 25-06 remignton has been called by some the best antelope and mule deer cartridge ever. It is also popular as a long range coyote and varmint cartridge. As a necked down 30-06, it fits in a standard length rifle action and using the same bullets, out performs the 257 Roberts by about the same margin the Roberts does the 243.
Factory loaded ammunition comes in weights ranging from 90 to 120 grains. From a performance standpoint, Hornady's 117 grain SST load only drops about six inches at 300 yards with a 200 yard zero, and is still carrying 1500 foot pounds of energy, enough to anchor the biggest whitetail, mule deer, or antelope.
As a matter of fact using a properly constructed, controlled expansion bullet, the 25-06 could be, and has been, used on elk. On multiple occasions I have witnessed the 25-06, shooting 117 and 120 grain bullets, drop moose at ranges out to 200-plus yards. As with anything, bullet selection and shot placement is key.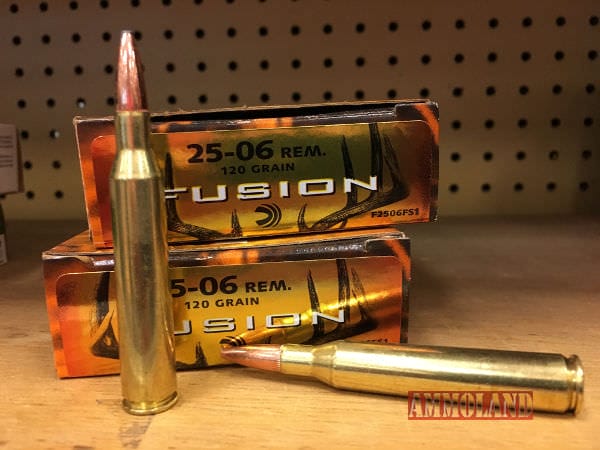 Roy Weatherby left his mark mark on the quarter-bore world in 1944, with the 257 Weatherby Magnum, one of the most popular of all Weatherby cartridges. The 257 Weatherby Magnum was Roy's favorite and he used it to take all manner of big game, including Cape Buffalo.
As with any game species, bullet selection and shot placement are key. This hot quarter bore does deliver serious ballistic. Its parent case, the 300 H&H, has the capacity to drive 80 grain bullets to velocities nearing the 4000fps mark while the heaviest 120 grain bullets can be launched at over 3300fps and delivering over 2900 foot-pounds of muzzle energy, the same as a 30-06.
All the 257 Weatherby loads shoot flat well out past 300 yards. Performance comes at a price; ammo is more expensive, it burns more powder and coupled with higher velocities, barrel and throat life tend to suffer. Most hunters will never shoot enough ammo in a lifetime to have to worry about this but if you are a volume shooter, it is a consideration.
25.45 Sharps
The new 25.45 Sharps, a 223 blown out to 25 caliber for those who want to hunt deer-sized game with a modern sporting rifle. It duplicates 250 Savage ballistics pushing an 87 grain bullet at about 3000fps, delivering 1739 foot-pounds of energy at the muzzle, 2385fps and about 1100 foot-pounds at 200 yards from a 20" barrel, according to factory charts. Since only the Sharps Rifle Company is making ammunition and rifle components for this new cartridge availability is limited.
The Quarter Bore Cartridges or 25 calibers may be often overlooked and out of vogue in favor of all the new cartridges being developed today. However, for most hunters, there is little need for more power and performance then this ammunition family offers. With their light recoil and track record on game, the Quarter Bore Cartridges are worth serious consideration.
About Doug Gilmer:
Doug Gilmer is a law enforcement and military veteran with over 25 years of experience and assignments operating throughout the United States and around the world in a variety of investigative, protective, tactical and direct action roles. He is an avid outdoorsman who enjoys fly-fishing, hunting with a handgun, backcountry adventures, and volunteering with various outdoor themed wounded warrior events. He has been a frequent contributor to outdoor media for for several years with numerous articles and photos published in a number of media channels. He is a member of the Professional Outdoor Media Association as well as a former board member and executive officer.