By David Lewis
Yesterday, in Part 1, we looked at the basics of how suppressors work and what they do when you shoot with one. But lots of people want to know…
Are Silencers Legal?
Silencers aren't the easiest firearm accessories to purchase. They are heavily regulated, just like actual machine guns, under the National Firearms Act (NFA) of 1934, which falls under the purview of the Bureau of Alcohol, Tobacco, Firearms and Explosives (ATF).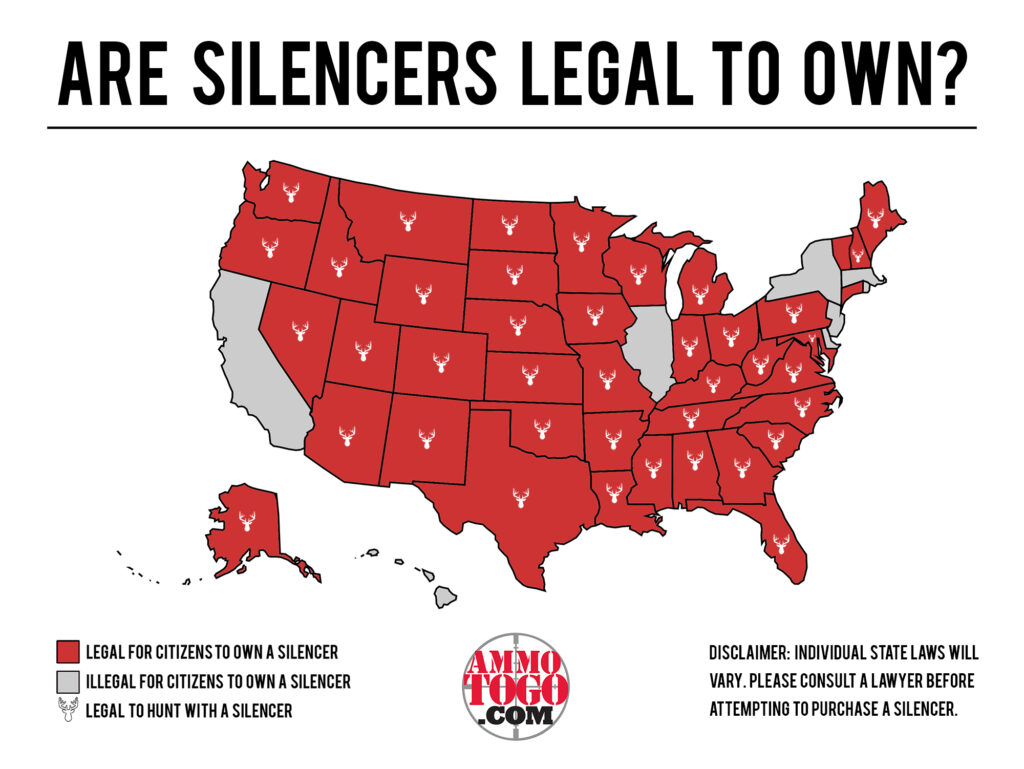 To legally purchase or possess a silencer you must meet the following criteria:
Be a resident of the United States.
Reside in one of the 42 states that allows civilian ownership of silencers.
Be legally eligible to purchase a firearm.
Be at least 21 years of age to purchase a silencer from a licensed silencer dealer.
Be at least 18 years of age to purchase a silencer from an individual on a Form 4 to Form 4 transfer (contingent on state laws).
Be at least 18 years of age to possess a silencer as a beneficiary of a trust or as a member of a corporation (contingent on state laws).
Pass a BATFE criminal background check with a typical wait time of up to 10 months.
Pay a one time $200 Transfer Tax Stamp fee.
At the time of this writing, the following 42 states allow citizens to own a silencer for personal use: AL, AK, AZ, AR, CO, CT, FL, GA, ID, IN, IA, KS, KY, LA, ME, MD, MI, MN, MS, MO, MT, NE, NV, NH, NM, NC, ND, OH, OK, OR, PA, SC, SD, TN, TX, UT, VT, VA, WA, WV, WI, WY.
Although legal to own there, hunting with silencers is currently illegal in: CT, VT. The hesitation of hunting with silencers in these states allegedly comes from trying to stop poachers from "quietly" killing game animals back in the mid 1900's. It also seems the those state governments, like many others in the Northeast area, are simply against furthering firearm-related legislation.
---
Mainstream Popularity
Silencers can be somewhat cost prohibitive for most citizens. Depending on the setup, the cost of purchasing a silencer can range from a few hundred to upwards of thousands of dollars. Couple that cost with the $200 non-refundable tax and you can see why some people would like to deregulate these devices.
Despite the extensive regulations and high prices, according to the 2018 ATF Statistical Update, American citizens currently own 1,489,791 silencers, a number that has grown significantly over the past two decades. As of 2018, Texas is the leading state in silencer ownership, with just over a quarter of a million registered devices.
The surge in popularity of these devices has come from modern companies entering the marketplace with enticing advertising. There has also been an increase in education and awareness of hearing loss caused by firearms.
However, lately there have been increased efforts by anti-gun groups to try regulate these devices even further. Some groups have even called for a complete and total ban of silencers for firearms. The arguments in favor of bans and confiscations range from how silencers make a firearm "more deadly" all the way to "only murderers use them."
But, if they're so horrible and deadly, why isn't there a thriving black market for silencers and a plethora of crimes involving them?
According to research by Paul A. Clark, from 1995-2005 there were only 153 federal convictions in which a silencer was used during the commission of a crime. Clark also wrote,
"The data indicates that use of silenced firearms in crime is a rare occurrence, and is a minor problem. Moreover, the legislative history of silencer statutes indicates that these provisions were adopted with little or no debate."
To fight back against such ridiculous and unsubstantiated claims in recent years, legislation and research have been introduced to try to deregulate the sale of silencers all together.
The Hearing Protection Act of 2017, Sportsmen's Heritage and Recreational Enhancement (SHARE) Act, and SHUSH Act, although unsuccessful so far, have sought to amend current law to deregulate and treat silencers like other firearm accessories.
---
Silencer Decibel Level Testing
As far as sound measurements are concerned, we can cite decibel (dB) levels all day, but unless we have something to compare them to, the numbers are somewhat useless. With this in mind, we set out to do our own independent sound level testing.
We wanted to approach our project as scientifically and accurately as possible, without first having to get a degree in acoustics.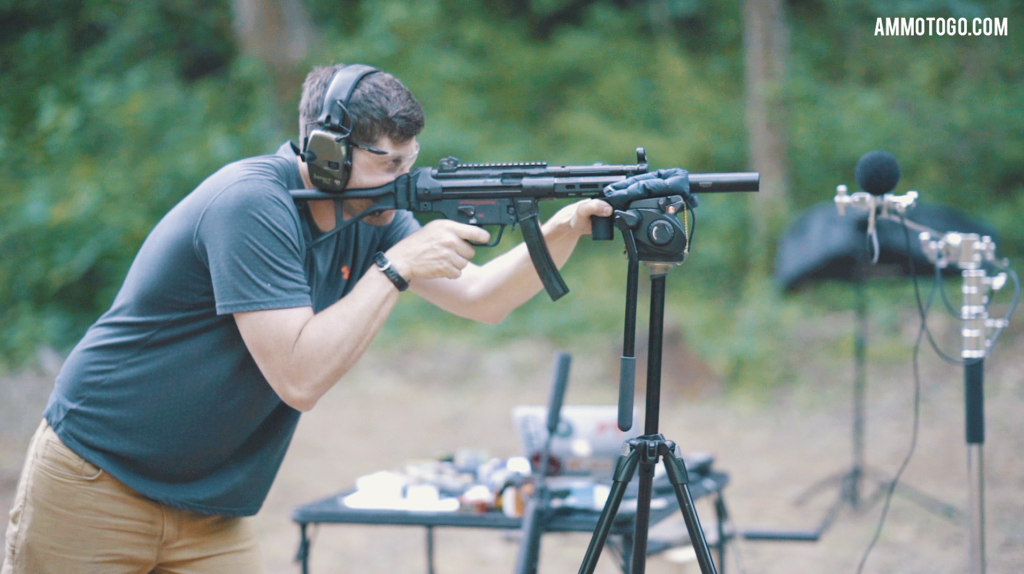 For our testing purposes, we used a Larson Davis Model LxT1-QPR Sound Level Meter.
We recorded both suppressed and non-suppressed readings, using the z-weighting method of measuring high pressure levels. This method of measurement is also referred to as linear or un-weighted.
Un-weighted is a more accurate method of evaluating potential hearing damage and is the best method to use when testing firearms. MIL-STD 1474D is considered the military standard for measuring sound. Following these standards, we placed the microphone 1 meter to the left of the muzzle and 1.6 meters above the ground, with the microphone pointing upward, at a 90 degree angle to the bore. All testing was completed away from any reflecting surfaces, so as to not negatively affect the audio readings.
We compared five of the most popular handgun and rifle calibers available on the market today, testing 30 different SKUs of ammunition in the process. Then, we test fired five rounds suppressed and three un-suppressed with each brand of ammo to find an average dB level.
First Round Pop
The first shot out of a suppressor at any given time will generally be louder than subsequent rounds fired. This phenomenon is commonly known as "first round pop" or FRP.
This is caused by the burning off of oxygen that has filled the silencer baffles and chambers when the action is left open or the device has not been in recent use. With FRP in mind, we wanted to gather more testing data to find an average suppressed level, compared to our test shots when firing unsuppressed.
Rifle Caliber Testing
Three of the most popular rifle calibers are .308 Winchester, .223 Rem/5.56mm, and .22LR. We chose two different barrel lengths as one of our test variables, one shorter and one longer. It's reasonable to assume that the longer barreled firearms will have lower decibel readings.
Suppressed vs. Un-suppressed .22 Long Rifle
As expected, this smaller load had some of the lowest dB readings for the rifle calibers. The lowest average suppressed measurement of 119.34 dB came from firing 22LR Federal American Eagle Rimfire Suppressor 45gr. CPRN ammo with a 16″ Savage Mk II.
Overall, we recorded an average of 119-129dB when firing all ammunition suppressed. These levels are comparable to the sounds you would experience when operating most power tools.
When shooting unsuppressed, this smaller caliber comes in at an average of 145-153dB, just slightly louder than the suppressed .308 rifles. It's a level most people wouldn't typically expect to experience from these tiny little rounds.
Suppressed vs. Unsuppressed .223/5.56mm
Unsuppressed, we recorded an average of 166-171 dB for the 16″ and 20″ AR-15 rifles.  When shooting with a silencer, the levels come in at an average of  135-145dB. That's an average reduction of 36dB between the un-suppressed and suppressed shots.
We observed a change of only 1-4dB between the two barrel lengths, both suppressed and unsuppressed.
Suppressed vs. Unsuppressed .308 Win.
Of all the rifle calibers tested, the loudest average unsuppressed measurement of 172.87 dB came from the 18" Ruger American Predator rifle firing .308 Win Federal Gold Medal Berger 185gr. OTM ammo. The same ammunition fired with a suppressor came in at an average of 148.4 dB.
While that's a reduction of almost 25 dB, the sound of a suppressed .308 load will still result in hearing damage if additional ear protection is not worn.
Pistol Caliber Testing
We tested three of the most popular pistol calibers, 9mm, .45 ACP, and .22LR, with varying barrel lengths.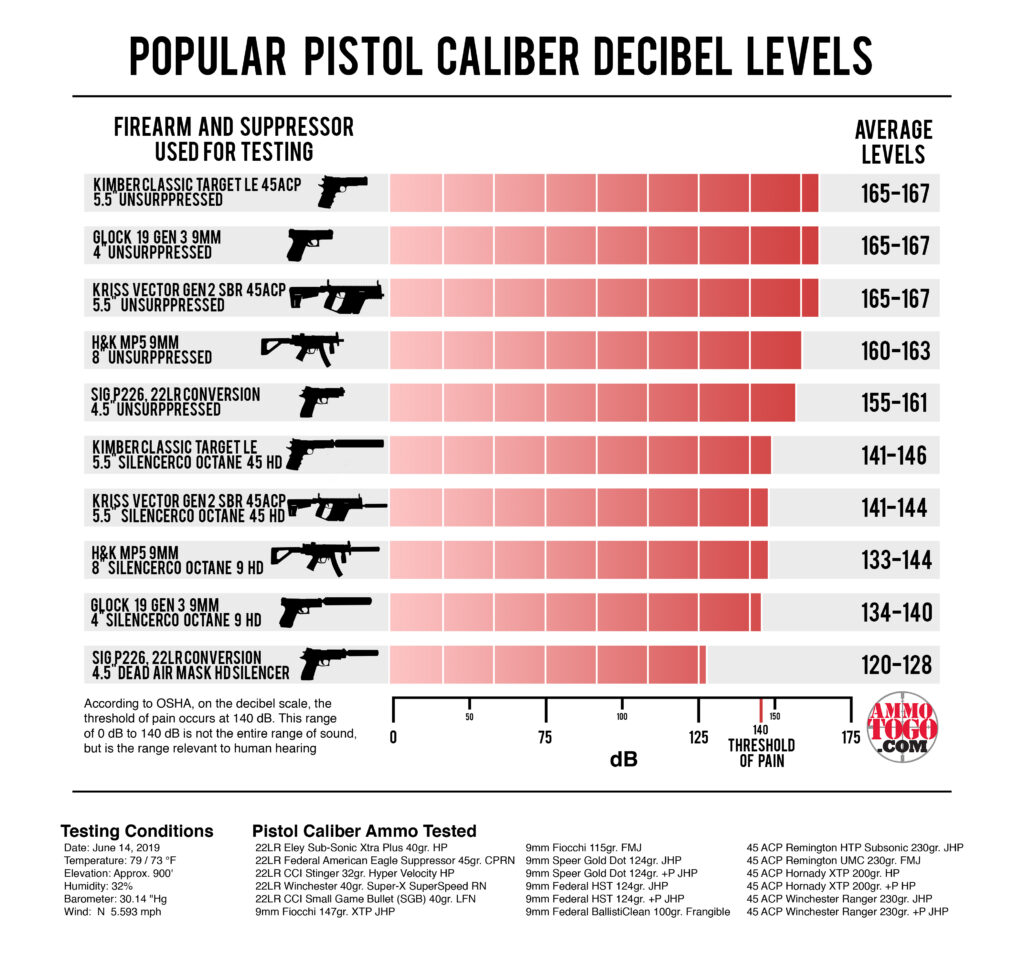 Suppressed vs. Unsuppressed .22 Long Rifle
Similar to the rifle testing, .22LR had some of the lower dB readings for this round of testing. The suppressed SIG P226 conversion gave us an average of 120-128 dB for all ammo tested. When fired unsuppressed, the .22LR rounds came in at an average of 155-161 dB, just under the unsuppressed H&K MP5.
With an average reduction of 41 dB, it's easy to see why so many people enjoy shooting this caliber with a silencer.
Suppressed vs. Unsuppressed 9mm
We chose the ever-popular GLOCK 19 and H&K MP5 for this round of pistol caliber testing. When firing the GLOCK 19 suppressed, we recorded an average of 134-140 dB, while the H&K MP5 came in at an average of 133-144 dB. The unsuppressed MP5 registered an average 160-163dB, compared to the unsuppressed GLOCK 19, with an ear-splitting average of 165-167 dB.
That's an average reduction of 34 dB when using a silencer with a 9mm firearm.
Suppressed vs. Unsuppressed .45 ACP
We saw comparable results for .45 ACP as we did with 9mm. The average un-suppressed levels, which were some of the loudest results for the pistol calibers, came in at average of 165-167 dB, while the average suppressed levels came in 21-26 dB lower, ranging from 141-146 dB.
Both firearms used for testing in this caliber had the same barrel length of 5.5″, but are built completely different. There weren't any measurable differences in the audio levels when un-suppressed, but we did see a 2 dB difference when using a silencer.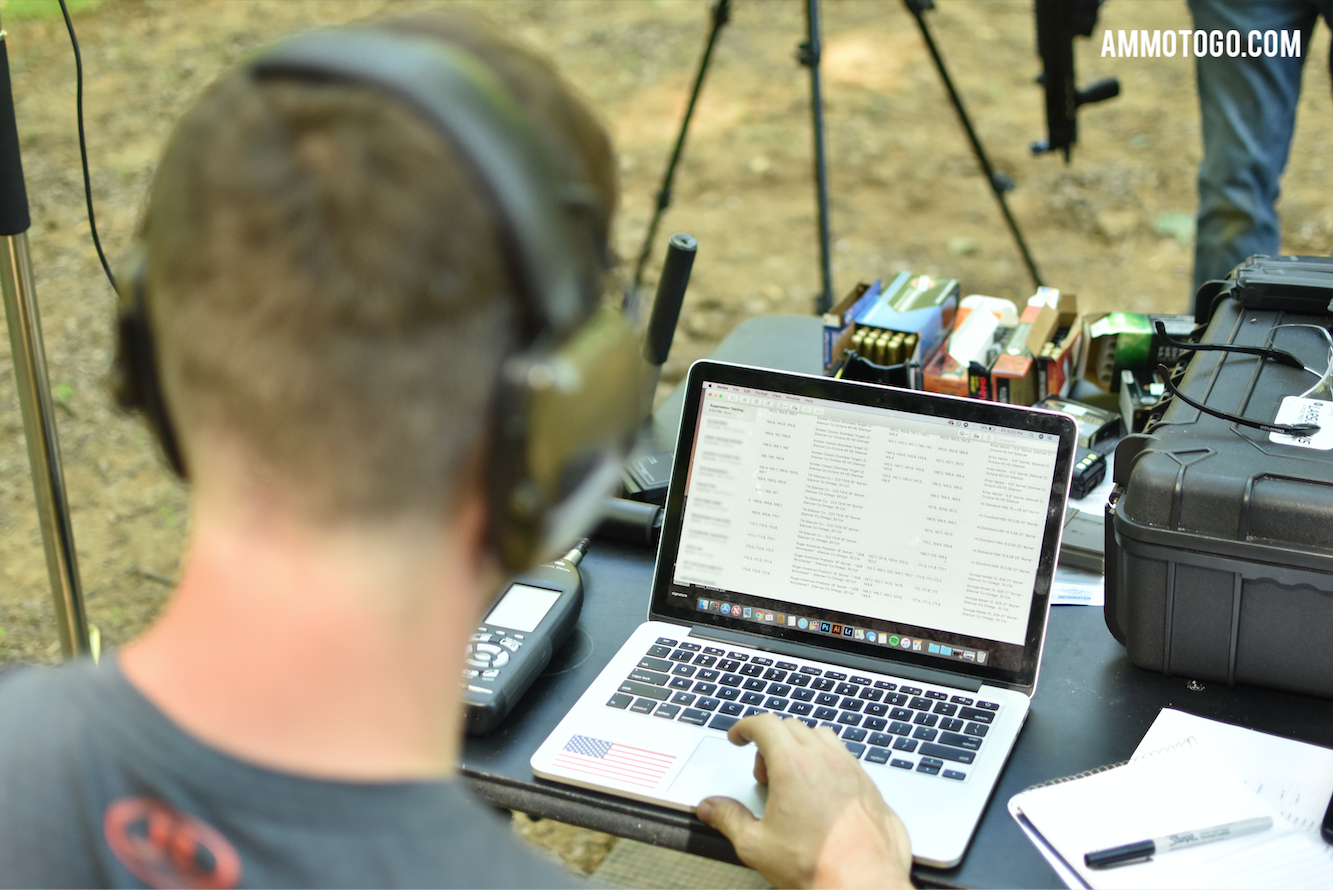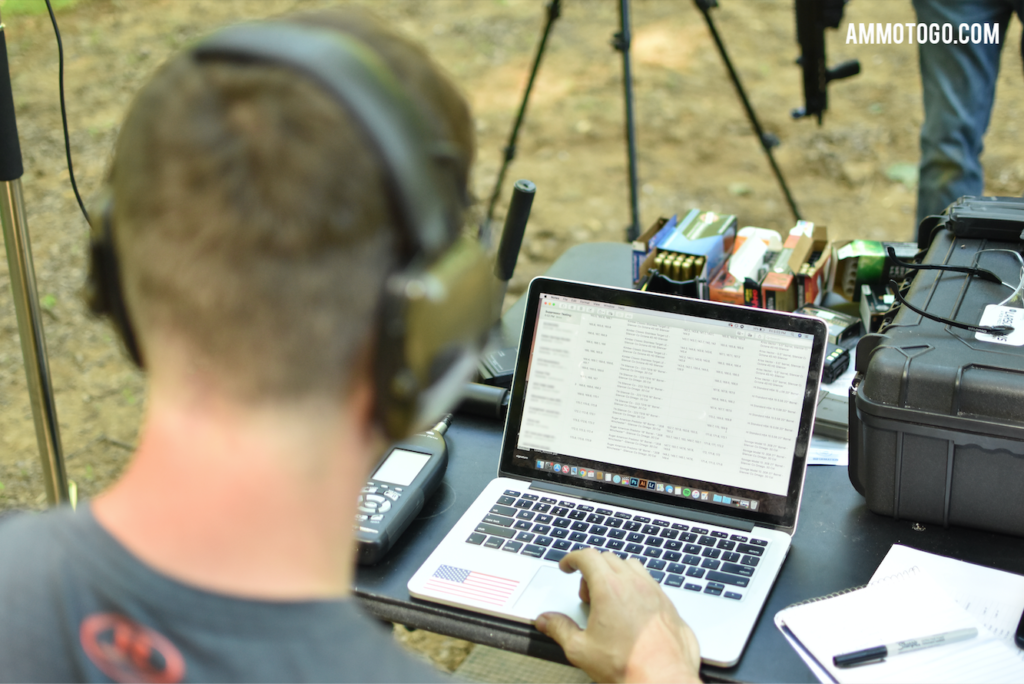 If you would like to see all of the raw test data, click the link below:
---
Conclusions
There are a lot of reasons for owning a silencer. Some may be about personal rights, others might just be looking for another hearing protection alternative. With a proven reduction of gunshot blasts of up to 30-40 dB, it's hard to deny the fact that using these devices can and will protect a shooter's hearing health.
Whatever the reason may be, educating yourself and others will help everyone better understand how these devices work, and their potential role as everyday tools, how they can influence on our hearing health, and their application in personal defense, and recreational uses.
So where do you stand on the topic? Are you one of the 1.4+ million civilians who actually own a silencer? Let us know about your experience in the comments below and if you would recommend one to someone new to the subject.
Thanks for your support, and as always, happy shooting!
Ammunition Used for Silencer Testing:
22LR
Eley Sub-Sonic Xtra Plus 40gr. HP
Federal American Eagle Suppressor 45gr. CPRN
CCI Stinger 32gr. Hyper Velocity HP
Winchester 40gr. Super-X SuperSpeed RN
CCI Small Game Bullet (SGB) 40gr. LFN
9mm
Federal BallistiClean 100gr. Frangible
.45 ACP
Remington HTP Subsonic 230gr. JHP
Winchester Ranger 230gr. JHP
Winchester Ranger 230gr. +P JHP
.223/5.56mm
Federal American Eagle 62gr. FMJ-BT
Federal Gold Medal 77gr. MatchKing BTHP
PMC X-TAC Match 77gr. Sierra MatchKing OTM
Black Hills 36gr. Remanufactured Varmint Grenade HP
Federal Lake City (American Eagle) XM193 55gr. FMJ
.308/7.62x51mm
Federal Gold Medal Berger 185gr. OTM
WPA Military Classic 145gr. FMJ
This article originally appeared at ammotogo.com and is reprinted here with permission.