Rossi just released a new pistol that probably isn't going to be your typical EDC choice, but it should make a fun gun for camping trips or other woods adventures. The new Brawler is a single shot .45 Colt/.410 pistol reminiscent of the Thompson Contender. It's a big, simple, break open design with an exposed hammer and single action mechanism.
There's not much to go wrong with the Brawler. It has basic iron sights, but also a Picatinny rail to mount a red dot or long eye relief scope.
Rossi has had a couple single shot .45 Colt/.410 pistols over the years including the Super Comanche and the Matched Pair (that came with a spare .22LR barrel) and each iteration seems to be a little more streamlined and refined. To my eye, the Brawler has the best lines of the three, and is the least clunky.
I like the idea of a compact .410 as a woods gun for things like snakes or other critters that might invade your campsite. Loaded with .45 Colt, you have some real oomph for bigger animals. too.
Although a single shot is far from ideal for self defense against two legged critters, it's still a lot better than harsh language. The Brawler obviously would make an economical hunting pistol as well, with .45 Colt having plenty of power for most medium-sized game.
One of the best things about the Brawler is its price. The MSRP is only $239.99, so I'm betting street prices will be around the $200 mark. That makes it an extremely affordable option for a dedicated camp gun, or to stash in your Jeep, snow mobile, or ATV. Check out the release from Rossi below . . .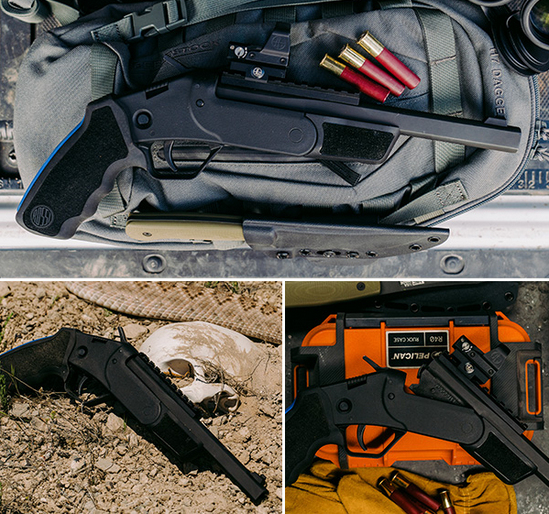 Introducing the Rossi Brawler—a revolutionary break-action single shot 410/45LC pistol designed to deliver unparalleled performance and versatility at an affordable price point.
Boasting a unique combination of power and precision, this innovative, one-shot firearm enables you to throw down on anything from rattlesnakes to medium-sized game thanks to its ability to fire either 45 Colt or a 410 shotshell.
The Brawler's dual-caliber capacity ensures that you can adapt to various shooting scenarios with ease—making it an ideal choice for both self defense and recreational purposes.
With its hammer-fired, break-action single-shot mechanism, the Brawler allows for quick and easy reloading ensuring minimal downtime during shooting sessions.
Equipped with a picatinny rail featuring a built-in sight, the Brawler offers enhanced accuracy and customization options.
You can easily attach your preferred optics or accessories allowing for a more personalized shooting experience tailored to your individual needs.
When you're looking for your next adventure gun, the Rossi Brawler is all you need.
Specifications:
Caliber: .45 COLT / .410 MAG
Gauge: .410 ga (2.5 & 3)
Capacity: 1 Rounds
Front Sight: FIXED
Rear Sight: SERRATED
Action Type: SAO
MSRP: $239.99