Press release:
Bayonne, NJ -(AmmoLand.com)- Henry Repeating Arms upholds its position as the country's leading lever action manufacturer with the introduction of their Henry Big Boy Silver, Big Boy Steel .41 Magnum and All-Weather Lever Action rifles . . .
The Big Boy Silver [above] debuts as a new addition to the Henry Silver Series. The hardened silver receiver has the same tensile and yield strength as steel. The frame, barrel band, and buttplate surfaces can be cleaned and polished at home to maintain the brightly gleaming silver look for generations to come. Offered in three calibers: .44 Mag/Spl Model # H006S, .45 Colt Model #H006CS and .357 Mag/.38 Spl Model # H006MS. MSRP on all three is $990.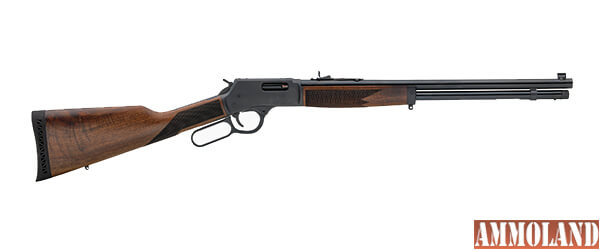 Henry's line of Big Boy Steel rifles has expanded to introduce a .41 Magnum caliber, model # H012M41, MSRP $850. The Big Boy Steels are designed for the modern hunters who prefer something a bit lighter than Henry's brass-framed Big Boys. Weighing in at 7lbs, they hang their 20" round barrel and checkered walnut furniture on a matte-finished blued steel frame that's drilled & tapped for optional scope mounts.
The adjustable Western-style sights and sliding transfer bar "safety" system in their hammer is the same as the Big Boys'. Unique features include a ventilated rubber recoil pad for easy shouldering, swivel studs for comfort, and the rifle-style fore-end cap instead of the usual carbine-type barrel band.
The All-Weather Lever Action marks the first time Henry offers steel centerfire rifles meant for everyday life in the truck, on the farm, and through the woods. They feature hard chrome plating on all metal surfaces (except springs and sights), and a durable industrial-grade coating on the hardwood furniture.
The hard chrome doesn't flake, chip, or peel and its corrosion resistance is stronger than some stainless steels. The stained hardwood's coating is formulated to stand up to wear, tear, scratches, moisture, temperature variations, and the angst of the various "character marks" an everyday outdoor tool inevitably picks up during its lifetime. Available in two calibers: .30-30 Model #H0009AW, MSRP $850 and .45-70 Model H010AW, MSRP $950.
Henry .45-70 Model H010AW All-Weather Lever Action Rifle
"Our customers have asked for these models and we've listened," said Anthony Imperato, President of Henry Repeating Arms.
Henry rifles can be purchased through a licensed firearms dealer. Most dealers offer a discount on the MSRP. To find a dealer call toll free (866) 200-2354 or visit the Own A Henry tab at henryrifles.com.
About Henry Repeating Arms:
Henry Repeating Arms is one of the country's leading rifle manufacturers. Their legendary name dates back to 1860 when Benjamin Tyler Henry invented and patented the first practical repeating rifle during the Civil War. It became known as the "gun you could load on Sunday and shoot all week long." Henry rifles went on to play a significant role in the frontier days of the American West and soon became one of the most legendary, respected and sought after rifles in the history of firearms. President Lincoln's Henry hangs in The Smithsonian and has become a national treasure. The company's manufacturing facilities are in Bayonne, NJ and Rice Lake, WI.
For more information, visit: www.HenryRifles.com.