Mike Searsen writes (in the third person) via ammoland.com: The Mossberg 464 SPX – Centerfire Lever-Action Rifle in .30-30 Win was probably the ugliest rifle we had ever seen. Granted, we could see the utility in the railed forend, the drilled and tapped receiver and especially the threaded barrel. We could not get past . . .
the hideous buttstock. It was the only thing we truly hated about the 464 SPX. For years we would tell anyone at Mossberg we could make contact with how the rifle would be so much better with a conventional stock.
Our pleas fell on deaf ears. We ended up picking one up for a good deal [ED: MSRP $558] and found it pleasing to shoot with the AR-type contraption that passed for a stock. Still, taking it to the range was like taking your sister to the prom.
We decided to make a few changes.
The Furniture
We would not necessarily say that black stocks should be forbidden on lever action rifles. A more traditional looking buttstock in black would have suited us perfectly and we could have lived with the rails. Unfortunately, the forend broke apart while removing it You can read about it on Breach Bang Clear. This made us look for a proper forend and stock.
We turned to Boyd's Gun Stocks for a matching set. Rather than go laminate or "Zombie Pattern" we took a tip from the history books and decided to go with the look and feel of one of Teddy Roosevelt's rifles: a Winchester 94 half-magazine rifle he kept at Sagamore Hill with a Maxim Silencer affixed to the barrel.
Keeping in tradition with Teddy's rifle, that meant our buttstock and forend would be made of walnut with a Claro finish.
In the past, fitting a buttstock to a lever gun meant an awful lot of hand fitting and then more fitting. Fortunately, Boyd's stocks are more of a drop in finish and Mossberg really helped with their design in this regard.
They totally skipped the tang attachment used by Winchester, Marlin, Rossi and other assorted imitators and used a stock bolt system similar to what the company uses on its shotguns. This bolt comes out via an internal 1/4″ hex nut, meaning little to no fitting is required. We did have to purchase a longer stock bolt from Mossberg in lieu of the stubby one that came with the SPX Tactical.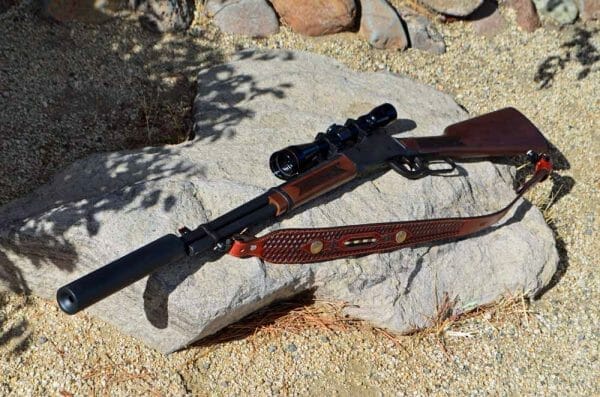 Boyd's stock replaced the tactical contraption Mossberg installed at the factory and the forend replaced the one we destroyed. With Boyd's Walnut furniture installed we were on track to making the SPX look like a real lever action carbine!
The Scope
We have a decent collection of lever action rifles: antiques, curios and even a few commemorative rifles that serve as shooters. However, we never tried one with a scope and as this was not a historically significant rifle, we thought we would change that by adding our trusty old Leupold 4-12X that was actually on the rifle we traded in for this one.
However, the rings would not work so we reached out to Warne Scope Mounts. They sent us a perfect set of rings for use with the Mossberg 464 (for the record, these are the same as those found on the Winchester 94).
Warne's mounting base is so low that you can still use your irons if the scope is not mounted and the Quick Detach rings allow you to remove the scope and reattach it with little to no shift in zero. The rings mount through the side instead of through the top, but once you realize how to position the tube correctly, installation becomes second nature. We run these rings on a few of our other rifles so this wasn't our first rodeo.
At the Range
With the rifle bore-sighted we headed out to the range to see how well our carbine would perform. We do not know if Mossberg truly makes a better lever action than Winchester used to make or if it was using the scope to actually see our target, but at 100 yards we were shooting 3/4″ to 1.2″ groups repeatedly. much better than we ever did with open sights on a 30-30 lever action, which may be changing the way we look at shooting from now on.
Oh yeah, we almost forgot the very reason we wanted this rifle in the first place: that threaded barrel.
Ghost Wind
The factory flash hider came off with no trouble until we found out that none of our direct thread suppressors or 308 or 338 mounts would fit. Mossberg built a .30-caliber rifle, but the barrel was threaded in 1/2 X 28″.
We came to find out that this is not uncommon for hunting rifles, unfortunately, very few manufacturers offer .30 caliber mounts in 1/2 x 28, and for good reason as you do not want someone to accidentally install a 5.56 silencer on your .30 caliber rifle!
Mike Klos of American Manufacturing had recently sent us a Ghost Wind Suppressor to test. We told him of our dilemma and he rushed out .30-caliber brake with a 1/2 x 28″ mount so we could mount it on our Mossberg SPX. The mount is a thread over muzzle brake design, meaning that you install the muzzle brake on your barrel's threads and the brake offers a coarser threaded platform to allow you to run the suppressor on any rifle with a similar muzzle device. with allowing an easy "return to zero" reducing a shift in point of impact when you reattach the suppressor.
Shooting a suppressed lever action has a set of advantages over a semi-auto. As it is a closed action, it makes for quieter shooting. No gas escapes and more important, you get no mechanical noise from the action.
The Ghost Wind features a fully welded core of high-performance baffles pressed into the tube and sealed by welding. This construction method makes for a stronger and lighter unit.
Noise level was comparable to a suppressed mild 300 Blackout supersonic round. With any centerfire rifle that is not subsonic, you are going to hear that tell-tale supersonic crack. Still, at just about 129 dB this is one of the quieter platforms we have ever fired with a silencer. Much quieter than a suppressed bolt action 308 Winchester!
We had asked Mossberg since they debuted the 464 SPX if they would offer it with a more traditional stock and they never really took us seriously. so we did the next best thing and built it ourselves. We have done this in the past with other firearms and when folks complain that "company X" should make "Gun Y" in "Z Configuration" or in "this caliber" with "that barrel length"; our advice is to build it yourself.
We thought Mossberg made some remarkable innovations with their lever rifles but simply felt that this particular design needed a little help.
Our deconstructed tactical rifle is now a practical hunting and shooting-iron rifle; with the help of a world-class stock maker, cutting-edge scope mount manufacturer and a true genius in the NFA world.
---
About Mike Searson: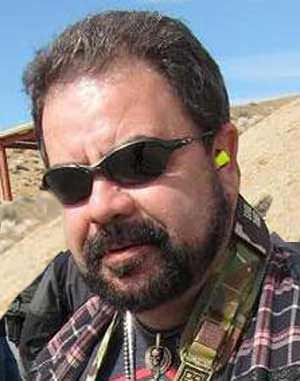 Mike Searson's career as a shooter began as a Marine Rifleman at age 17. He has worked in the firearms industry his entire adult life as a Gunsmith, Ballistician, Consultant, Salesman, Author and was first certified to teach firearms safety in 1989.
Mike has written over 2000 articles for a number of magazines, websites and newsletters including Blade, RECOIL, OFF-GRID, Tactical Officer, SWAT, Tactical World, Gun Digest, Examiner.com and the US Concealed Carry Association as well as AmmoLand Shooting Sports News.