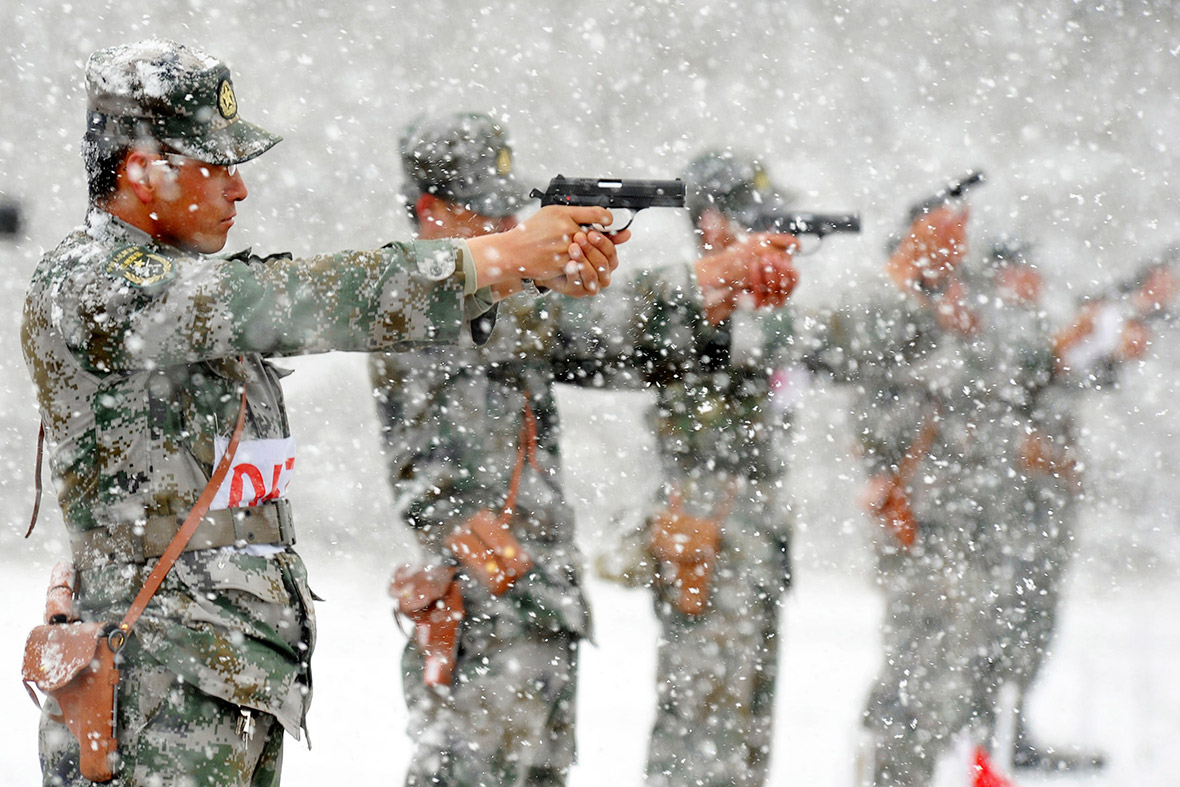 We firearms owners who aren't fortunate enough to live in one of the southerly settlements of the American Republic like Phoenix, Austin, or, say, Charlotte Amalie, typically go into "winter training mode" when the temperatures dip below freezing and snowflakes start to fall. In the best-case scenario, "winter training mode" meaning going exclusively indoors, where one sets up in a single stall and shoots at flat paper targets between 10 and 50 yards, with rules governing how and when a firearm can be drawn from a holster, and no ability to move while shooting. In the worst-case scenario, "winter training mode" actually means sitting in an arm chair with a remote control in one hand, a beer in the other, and the closest thing to firearms or self-defense being the shotgun formation on the TV . . .
Anyone in the snowbelt who carries a firearm when they go beyond the wire needs to devote a bit of time to training to draw, present, and fire that sidearm while wearing their winter gear. From what I've heard, gun fights occasionally take place in cold snowy weather, too. If all of your self-defense practice has been done while wearing sartorial options appropriate to springtime in St. Thomas, you just might be up a certain creek without a paddle. Especially if you try to draw your sidearm while wearing your North Face ski jacket over an Icelandic wool sweater when things get real.
Even just practicing your a few times outside while in your cold weather gear can help you learn what does and doesn't work. Just this weekend, for instance, I braved the freezing temps and snow flurries to go out to my preferred Pittsburgh-area outdoor range. Now, I've practiced in the past drawing while wearing gloves and a coat. This time, though, I happened to be wearing an old sweatshirt that I occasionally wear in the cold months, but that I'd never actually worn to a range. Good thing, too: I learned that between its floppy internal pockets, soft material, and waistband cord, trying to draw a hip-holstered pistol from under all that was a train wreck. It was even worse when trying to draw the pistol from underneath the sweatshirt AND a jacket or vest.
A lot of people are also surprised when they put on their gloves and find that gloves meant to keep your fingers warm and toasty while on ski slopes don't necessarily fit well into the trigger guard of your .380 pocket rocket. (Best case – they won't fit in the trigger guard at all; worst case, they'll fit just well enough to facilitate a negligent discharge.)
My solution has been to wear an old pair of leather shooting gloves. They aren't the warmest, but they're better than nothing, and I know that they'll work well while shooting, and I've tried them with all of my guns.
Some guns are better candidates than others when it comes to gloves, too. As Massad Ayoob noted some time ago, GLOCK firearms tend to be more amenable to shooting with gloves because they're made to spec for the Austrian army, for whom finding in cold, snowy weather is a prerequisite. Other duty-sized handguns will likely be good-to-go with gloves…but you won't know for sure unless you get out there and try it.
My cold weather trip to the range taught me a few things. While I'm not a huge fan of carrying in a pants pocket, I found that my GLOCK 43 fits just fine in my softshell winter jacket, and is far more accessible there than it is under several layers of clothes in a hip holster. Of course, this also brings up the question of what to do with the gun when removing the coat. Discreetly transferring the pistol (and pocket holster) to an empty pants pocket or empty side holster and reversing on the way out seems to be the least bad option. I don't like the idea of unnecessarily handling the gun, but I like the idea of leaving the gun in a coat that's been removed even less. (I'm definitely interested to hear how others who pocket-carry in a winter coat address this question.)
If you can't make it out of doors for some reason, at the very least, dress up in your winter clothes, unload your heater, and try some dry practice while dressed for chilly weather. It's better than nothing. Still, though – if you're in the snow belt, try to make the time to get out to the range when it's frosty. It's good to know how you and your sidearm perform in inclement weather…and practice isn't supposed to be comfortable, after all.