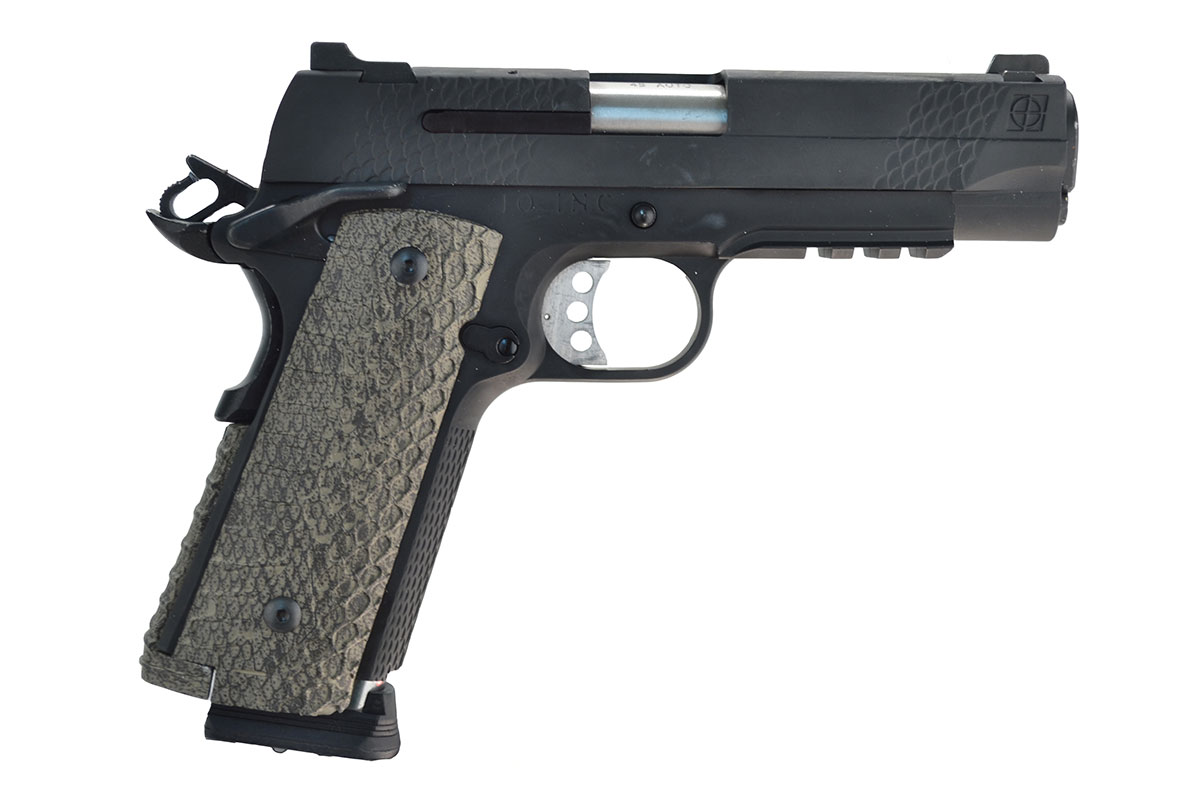 If you haven't heard of Inter Ordnance, or IO Inc. yet, they manufacture various models of AK-47s, AR-15s, a couple variations of 1911s and are working on more. Many of their AR/AK variations are 100% American-made, with some having a combination of domestic and imported parts. We recently got to head out to their Palm Bay, Florida facility and got a sneak peak at their Venom 1911 pistol . . .
I interpret the handgun as a pet project by owner, Ramzi Kheireddine. They're still in development as far as I can tell, but once they're finished it will be interesting to check out how well they work and how reliable they are.
The initial specs are standard 1911: chambered in .45 ACP with a 4″ barrel and with a trigger pull weighing in at around 5.5 lbs. But they've added a few more features that make the Venom something more than the garden variety 1911A1.
Our I.O. Inc. Venom .45 ACP 1911 features ambidextrous safety, unique forward slide serrations for visual inspections and tapered magwell for rapid magazine changes. It has a 416 SS forged barrel with chamber indicator. The Venom also comes with a built-in picatinny rail, adjustable lightweight aluminum trigger, standard dovetail cuts and textured side grips. Includes 8 round .45 ACP magazine. Includes foam lined hard carrying case.
In handling the pistol, it was a little "blocky" and rough around the edges. And the trigger wasn't what I'd call smooth (I'm guessing it has about a 5 lb. pull weight). It didn't feel quite finished yet, and while we were told the model they showed was a bit of a prototype, it seemed to be an early prototype. Keep in mind, though, that I think this is going to be a price point style gun, not something designed to complete with the likes of Kimber, Springfield or Colt, but more of an entry level 1911. Unfortunately we were not able to shoot the model provided.
Once we can get our hands on a production model, we'll give it a through going over, so stay tuned for more on the Inter Ordnance Venom.