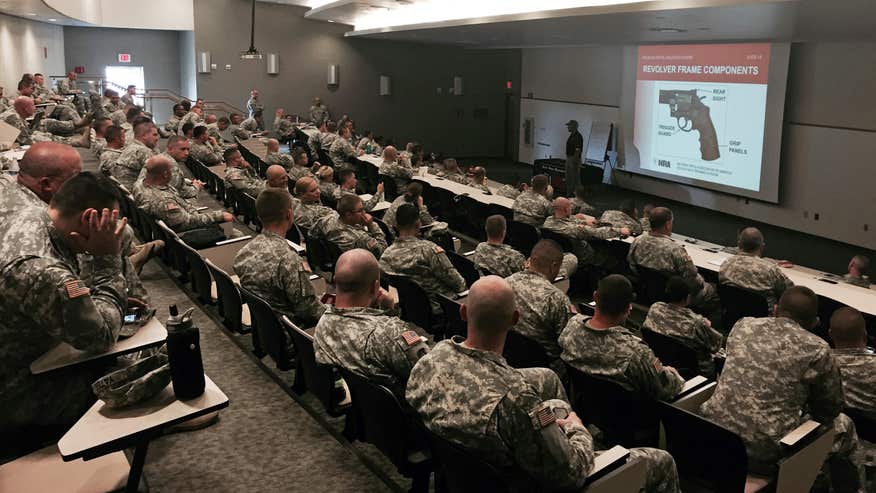 In a move to help Indiana National Guard members protect themselves against what the Obama Administration once referred to as "workplace violence" (and what the rest of the world refers to as Islamic terrorism), the National Rifle Association has begun training Indiana's National Guard on the use of concealed weapons. From Fox News . . .
The National Rifle Association has been instructing Indiana's National Guard members on how to use concealed weapons after Republican Gov. Mike Pence directed the state's military bases and training centers to beef up security in response to recent attacks in Tennessee.

According to a survey by The Associated Press, Indiana is the only state to enlist the NRA's help in the training, which the gun-rights group says it will conduct free of charge for any guardsman who wants to carry a concealed handgun.

Although National Guard members traditionally have not been allowed to carry weapons while conducting most stateside duties, Pence is one of 14 governors who decided to arm them in the wake of a gunman's attacks last month on two U.S. military sites in Chattanooga that left four Marines dead.
Naturally, our favorite repression-oriented lobbyists freaked out over this relationship between their mortal enemies and the National Guard, so they simply replied with what I'll charitably describe as a half-truth:
The Brady Campaign to Prevent Gun Violence criticized Pence for recruiting the NRA, suggesting the organization is "first and foremost" a "lobbying organization."

"There is no institution better equipped to train our servicemen and women than the US military itself," Dan Gross, the Brady Campaigns president said. "This is not a job for lobbyists."
The NRA is unquestionably a lobbying organization whose existence is necessitated by those like Dan Gross, who would prefer to see our liberties eviscerated in pursuit of an imagined 'gun safety.' But it is also, of course, a training organization that has a network of "more than 97,000 instructors and range safety officers, 5,700 coaches, and more than 1,800 training counselors" who offers basic firearms training at low cost to people throuought the country.
Indeed, the organization itself was founded primarily to train the citizenry in marksmanship by Civil War veterans. Such training extended to all citizens, even those victimized by the racist and oppressive laws of the Old South. The idea that firearms training might go hand-in-glove with a dedication to the protection of America's constitutionally-protected liberties is hardly surprising. As usual, if the anti-civil liberties crowd didn't have half-truths, their arguments would have no truth at all.
Guard spokeswoman Lt. Col. Cathy Van Bree said guard instructors have previously offered handgun instruction themselves but that Pence's executive order last month allowing guardsmen to be armed requires a "deeper level of training." She did not elaborate.

In order to be armed, a guardsman must have a valid conceal[ed]-carry permit and undergo training. Van Bree declined to say how many members have been approved to be armed.

Guy Relford, an NRA instructor who recently trained about 65 Indiana guardsmen at an armory in Franklin, said his "basic pistol" course delves into safety scenarios on when and when not to shoot.

Without training, the National Guard has "dramatically increased the possibility that someone could hurt themselves or others with a gun," Relford said.
That makes sense — training to deal with firearms in a combat situation on a foreign battlefield is not quite the same thing as dealing with criminals or terrorists attacking in a civilian environment in the United States itself. Indeed, knowing how to think through such a situation is argualy more important once the basics of firearm safety and handling are drilled (although a refresher never hurts anyone.)
The California National Guard disagrees, though – their people are apparently already perfectly trained, apparently:
"The fact is, our folks are very comfortable in using weapons and using discernment in when they use those weapons, so having an outside agency involved is a little bit of a surprise," Capt. Will Martin, a spokesman for the California National Guard, said of Indiana's policy.
For some reason, the words "California" and "self-destructive hubris" tend to go together in my mind. As for Indiana Governor Mike Pence, the move appears to be win-win politically:
Robert Dion a professor of political science at the University of Evansville, said Pence could reap political benefits in his upcoming re-election campaign by reaching out to the NRA in pro-gun Indiana.

"Any sort of association with the NRA helps his reputation more than it hurts it," Dion said. "You can burnish your social conservative credentials by cozying up to the NRA and you can claim being fiscally responsible because you are not costing tax payers anything."
No doubt that same sort of political calculus doesn't apply in the Golden State. A shame that their leadership is willing to enshrine political ideology as a main factor in setting policies for its National Guard, no?