If you're going to leave a firearm unattended in your vehicle, you need to do it as securely as possible. With the prevalence of designated gun-free zones (think post offices, hospitals, your place of work), anyone who carries a firearm will have to stow their gun in their vehicle from time to time.
Leaving a gun in the car — even for a few hours — can present a hazard. This presents a dilemma for a lot of people who carry a firearm. What to do if you don't want to chance violating the law (you shouldn't) or your employer's company policy?
You definitely don't want to rely on the center console, glove box or an under-seat compartment, even if they lock. Someone who has broken in to your car will be able to get to a concealed pistol or other truck gun/car gun that's stored there in less than a minute with a screwdriver.
And stealing guns from vehicles is an increasingly common way for criminals to get their hands on firearms. According to NPR, a number of cities and states are reporting increases in guns stolen from cars.
Atlanta had 1,021 such thefts in 2018 (up from just over 400 in 2009). St. Louis reported a jump from around 200 to almost 600 in the same time period.
The Tennessee Bureau of Investigation reported such incidents rose from just over 2,000 reported thefts of guns from cars in 2016 to more than 4,000 in 2018. The city of Nashville alone accounted for 659 guns stolen in such a manner in that year, some of which were used in crimes.
Obviously, you don't want to be one of those statistics so safe storage in the car is a must if you'll be leaving your gun in your vehicle.
What are some basics? First, it should have a lock. While most car storage options don't offer Fort Knox-level security, there's no reason to make it easy on crooks.
Second, your storage device should be secured to the vehicle in some fashion so it can't be easily carried off. Lots of car storage options screw into the dash or center console or feature steel cables that secure to the seat mount to deter quick smash-and-grab thefts.
What sort of options are out there? There's a huge range of options out there, but here are a few to consider . . .
In general terms most car gun safes are essentially just portable strong boxes. Many of the same features can be found on conventional pistol safes that you might consider for the home. For instance, you can get biometric safes for this purpose, combination lock safes as well as simple barrel- or standard key-operated car safes.
Digital locks depend on batteries, which need to be replaced periodicall. If you select a model with a biometric or other digital lock, make sure that it has a mechanical backup (i.e. it can also be opened with a key) and that you have the means to use it (i.e. have the key with you) ] if need be.
Depending on the car safe you choose, some are even water- and fire-resistant, just like a standard safe. These tend to cost a bit extra.
There are some standards for durability, specifically the American Society for Testing and Materials standards for safes, including child-proofing and pry-resistant standards. You want a safe that meets or exceeds them.
The feature that many come with is a locking cable, which tethers the safe to a part of the car interior. You'll want to deploy the cable around the sturdiest object you can find.
Most people choose the car seat mounting brackets, as this allows the user to locate the lockbox or car safe underneath the seat and they happen to be one of the most substantial things in the cabin.
Unless, of course, your daily driver has an actual race cage, which is a little unusual. The only cars I can think of that has one that would be anywhere close to "common" are the Porsche GT2 RS and GT3 RS, which are not common in the least but one digresses.
The cable needs to be strong, so the higher the tensile strength the better. The same is also true of the steel the safe is made out of; the smaller the gauge, the thicker the walls of the safe.
Concealability is another factor you need to consider. Thieves tend not to steal what they can't see.
Some safes are easily concealed from view, and others aren't. Some all but require you to put them in the trunk. Vertically-oriented safes won't be very concealable, as most spaces where they can be located in a car's interior will be visible.
Let's have a look at some options.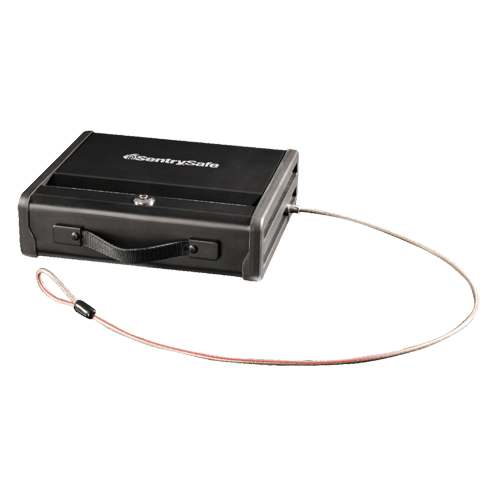 SentrySafe's cleverly-named "Portable Pistol Safe." You can find it for around $75 on Amazon and elsewhere. It's a steel box, with a steel tether cable, said to be pry-resistant, but SentrySafe doesn't explicitly say "meets or exceeds ASTM standards."
The locking mechanism is barrel-key operated, which means you don't have to worry about batteries, but you better not lose the key. The interior (9.8″x7.3″x3″, with hard foam lining) is large enough to hold a pistol and a few magazines, and possibly even a holster if your gun and the holster are small enough.
It's pretty basic. It's not too expensive. And will keep a gun locked up and secured to the interior.  Like any storage option, a determined thief with time on their hands can get into it. SentrySafe also makes a few models with digital and analog combination locks, if you want a keyless unit, but this is the model marketed for gun storage.
Hornady also makes a few safes under their RAPiD series, which feature RFID chip readers. Up to five coded RFID chips can be used to unlock them, though there are usually backups in the form of a barrel key as well as digital combination pads.
All models have 14-gauge steel shells, with internal locking lugs and are said to exceed ASTM child and pry resistance standards as well as drop, pick, saw and hinge tests.
The 2600KP, 2700KP and 4800KP are rather standard lockboxes with security cables.
Hornady's RAPiD Vehicle safe has an interesting feature; an inflatable bladder that can be inserted between the center console and a seat to wedge the safe in place (it comes with a security cable as well). These start at about $160, but do have a bit more in features.
For those who aren't messing around, you could also get something a little more sturdy. If you don't care as much about portability and want the utmost in security, a good choice of car safe is the American Security Easy Carry Handgun Safe (our review here). This thing is a tank.
It comes pre-drilled for mounting bolts, which will require modification to your car to install. However, once it's in…it isn't going anywhere. The box is 14-gauge steel, with a 3/16″ steel door and pluck-adjustable foam interior. The locking mechanism is a Simplex punch combination lock, which is mechanical, but allows for fast access if needed.
It weighs in at 14 lbs and measures 10.09″ x 12.26″ x 4.13″, so it could go under some car seats. You'd have to decide whether you want to try to install bolts there or not, of course. Price is about $200.
There are some other storage solutions out there such as DU-HA's Cab Storage racks, which add a storage compartment underneath the rear bench seat of most pickups.
While they will hide guns (in case you keep a shotgun or rifle as a truck gun) they don't always come with a locking mechanism. However, DU-HA does sell a pack of steel cables and a pair of padlocks as an optional add-on kit, which will secure the rear seat. Low-tech…but effective. The rear seat organizer is $200 for most models, and the locking kit is another $20.
These, of course, are just a few of the available solutions on the market. Plenty of others exist out there, but hopefully you've gotten the picture of what kind of car security options are out there.
Is there a different storage option that you prefer? A type of car gun safe that you recommend? Think the Raiders haven't drafted their way out of the AFC West basement yet? Sound off in the comments.