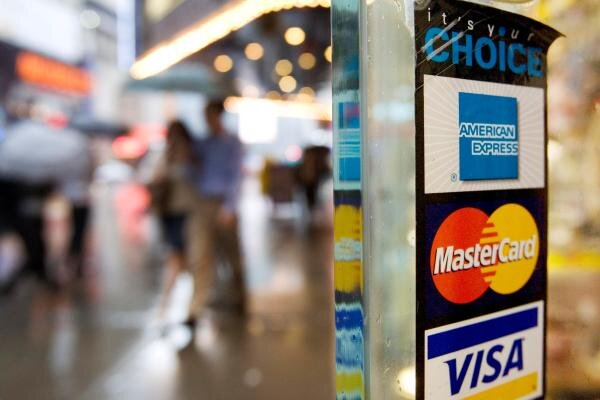 Pay Pal, Square, Stripe and other electronic payment processors have revolutionized the world of retail sales, both online and in person. They allow merchants to turn smart phones and tablets into cash registers, freeing them from the need to execute complicated arrangements with large credit card companies.
You won't find them used by gun shops, though. Spurred by the Obama Administration's "Operation Choke Point" — targeting law-abiding companies and industries that President Obama found objectionable — these popular payment processors have been discriminating against gun shops for several years.
A California gun shop has had enough. Merced, California-based Gladwin Guns and Ammo filed a class action suit after being denied service by the three companies. They're hanging their hats on California's Unruh Civil Rights Act, which states:
All persons within the jurisdiction of this state are free and equal, and no matter what their sex, race, color, religion, ancestry, national origin, disability, medical condition, genetic information, marital status, sexual orientation, citizenship, primary language, or immigration status are entitled to the full and equal accommodations, advantages, facilities, privileges, or services in all business establishments of every kind whatsoever.
In a statement to The Daily Caller's Kerry Picket, Gladwin's attorney William McGrane said:
the very large non-bank defendants in these cases are allowing their private sense of political correctness to extend so far as to ban even persons who hold valid federal firearms licenses from accepting Electronic Funds Transfers, all in defiance of the Second Amendment to the federal Constitution and the California Unruh Civil Rights Act of 1978.

The net effect of what they are doing is making the legitimate business of selling firearms operate as a cash business only, all in a misguided effort to effectively ban the sale of firearms and related products from the marketplace.
The filing of this suit comes on the heels of Representative Blaine Luetkemeyer's (R-Mo.) re-introduction of the Financial Institution Consumer Protection Act (FICPA) Bill into the U.S. House.
FICPA would end Operation Choke Point, mandating that "agencies such as the Federal Deposit Insurance Corporation and the Office of the Comptroller of the Currency . . . could not request or order a financial institution to terminate a banking relationship unless the regulator has material reason. Any account termination requests or orders would be required to be made in writing and rely on information other than reputational risk…."
Luetkemeyer has been introducing this legislation into Congress since 2014, but was unable to make progress due to President Obama's intransigence. His bill may have a more favorable reception from the Trump Administration.
Disfavored businesses were singled out for harassment under Operation Choke Point, as the NRA's Stacy Washington relates:
American Spirit Arms based in Arizona was the recipient of rough treatment through its financial institution, Bank of America. The company's accounts and assets were frozen under suspicion that it was selling firearms online without conducting federally mandated background checks.

Under closer inspection, American Spirit Arms was found to be completely within the law: Every firearm bought online through its website was shipped to a Federal Firearm License holder. Each FFL holder was then responsible for conducting the background check before completing the sale. Not only is this legal, it debunks the widely held leftist trope that any crazy nut can buy a gun online without having a background check.
Despite the freezing of its business assets, American Spirit Arms appears to still be in business. There's probably a metaphor in there.
As an aside, although they may not have the neat hardware/cloud integration that PayPal and Square offer, there are payment processors that specialize in doing business with Federal Firearms License holders and other politically disfavored businesses. Clearant (backed by the NRA) and SoarPay are two examples. There are others.
UPDATE: TTAG reader (and attorney) TX_Lawyer says: "I'm not sure which category (sex, race, color, religion, ancestry, national origin, disability, medical condition, genetic information, marital status, sexual orientation, citizenship, primary language, or immigration status) they claim they are being discriminated as."
In the past, the California Supreme Court has construed the Unruh Civil Rights Act as "protecting classes other than those listed on its face." The listed categories (sex, race, etc.,) have been seen as illustrative, not exhaustive. In 1970, the California Court found that the legislature's intent was "to prohibit all arbitrary discrimination by business establishments." This precedent was used by California courts to afford Unruh Act protection to gays and lesbians long before those categories were formally added to the text of the act. See Steven Wylie, "The UNRUH Civil Rights Act: A Weapon to Combat Homophobia in Military On-Campus Recruiting," 24 Loy. L.A. L. Rev. 1333 (1991) for quotations above and other information.
In Orloff v. Los Angeles Turf Club 36 Cal.2d 734 (1951), the California Court held that the Civil Rights Act barred the manager of a race track from expelling a patron who had acquired a reputation as a man of immoral character.
But in In re: Cox, 3 Cal.3d 205 (1970), the Court held that a "young man, who wore long hair and dressed in an unconventional manner," was not covered by the Unruh Act when he was ejected from a retail business for…well, wearing long hair and dressing unconventionally. And riding a Honda motorcycle.