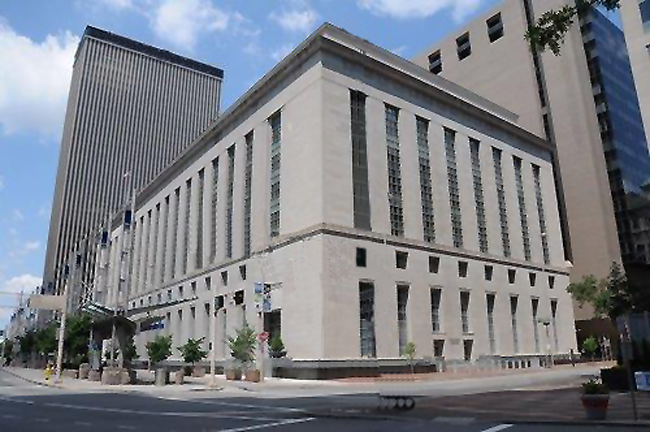 The Sixth Circuit Court of Appeals held today in the matter of Tyler v. Hillsdale County Sheriff's Dep't that a Michigan man who had been barred by federal gun control laws from possessing a firearm could proceed with a suit asking that prohibition to be overturned.
Clifford Charles Tyler had a run of bad luck in 1985, when his wife of 23 years left him for another man, took his money, and served him divorce papers. Tyler spent the next few nights sitting at home "in the middle of the floor…pounding his head." Concerned, his kids set him up with an appointment with a doctor, who promptly had him committed to an institution for treatment and evaluation for the next four weeks or so. Tyler, who is now 74 years old, worked for another 18 or 19 years after his release from treatment, re-married in 1999, and does not appear to have had any other major mental health issues since that "brief reactive depressive episode" in 1999.
None of that matters under the gun control scheme in our country; because of that episode and course of treatment, Tyler wears the scarlet letter of an American legally barred from exercising his right to keep and bear arms. When he tried to purchase a gun in 2011, he was advised by the Hillsdale County Sheriff's Department of this fact.
As I have written about earlier, people who are legally disabled from possessing a firearm in this country due to a nonviolent misdemeanor conviction or mental health commitment have a raw deal when trying to get their constitutional rights restored. Procedures for removing the legal disability vary wildly in the several states, and some — like Michigan — have never created a legal path forward at all. In theory, federal law (at 18 U.S.C. § 925) provides that a person prohibited by federal law from possessing firearms can apply to the Attorney-General for relief from that legal disability (and even petition the courts for review of her decisions.) Unfortunately, Congress has not seen fit to provide funds to the AG to allow this program to be implemented, so that option remains a nullity. Tyler had no official path of ever restoring his fundamental rights protected by the Second Amendment. With that in mind, he filed suit, claiming that his history since 1985 showed that he was mentally fit, and that continuing the ban on his possession of firearms was a violation of his fundamental rights.
The District Court judge laughed Tyler's suit out of court, holding that Tyler had failed to state a valid claim. The lower court judge even had the temerity to cite the landmark 2008 decision, Heller v. D.C. in support, noting that the late Justice Scalia had, in dicta, described "longstanding prohibitions on the possession of firearms by felons and the mentally ill" as being "presumptively lawful regulatory measures…." (See Heller, at footnote 26.)
The Sixth Circuit, in an opinion by Judge Julia Smith Gibbons, rejected the lower court's reasoning, and ordered that Tyler's case be allowed to proceed. Just because a law is "presumed" to be valid, she writes, doesn't mean that it actually IS valid. People can still sue and make the case that the law is unconstitutional. She writes:
A presumption implies "that there must exist the possibility that the ban could be unconstitutional in the face of an as-applied challenge." We do not take Heller's "presumptively lawful" dictum to foreclose § 922(g)(4) from constitutional scrutiny. The mere fact that Congress created a categorical ban does not give the government a free pass; it must still be shown that the presumption applies in the instant case. As the Seventh Circuit has recognized, the Heller Court's observation regarding the presumptive lawfulness of longstanding bans is precautionary, not conclusive.
(Citations omitted.)
Judge Gibbons offers the following, which apparently shows the only real argument the other side had:
To rely solely on Heller's presumption here would amount to a judicial endorsement of Congress's power to declare, "Once mentally ill, always so." This we will not do. Heller's presumption of lawfulness should not be used to enshrine a permanent stigma on anyone who has ever been committed to a mental institution for whatever reason. Some sort of showing must be made to support Congress's adoption of prior involuntary commitments as a basis for a categorical, permanent limitation on the Second Amendment right to bear arms.
The upshot of all this is that Mr. Tyler's rights have not yet been restored, but that at least his case can finally proceed. Judge Gibbons explained that going forward, the government could only win if: (1) It could explain the necessity of the lifetime ban on people who had once been involuntarily committed due to mental illness, like Mr. Tyler, or (2) by showing that the law was constitutional as applied to Tyler because he would be a risk to himself or others.
I don't think that people who are currently suffering from mental illness, or who just got out of the slammer after serving 20 years for murder necessarily should have their rights restored immediately. But, very occasionally, people do change. The sick get well. Better answers are found. Allowing those folks a way to have their fundamental rights restored is just…justice.
There is one downside here. This decision was before the en banc Sixth Circuit. The case had been before a three-judge panel back in 2014. That panel held that strict scrutiny would generally be the appropriate standard for evaluating restrictions on the right to keep and bear arms. 'Strict scrutiny' is the highest possible level of judicial review of a law, and when it is applied, it must be shown that a law is justified by a compelling governmental interest, and that the law is the least restrictive means to protect that interest.
Most courts have been applying intermediate scrutiny when evaluating the constitutionality of firearms law. As you can guess, that's a lower standard of review in which the government must show that the challenged law furthers an important government interest by means that are substantially related to that interest. In this case, the en banc Sixth Circuit decided to apply the intermediate standard. That was disappointing, as an affirmation of strict scrutiny could only have helped in the Sixth Circuit and beyond. With strict scrutiny, anti-gun courts in locales such as California or Massachusetts would likely be running scared. Still, a win's a win.
We will have to see how the lower court handles Mr. Tyler's case going forward.
[Hat tip: Gabriel Malor]