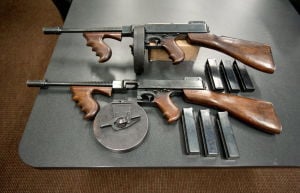 On February 10th, the Forsyth County Board of Commissioners finally approved the Sheriff's Department trade of two highly collectible and desirable 1928 Thompson submachine guns for 88 AR-15 type Bushmaster rifles. The vote was 6-1. The trade had engendered some lengthy debates at board meetings over the last month. Because of restrictive gun bans passed in 1934, 1968, and 1986, only a limited number of these vintage full-auto guns are available for sale to collectors. The peculiar market conditions created by federal law have driven up their price from about $1,000 to the range of $30,000 – $50,000 . . .
Some questioned the trade, preferring that the guns be auctioned off to obtain the highest price. But it was determined that the legal category that the guns are in doesn't allow for a practical auction. The guns were registered in 1968, but not in the type of federal category that would allow them to be sold to ordinary citizens. And the Hughes Amendment is to blame. Federal law, as interpreted by BATF regulations, doesn't allow guns in one category to be transferred to a less restrictive category.
From journalnow.com:
Commissioner Gloria Whisenhunt said afterward that she had been in favor of opening up the Tommy guns for public bid but decided to vote in favor of the trade after hearing from County Attorney Davida Martin that it appears the county couldn't do so.
The Tommies are legal, but only Class III dealers and law enforcement agencies are allowed to purchase guns that were registered in this particular category, restricting demand and thus reducing their value. Identical guns registered in a different category that can be purchased by any citizen who isn't a felon and willing to pay the $200 tax, are worth as much as $20,000 or more.
Such irrational distinctions in the law are a classic example of regulatory overreach. Contrary to media portrayals, full-auto firearms such as the Thompson were never used in crimes in any significant numbers. Of those that were, nearly all used by criminals before 1934 were stolen, often from government armories.
From 1934 until the present, only one case is documented in which a legal fully automatic firearm was used in a violent crime – and that was committed by a policeman. One other case may have occurred in 1992, but it's not well documented. It's worth noting that both of these cases occurred after the 1986 ban.
What the 1986 law taught firearms owners was that the facts of gun ownership and criminal use don't matter to those who would disarm the general population. That's why federal and state gun laws often seem to make no sense at all. If a disarmed population is your goal, any restriction – no matter how irrational – is a step in the right direction.
©2014 by Dean Weingarten: Permission to share is granted when this notice is included.
Gun Watch