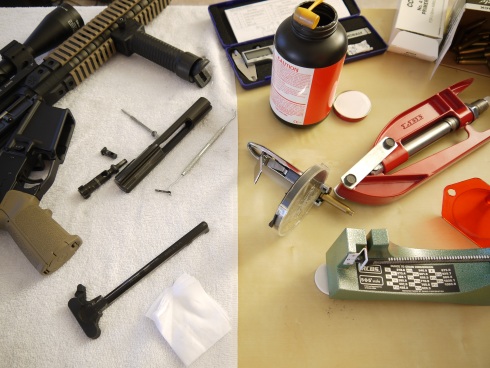 A couple of days ago, RF asked me to join the writing staff at The Truth about Guns. I agreed to become the site's resident mad scientist. I have a bad/good habit of questioning "accepted knowledge" about guns, whether it be the supposed superiority of FNH's semi-automatic shotgun offerings or whether Wolf ammunition's accuracy is correlated with its price (that one you may have seen before). I use science and statistics to get a definite answer instead of relying on gun store scuttlebutt. I have a couple experiments in mind, but I want to hear what TTAG's Armed Intelligentsia needs to know. To start the conversation, here are a few ideas my friends and I have been kicking around during the past few days . . .
AR-15 Magazine Deathmatch: Magpul 30-round PMAGs, Lancer 30-round translucent magazines, Tapco 3-round magazines, C-Products steel 30-round magazines, actual USGI 30-round magazines and a Romanian 7.62×39 AK 30-round magazine thrown in for good measure. Which is the most reliable? Which breaks first under a series of increasingly ludicrous tests?
Direct Impingement v. Piston Operated AR-15: Does the operating system significantly alter the muzzle velocity? Can DI or a piston cycle the lightest load? And is reliability within 500 rounds affected in any meaningful way?
Match Grade Ammunition v. Handloads: Is it really cheaper to "roll your own" rounds than to buy commercial match grade ammunition? How much ammunition would you need to go through before it became cheaper to handload? Which match grade ammunition is the most consistent? How much faster is a "red line" handload than the best commercial ammunition?
Milsurp Accuracy: Just how accurate is your average Mosin Nagant? How does it stack up to other bolt action rifles from the period? And just how good is that spam can of ammo some farmer dug out of a field in the Ukraine?
So, TTAG AI, what have you always wanted to test out?