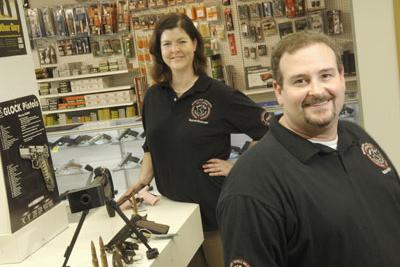 I wrote earlier this week about how the ongoing riots in Ferguson, Missouri strengthen the position that gun control is dangerous. Again. Still. Forever. This is because it takes away the best tools for the job from people who are failed by those paid to protect them. That's not an indictment of the police force in America, something that can be a hot topic here on TTAG. I'm just making a statement of fact. The police cannot be everywhere at once, especially in a situation where mob mentality, and the violence that often accompanies it, takes over. In any case, you are ultimately responsible for your safety. The residents of Ferguson, Missouri seem to be getting wise to that fact as well . . .
The St. Louis Business Journal reports that in the wake of the Ferguson riots, local gun stores Metro Shooting and Mid America Arms, are reporting a spike in business of 50% over the last few days. Two store's spike does not make a surge, but it is a nice anecdotal reinforcement of what I wrote earlier this week. Now that I'm done patting myself on the back for stating the obvious, I'll let the Biz Journal say their piece.
For the past two days, Steve King has been "unbelievably busy" at his gun store, Metro Shooting at 11434 St. Charles Rock Road. King said business spiked 50 percent as local residents respond to the violent events taking place in Ferguson.
"We've sold a variety of handguns, shotguns and AR-15s (a semi-automatic rifle)," King said. "All of the sales are having to do with home defense."
King, who owns the store that has 17 employees and 2013 revenue of about $2 million, added that customers have ranged from new firearm buyers to those upgrading their current arsenal. He said both black and white individuals have purchased firearms at his store over the past few days.
"Usually it's pretty slow through the summer, but this has been a huge spike for business," King said. "People are hunkering down because those events are taking place too close to their own home … in some cases, a half a mile away. Lots of people are afraid."
Officials at Mid America Arms, at 8205 Gravois Road, have seen a similar increase in business. Owner Al Rothweilerhad to break away from his jammed-packed store this afternoon to talk to theBusiness Journal.
"We were closed Sunday and Monday, but today, sales have been brisk, and the store is full of people," said Rothweiler, who estimated that his sales were also up 50 percent Tuesday compared with a typical day in August. "Everyone who bought today mentioned something about Ferguson."
Before this week's spike, Rothweiler said August had been a slow month for the $3.5 million business, but he doesn't expect the spike to continue.
Inflammatory language about arsenals aside, I appreciate that the author pointed out that the typical buyer isn't the stereotypical Fudd-ish OWFG as it seems all races, colors, and creeds are tooling up. I'm encouraged to see that the people of Ferguson are not content to shelter in place and hope that the police can disperse the crowds of hooligans looting and setting fire.
And I'm also pleased to see that in flyover country, the people of Ferguson, MO are able to go out and purchase the best tools to defend themselves and their property without unnecessary restrictions on their rights. If you happen to be in or around Ferguson and have purchased a gun because of these riots, please drop us an email at [email protected] or a note in the comments to let us know about your experience.