Father's day isn't far off. What are you getting dear old dad? If he's a shooter, there are lots of options that are perfect for him (or any gun-lover on your gift list).
Obviously, a new gun is always a good gift, but that can get complicated and it's difficult to nail down, unless you know exactly which one he wants.
Instead, let's keep it simple and focus on some great gifts ideas that any gun lover would enjoy and you can easily buy online or at your local gun store.
Is dad still toting his guns to the range in their plastic clamshell cases that came from the manufacturer? That can be a pain. Plus, he needs to carry his eyes, ears ammo and other items, too.
How about a new range bag? You can find one at virtually any price point from this ultra-affordable Lyman bag (above) . . .
…to something fancier with more features like this excellent Vertx B-Range Bag.
As always, ammunition makes a great gift for literally every shooter you know.
You can never go wrong with a box (or even a barrel) of range ammo to keep your favorite shooter's gun happy and well fed.
Another item that's great in any shooter's range bag is . . .
The Real Avid Gun Tool Pro-X can save a range trip with any one of its thirty tools including Torx, Allen, Phillips and flat head drivers and bits. It even has a removable magnetic LED light to help you inspect your barrel and runs about $45 retail.
Every shooter needs a place to store his stash of gun food, too. That's why an ammo can (or four) is always appreciated. They come in all sizes and are priced from about $15 on up.
One of the best cleaning and maintenance accessories is an OTIS Ripcord. They make cleaning your barrel an absolute breeze. The Ripcord was developed for use by soldiers in the field, eventually also becoming popular with competitive shooters. The quick and dirty version is it has weights on both ends. You drop one end through either end of the barrel and tip up or dow, gravity gets a weight to the end and then you pull.
The Ripcord is made with a flexible cable, with a molded helical rubber core in the middle and Nomex fabric wrapping everything but the brass ends. Nomex is more heat resistant than even nylon fabric, able to take temperatures up to 700 degrees.
The helical rubber pushes the fabric evenly into the grooves, so pulling the cord gets far more carbon and other debris out of the bore. If so desired, the weights are tapped so you can attach a patch or a brush for deep cleaning, though those are extra.
That said, the Ripcord makes barrel cleaning ridiculously easy and only costs $15, so if you wanted to get someone a very practical gift on the cheap, there you go. They're made for shotguns, rifles and pistols of most calibers.
Here's one for the 1911 shooters out there: Wilson Combat magazines. Quality magazines are one of the most critical components of the 1911 system as they are the most common failure point. (Granted, that's true for pretty much all semi-auto pistols.)
Wilson Combat makes some of the best 1911 pistols on the market. They also make some of the best components and their magazines are second to none in quality.
My 1911 (not a Wilson…not rich enough yet) chronically failed to feed with the factory magazines. I got two Wilson 920 series magazines (their cheapest, at $19 per) and it's run perfectly ever since.
Prices and capacity vary, but you can get into the 7- and 8-round magazines for around $20 each on the low side and $24 for 9mm magazines.
Speaking of magazines, that SIG or H&K owner in your life would probably also appreciate a spare mag or two as a gift because darned if they aren't ridiculously expensive. For that matter, anyone with a semi-auto could always use another one. Magazines are always a great gift for any gun lover.
You know what else is always a great gift for any shooter: targets. Everyone needs something to shoot at at the range, but which ones to get?
If they shoot competitively, getting the gun lover in question some NRA, IDPA or IPSC targets are a good idea, of course, and cost effective.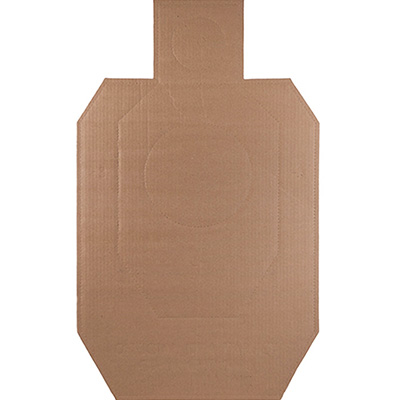 For instance, the above IDPA cardboard target can be had for as little as a buck a piece, depending on how many you buy. And with some cheap sticky pasters, you can use them again and again.
Or you can get the paper version for about $.35 a pop. But those are rather mundane, aren't they? How about something that's actually fun?
A good entry-level reactive target is the Birchwood Casey Double Mag Target. It won't break the bank at just under $40, but can also challenge the shooter. A steel tube chassis and two ⅜" thick steel paddles (one 3-inch and one 4.25-inch paddle) spin with every hit. There's a foot rest that makes use easy; you just push it into the ground and go.
Does your favorite shooter have an AR rifle?
To sharpen shooting skills even further, some fantastic 21st century tools have emerged. One of the best, without doubt, is the MantisX system.
The MantisX training system is a sensor array that tracks movement, keeps time records as well as other data. If you want to accurately diagnose shooting problems or fine-tune it, it's one of the best tools as it brings data into the equation. The sensor array pairs with the MantisX app for a smartphone or tablet.
Use is pretty simple; you set up a target of some sort and start the app. You do a bit of dry firing and the app tracks all movement including before, during and after the trigger press. This will tell you how the gun is moving while you squeeze the trigger and therefore what areas you need to work on. The program tracks progress, will show you split times and even has shooting drills for you.
Unlike many dry-fire systems, however, MantisX can be used for dry-fire and live-fire sessions as the sensor array attaches to the rail on many firearms. If you don't have a rail, you can obtain special magazine base plate adapters that will let you still attach the sensor array to your pistol. It starts at $150. While it won't replace professional instruction, it gives you far more information than many instructors.
There are, of course, SO many other great gifts for gun lovers. This isn't meant to be a comprehensive list by any means, but just a few ideas to consider. Any great gun gifts that you've gotten? Tell us about it!