Lets face it, you probably have an AR-15, maybe a couple of them. And if you don't already have one, you've probably thought about getting or building one. If you aren't aware, there are a few specialized tools you need to build an AR-15 or take one completely apart. The main things you may run into are the barrel nut, castle nut and free float rail components, but you may also need something for compensators or flash suppressors. I've used many tools to grapple with these, ranging from specialized tools, to off-the-shelf Craftsmen wrenches. Many off-the-shelf tools are OK for things like the compensator/flash suppressor and the other various pins and screws. But for dealing with things like a castle nut and free float rail installations, you really need specialized tools, and one that will hold up to some use . . .

The tool that I've had the best luck with, and have built quite a few rifles with is the DPMS Multi-Tool. You can pick one up on Amazon or at many local retailers for a good price (usually around $33).
Features & Usage
This tool has all the bells and whistles that you may need for building or working on your AR-15s.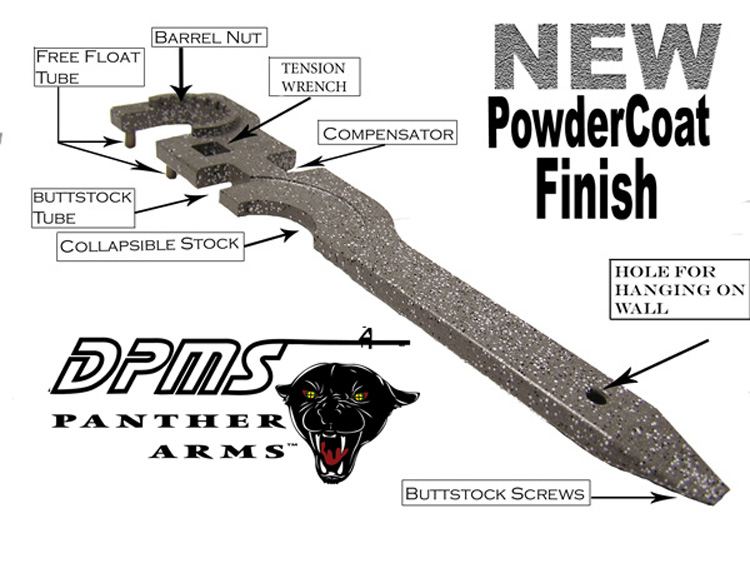 The tool includes the basics that you need for installing and disassembling free float handguards. This is the front section of the tool that has two pins sticking out. These pins will hook into standard handguards (used by most companies) and will allow you to properly tighten (or remove) them. It's worth noting, that if you purchase a rail, and it doesn't use the standard mounting equipment, often times the manufacturer will include the required wrench. But if you plan on doing handguard upgrades, this is something you should have on hand.
Also built in is a tool for installing and removing barrel nuts (the front of the tool). This is important if you plan to change the barrel of your AR-15. That's something that's probably less common for your typical at-home armorer, but it's there if you need it.
For me, a useful item included in this package is the notch cut out for installing and removing compensators and flash hiders. With the market flooded with different compensators, you may be tempted to remove the standard A2 flash hider on your rifle in favor of something new. If you are, this tool makes easy work of it. But make sure you don't have a compensator that's staked to your barrel (a 14.5″ barrel with a staked compensator to make it legal). If you do, you won't be able to remove yours and trying to do so may damage your barrel in the process.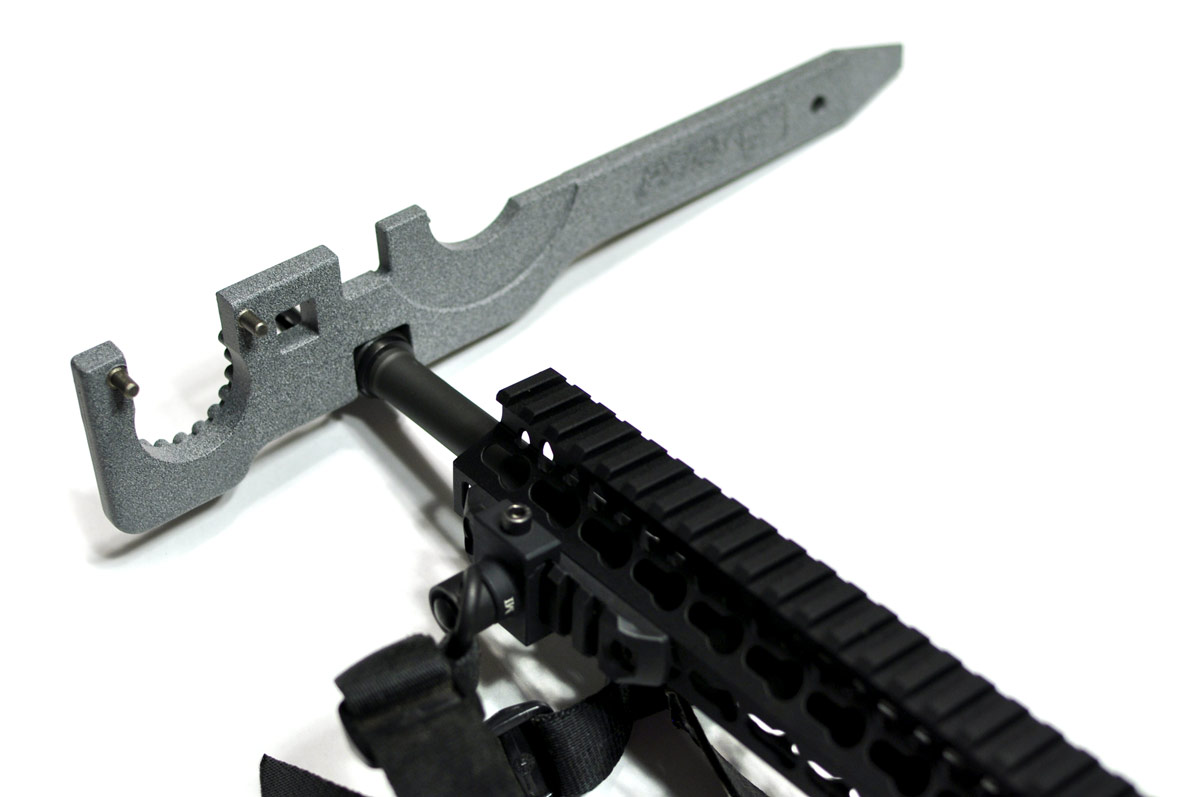 One of the most important features is the castle nut wrench. The castle nut is what secures your stock tube to your lower, something you have to deal with when you're building up a lower, or want to change various buttstock components (for example, installing a stock that has an integrated tube). The castle nut wrench on the DPMS Multi-Tool stands out mainly because of its strength. If you are trying to remove a tube on a factory rifle and it's probably staked, you'll need a well-made tool do the job. The DPMS will handle it with ease.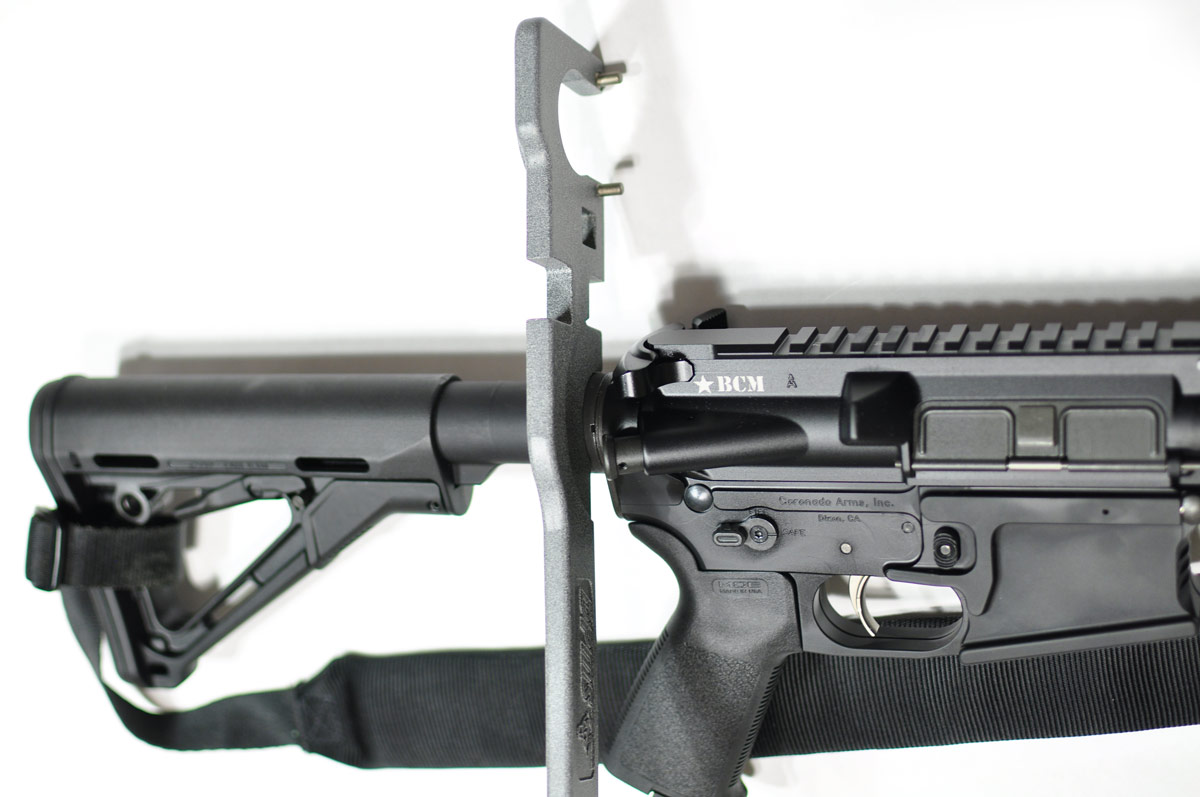 Also included on the tool is a cut-out for installing and removing a standard rifle stock. This is something you'll need if you are going to upgrade a standard A2 stock. Falling in with the removal of a stock, there is also a large screw driver on the end of the tool that can be used to remove buttstock screws. These are generally large screws, so sometimes standard screw drivers don't work well for them. This just makes sure that everything is all there in one handy place to take everything apart.
Bringing everything together, there's also a 1/2″ socket cutout that you can use to connect a standard 1/2″ drive socket wrench. That allows you to use a torque wrench to tighten things to spec, as well as giving you the ability to attach a larger wrench for more torque, if you need it. Oh yeah, and it also has a hole drilled in it so you can hang it on the wall for easy storage.
Construction Quality
The tool is made of 4140 steel and has a powder coat finish. I've seen shops and manufacturers that have these tools and have used them to build 100s of rifles; and they still look and work like new. If you break one, you might need to check out what your doing with it, because you might have the wrong tool for the job.
Summary & Final Thoughts
In my book, this is one of the better AR-15 Armorer tools on the market, especially for the price. So if you're in the market, check it out.
Ratings (out of five stars):
Build Quality * * * * *
The DPMS Multi-Tool is built well and very durable. There are no visible defects on any of the models I've run into.
Fit And Finish * * * * *
The coating on the armorers tool is extremely durable and scratch and chemical resistant.
Usability * * * * *
The tool is extremely easy to use and works very well for the tasks it was designed for.
Price * * * * *
The armorers tool is priced competitively; as always it would be nice if it was cheaper, but this tool is definitely worth the money.
Overall * * * * *
This is a great armorers tool. If you are going to be doing any work on AR-15s, this is a must have for the tool bench.