It is an oft repeated slogan on this site and in the gun community at large that God made man, but Sam Colt made them equal. The actual quote according to Colt's own website is, "Abe Lincoln may have freed all men, but Sam Colt made them equal." No matter who did the creating or the freeing, the fact is that a gun in hand is one of the best tools available for self defense, especially when the attacker is much larger, faster, and stronger than the defender. Unfortunately, a somewhat high profile case has popped up that gives us a stark example of just how true that can be. Please be warned that the photos after the jump are disturbing . . .
Christy Mack is an adult film star who is currently hospitalized after her now ex boyfriend Jon "War Machine" Koppenhaver beat her in her own home. The investigation is ongoing, and there's a great deal of back and forth from both sides about how exactly the events transpired. What is beyond dispute is that Christy Mack posted the following to Twitter on Monday afternoon.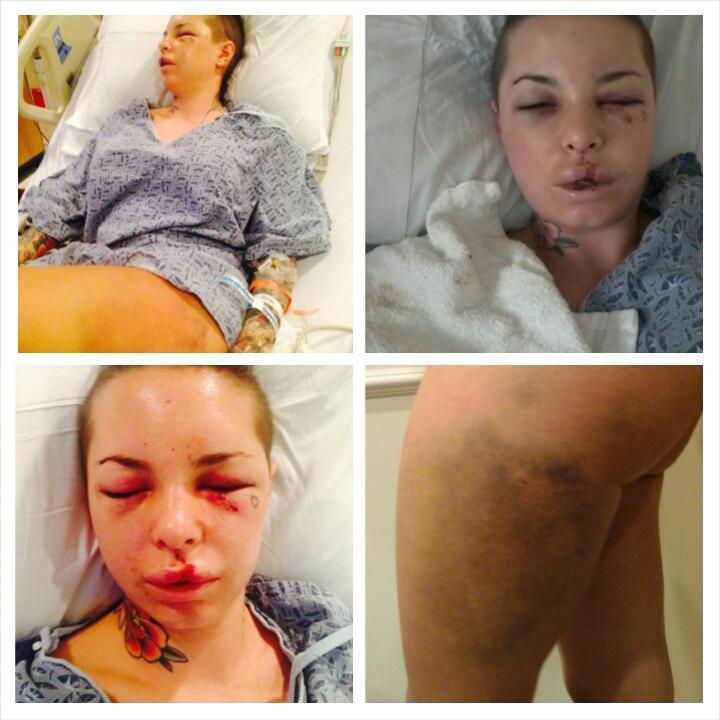 She also posted a statement in photo format which I have transcribed for ease of formatting. There might be some transcription errors, but you can find the original source material here. Be warned that Ms. Mack's page likely contains some adult material some might consider not safe for work.
At about 2 am Friday morning, Jon Koppenhaver arrived unannounced to my home in Las Vegas, NV, after he broke up with me in May, he moved out of my house and back to San Diego. When he arrived, he found myself and one other fully clothed and unarmed in the house. Without a single word spoken, he began beating my friend; once he was finished, he sent my friend away and turned his attention to me. He made me undress and shower in front of him, then dragged me out and beat my face. I have no recollection of how many times I was hit, I just know my injuries that resulted frm my beating. My injuries include 19 broken bones around my eyes, my nose is broken in 2 places, I am missing teeth and several more are broken. I am unable to chew, or see out of my left eye. My speech is slurred from my swelling and lack of teeth. I have a fractured rib and severely ruptured liver from a kick to my side. My leg is so badly injured I have no been able to walk on my own. I also attained several lesions from a knife he got from my kitches. He pushed the knife into me in some areas such as my hand, ear, and head. He also sawed much of my hair off with this dull knife. After some time, the knife broke off of the handle and continue to threatened me with the blade. I believed I was going to die. He has beaten me many times before, but never this badly. He took my phone and cancelled all my plans for the following week to make sure no one would worry about my whereabouts. He told me he was going to rape me, but was disappointed in himself when could not get hard. After another hit or two, he left me on the floor bleeding and shaking, holding my side from the pain of my rib. He left the room and went to the kitchen where I could hear him ruffling through my drawers. Assuming he was finding a sharper, more stable knife to end my life, I ran out my back door, shutting it behind me so the dogs didn't run inside to tip him off. I hopped the fence to the golf course behind my house and ran to a neighboring house. Naked and afraid he would catch me, I kept running through the neighborhood knocking on doors. Finally, one answered and I was brought to the hospital and treated for my injuries.

I would like to thank everyone for their support though this rough time. I am healing fast and well, and I appreciate all of the prayers and visits I have received over the past few days. After many months of fear and pressure to keep this man happy, although I fear for my life, I feel that I can no longer put myself in this situation. The cheating by him nearly ever day, and almost weekly abuse is now more than I can stand. There is a $10K reward for the capture of Jonathan Koppenhaver at this time. Please report any information to your local police.

Thank You

Christy Mack
Mr. Koppenhaver is 5′ 10″ and weighs approximately 170 lbs. He's also 14-5 in the ring, and seems to be able to hold his own in what is arguably a tough and violent sport. Oh, and his Wikipedia page indicates he's done some time in the slammer for various assault charges. Mack on the other hand is 5′ 3″, 105 lbs. and most decidedly a lover, not a fighter.
If Ms. Mack's account is to be taken at face value, a gun in the hand of either Mack or her friend who also received a beating at Koppenhaver's hand could have been used defensively to stop Koppenhaver and prevent any further injury to Mack or her friend. From her statement it appears that there were quite a few opportunities for her or her friend to retrieve a firearm and defend herself, though Farago will use this as yet another example of how home carry should be top of mind.
The whole thing is sad and ugly and generally terrible. The staff at TTAG wishes Ms. Mack a speedy recovery and hopes this serves as a powerful reminder to victims of domestic violence to get out now and tool up. No man or woman should ever be a victim like this, and a gun in the hand is a powerful equalizer.