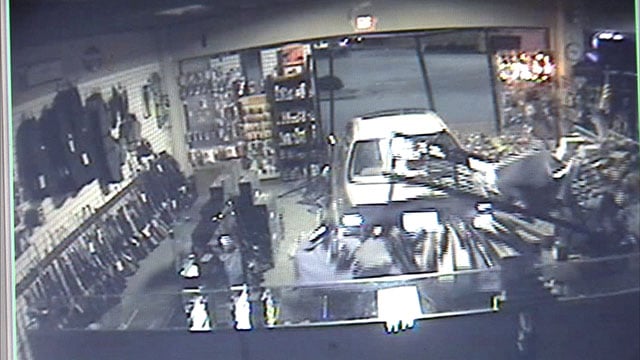 Apparently the tactics from the story from Mississippi I told you about Saturday are a thing now. Three men backed a car (well, probably only one was driving) into The AR Bunker in Newnan, Georgia at about 5 a.m. Sunday morning. The men took less than a minute to jump out and clean out the display cases. The store's owner initially estimated losses at $50-70,000, but later revised that estimate down to about $40-50,000, after discovering that about half the guns they took (11 of 22) weren't actual AR-15s, but .22LR copies. There was also an estimated $15,000 in damaged inventory and. . .
another $15,000 in building repair costs. Police arrived less than 20 seconds after the burglary, but the thieves got away. Investigators think that they had an accomplice waiting on the nearby interstate, and they carried the rifles through the woods to that car, leaving the one they'd crashed into the store behind. That car had been stolen from nearby Union City. Click the photo above for video of the robbery.
Your Lockdown of the Day™ comes from Gilbert, AZ, southeast of Phoenix. Several schools in Gilbert were placed on lockdown today after a suicidal person was reported to police. He had apparently made threats earlier in the day, and while there was never indication he was on a school campus (or headed for one), at least three schools were locked down for a couple hours. The lockdown was eventually lifted, and at some time later police located the suspect, and said no charges are forthcoming.
ctsheepdog writes:
The local Connecticut media is starting to pick up on the discrepancies between the preliminary AW and LCM counts and the previous estimates of relevant rifles and mags (particularly the 2011 OLR report). What if vulnerable politicians (Dem, GOP, Malloy) are worried about having to deal with election-season questions on what good a law does if it is massively ignored? How does a sitting governor deal with a question like: "Governor Malloy, what do you say to the Sandy Hook families now that it appears your signature gun law has been roundly ignored by Connecticut gun owners?"

Now imagine that in an effort to defuse this as a campaign issue, "they" decide late in this legislative session (say late April) to have the Legislature pass a 6-month extension that opens on May 1st and runs through October 31st. Or choose any start and end dates you want as long as the final count will not be disclosed to the public until after the first week of November (hint hint, after Election Day). Sure, some pols will still have to defend their votes but at least an "open registration" period will not force them to acknowledge that the law was a dud or worse. Could they be that cunning?
A group of Washington state lawmakers are sponsoring a bill that would exempt firearms from sales tax for the next ten years. They reason that firearms are a "basic necessity" like food and water, and thus, like food and water, should be exempt. The exemptions would apply to firearms and firearms ammunition, including cartridges, primers, cases, bullets, and gunpowder, and would expire July 1, 2024. The bill was introduced on January 20th, and is now in the hands of the House Finance Committee. Supporters are hopeful for its chances of passage, but they would be, wouldn't they.
The Yankee Marshal on Open Carry Nutjobs & Gun Rallies (specifically at gun rallies). I'm sure many of you will disagree with him. Let's hear it.

.