Buying ammunition online can save you money and get you far more in terms of choice. Prices are usually lower (watch out for those shipping charges, though) and you aren't at the mercy of the local gun store's distributor.
No, your LGS doesn't buy straight from Federal or Winchester. They go through a third, fourth or even a fifth party depending on the distributor they deal with. That's why some stores seem to have different ammo for sale all the time.
Before we begin, however, we need to point out that California has made the online purchase of ammunition more difficult for the people who live there. (The Nanny State Strikes Again: Electric Boogaloo) Since purchase of ammunition now requires a background check, it makes buying ammo online more complicated.
The quick version is that you can still buy your ammunition online, but it has to be shipped to either a designated FFL or a California Ammo Vendor with a Certificate of Eligibility in jurisdictions that do not forbid having ammunition shipped to an FFL or CAV/COE for purchase.
Obviously, it's not that you can't, but it's more complicated than it was or needs to be thanks to California's apparent need to continually make it hard for anyone to enjoy anything, anywhere, ever, at all.
With that said, if you want to secure a regular supply of a particular box and brand, or buy in bulk, getting your ammunition online is one of the best ways to do it.
However, take into consideration what kind of ammunition you're shopping for. There are certain brands/boxes/types of ammunition that any retailer will have (hardball for range use) and others that you have to find the right source for. Every ammunition site is a little different and tends to caters to a specific market. For instance, some have a lot of different rifle ammo choices, some are a bit more weighted to handguns, and so on.
With that said, who are the go-tos?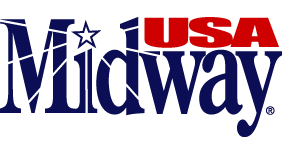 MidwayUSA is one of the largest online retailers of all things gun-related, including a decent selection of…ammunition. Here you can find a pretty decent cross-section of every kind of gun food you might want, from bulk FMJ to JHP for concealed carry, JSP for handgun hunting and anything and everything in between.
Selection isn't unlimited, but they have far more than almost any other online ammunition retailer. If there's a one-stop-shop for all things ammunition, guns and so on, Midway USA is as close as it gets.
MidwayUSA is also one of the few somewhat reliable sources for occult esoteric like 7.62mm Tokarev, .45 GAP, 7mm Shooting Times Westerner or .35 Whelen, which many ammunition websites don't stock at all and you can basically forget about finding in local stores.
Able's Ammo comes close to Midway in terms of breadth and depth of selection. Prices are competitive, and you can find almost any style of bullet you might want. They have a good mix of bulk ammunition and practical ammunition as well.

If all you're looking for is pistol ammo – and maybe some 5.56/.223 on the side – then LuckyGunner.com is also a very decent supplier. They have a generous selection for people who own typical handguns in typical chamberings such as 9mm, .40 S&W and so on, with a few "oddballs" (.25 and .32 ACP, .50 AE, .357 Sig) as well. FMJ and JHP abounds, so most handgunners will be able to find almost anything they need.
As a bonus, LuckyGunner also produces some fantastic video content as well as maintains a testing database for concealed carry ammunition. Their test is similar to the FBI protocol, so you can see if they've tested your carry rounds or the ones you're thinking of switching to.
Ammunition Depot bridges the gap, so to speak, between Midway and LuckyGunner. The former has darn near everything, the latter only deals in the most popular handgun, a very limited number of rifle calibers (5.56/.223, 7.62x39mm and .308/7.62mm NATO) and does offer some 12-gauge shotgun shells.
Ammunition Depot expands their rifle offerings to include more common rifle calibers and a bit more in terms of shotgun offerings.
However, pickings are a little slimmer for rifle ammunition basically outside of the AR/AK/tactical rifle/assault rifle/modern sporting rifle/whatever you want to call a semi-auto family. In other words, you'll be happier than a pig in slop if you want .300 Blackout. If you have a .30-06, they have some, but be prepared to feel almost as let down than Cleveland Browns fans.

Sportsman's Guide is not a bad choice for ammunition either. Granted, there are certain things they don't have much or any of (shop for your JHP elsewhere) but what they DO usually have is great for certain people.
Specifically, they have a good selection of hunting ammunition and some fantastic deals on bulk ammunition as well. If you're stocking up on, say, Nosler Partitions or laying in a few thousand rounds of 9mm hardball or 5.56/.223, they're a great source.
Ammo.com is one of the few sites that comes close to rivaling Midway in terms of sheer breadth of selection. Rifle, pistol and shotgun ammo abounds and with multiple bullet styles and in dozens of calibers. However, their forte is volume, so this isn't where you go to get a box or two of hardball for the range, hollow points for concealed carry or JSP for hunting. This is where you go to buy A LOT of it.
If you feel like there is a better source than the above, say so in the comments! We, along with everyone else, are always interested in finding a new, better, more cost-effective and reliable source of freedom seeds.