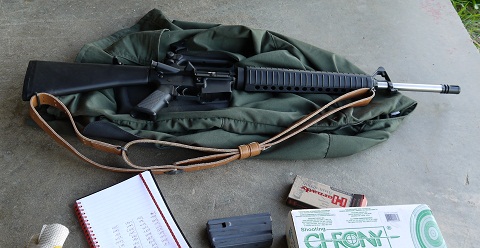 Continuing on our quest for the best factory produced ammunition, we look at two well known and well-loved brands and see where they end up on our list: Federal XM193F 55gr and Hornaday BTHP Match 75gr, both in .223 Remington.
The first time I posted about the consistency testing I laid out the test procedure. I'll give you a quick recap . . .
Using an ArmaLite National Match M-15 rifle I fire 10-20 rounds of the test ammunition through a chronograph and record the speed of the rounds. Using a statistical program called R, I examine the resulting boxplots and normalize the results for easier viewing. Finally, I calculate the interquartile range of the velocities and use that as the metric to score the ammunition brands, lowest score being the winner.
Test Ammunition
This time we examine two brands of ammo seemingly marketed to different ends of the shooting spectrum, Federal XM193F 55gr and Hornaday BTHP Match 75gr.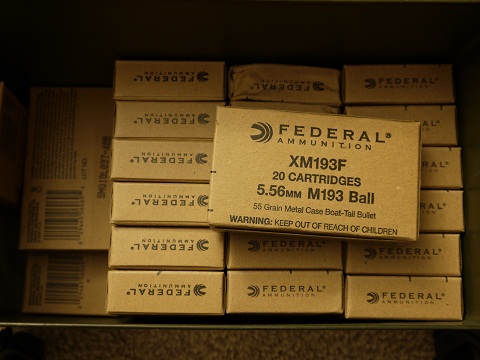 Federal XM193F was designed for use by the U.S. Military. It's mass produced ammunition. According to Federal's website, "XM193 product is first run, first quality product manufactured at Lake City Army Ammunition Plant for Federal Cartridge and is made to Federal specifications typical for commercial ammunition." XM193F uses a 55 grain full metal jacket bullet, brass cases, and claims 100 percent mechanical and visual inspection of ammunition coming off the production line for packaging.
Thousands of rounds of ammo are produced and consumed each day by both civilian and military users. This ammunition cost me about 31 cents per round. While not quite as cheap as Wolf ammo, it's also not as [ungodly] expensive as Hornaday ammo.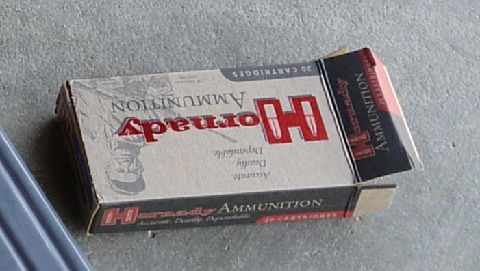 The other ammunition brand tested: Hornaday's Match grade .223 ammunition. Hornaday's website claims their finest ammunition is "loaded with the most accurate, consistent match bullets in the world" with "cases hand selected based on strict criteria" and powder that's "matched carefully to each specific load for optimal pressure, velocity and consistent accuracy." Hornady markets the ammunition to competition shooters around the world as the best and most accurate for any kind of shooting.
Hornaday uses a 75 grain boat tail hollow point round and brass cases manufactured with a proprietary process that claims to ensure uniform density. MSRP is a scant $1.23 per round.
Results
In the following boxplots the ammunition type with the lowest interquartile range so far (Wilson Combat 77gr) was included for comparison. I also included two different handloads of mine, one using IMR 3031 powder and another using VIHT N-135, both with 75 grain bullets.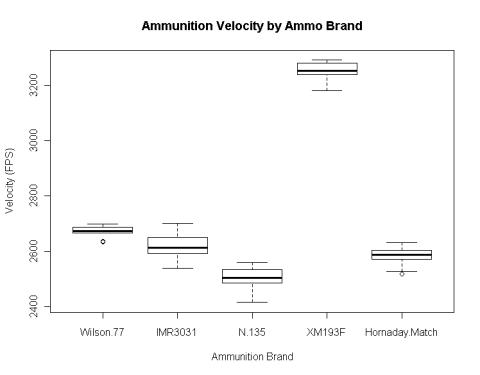 As can be seen in the first boxplot, the XM193F has the highest average velocity of the ammunition types tested in this go-round by far. Interestingly, despite having the heaviest bullet of any ammo tested so far,Wilson Combat has a higher average velocity than the rest of the 75 grain or higher ammunition brands.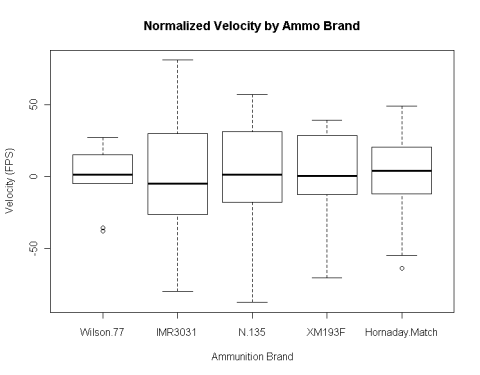 With the normalized boxplot it appears that the ammunition brands are very similar in terms of interquartile range and even the whiskers. But Wilson still takes the cake with a very noticeably smaller box compared to the rest of the ammo.
The final measure of a round is the interquartile range. The following bar graph shows the interquartile range of all of the ammunition brands tested so far with the new ammunition being tested highlighted in red.
It appears that Hornaday ammunition lives up to its reputation as being a top performer, only beaten by the two Wilson Combat brands (about $1.40/round). XM193F, on the other hand, is exactly as consistent as Wolf ammunition. In other news, my handloads still suck.
Hornaday Match ammo failed to unseat Wilson Combat as the top performer in our testing. Is there any ammunition brand out there that can? Find out as we continue testing every brand of ammo we can get our hands on.
Brand and Weight
Caliber
IQR
Wilson Combat
77gr Sierra HPBT Match
.223 Rem
19
Wilson Combat
65gr Sierra SP BT
.223 Rem
21
Hornaday
75gr BTHP Match
.223 Rem
29
CorBon
69gr HPBT
.223 Rem
30
Winchester
64gr "Power Point" SP
.223 Rem
38
Wolf
55gr FMJ
.223 Rem
40
Federal XM193F
55gr FMJ
.223 Rem
40
Handloads – 20.8gr N-135
75gr Hornaday HPBT Match
.223 Rem
49
Handloads – 21gr IMR 3031
75gr Hornaday HPBT Match
.223 Rem
52