The Ruger 10/22 .22LR rifle is one of the most widely owned frequently customized rifle platforms there is. There are hundreds (thousands?) of 10/22 mods and upgrades available to make Ruger's ultra-popular rimfire rifle just about anything you want it to be. In short, the aftermarket support for the incredibly popular rifle is ridiculously deep.
Do you want to spruce yours up, but don't know where to start? Let's get going with a few easy changes you can make to the stock rifle that will actually make immediate improvements. None of these changes require a huge amount of know-how or special tools…though you may want to use a gunsmith if you aren't confident enough to change out sights or other components.
Ruger BX-Trigger drop-in trigger group
First on the list is better trigger than the stock version. While there are many drop-in trigger options out there (Timney and plenty of other companies make drop-in 10/22 triggers), an easy 10/22 upgrade can be had directly from Ruger themselves in their BX-Trigger.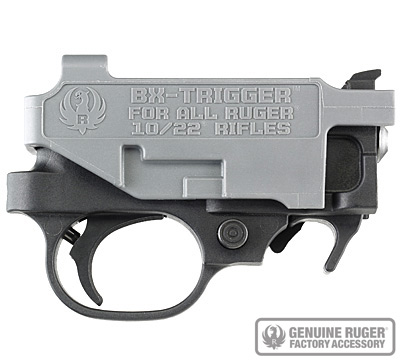 The Ruger BX-Trigger is a drop-in trigger group, which you should easily be able to install yourself, especially since it's made by the manufacturer. The 10/22 stock trigger isn't atrocious, but can certain stand to be a bit crisper and a little lighter. That's what the BX-Trigger does.
The Ruger BX-Trigger reduces the 10/22's pull weight to 2.75 lbs. from the factory 6 lbs. pull weight.
At about $75 retail it will make a big difference, immediate in how your 10/22 shoots. Sure, there are arguably better trigger groups out there with lighter, sometimes adjustable triggers made with more premium parts, but how much money do you want to spend upgrading your $300 plinker?
Ruger BX-25 25-round magazines
Another upgrade you can make is the 10/22's magazine. If you've shot your 10/22 rifle much at all, you know that the standard 10-round rotary mags seem to empty out way too fast.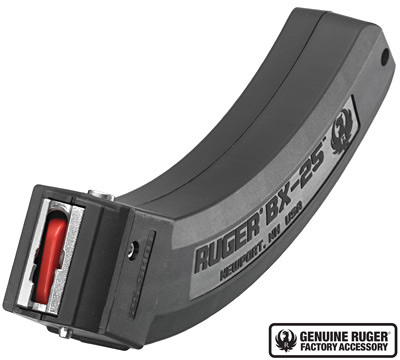 Ruger's BX-25 magazine – or a couple of them – takes your capacity up to 25 rounds. That means more time shooting and less loading and swapping out mags. They run about $28, but you can get a 2-pack for $45.
TRUGLO 10/22 Sight Set fiber optic sights
Another common lots of 10/22 owner make is to the stock sights. The iron sights Ruger includes are serviceable. Period. So if you aren't going to mount an optic on your rimfire rifle, what's a good sight set that doesn't cost a ton, but will help you shoot more accurately?
If you want something that replaces the standard Ruger sights without any further alterations to the rifle . . .
One excellent, easy to install set comes from TRUGLO, which will set you back less than $40. Their 10/22 Sight Set is windage and elevation adjustable in the rear. For most plinking and small game hunting they're ideal.
Tech Sights 10/22 Aperture Sight Sets
If you wanted to get a bit more serious about your iron sights accuracy, you'll want to move your 10/22's rear sight to the back receiver. It's tapped to mount a scope, but can accept a rear sight if you aren't planning to add an optic.
A couple of great options worth looking at are from Tech Sights.
These are AR-15 style sight sets with a rear aperture sight with a National Match front post. The TSR100 GI-Style sights – you can pick 'em up for about $74 – has dual flip-up apertures, one for short range and one for long range. The front sight adjusts for elevation and the rear sight can be adjustable for windage.
TechSight's TSR200 sight set ditches the short-range aperture, but adds elevation adjustment to the rear sight. If you've ever used the typical iron sights on an AR-platform rifle, you'll be right at home. The TSR200 set will run you about $10 more than the TSR100.
Moving your rear sight to the back of the receiver gets you about eight inches more sight radius which should improve your accuracy. You could, of course, always add a scope or red dot, but then you're talking a more significant investment.
Magpul X-22 Hunter Stock
Another popular upgrade that a lot of 10/22 owners make is to swap out the standard stock. It's an easy change you can make yourself with a screwdriver.
A great bang-for-your-buck 10/22 stock is the Magpul Hunter X-22, which is made for both standard and takedown models. The Hunter X-22 is molded polymer with easy drop-in installation.
It has a pistol grip with textured panels for an easy grip, and is adjustable for length-of-pull with a shim kit that comes with the X-22 stock. There's also a cheek riser kit that can come in handy if you've mounted an optic on your rifle.
The X-22 stock works with all Ruger 10/22 magazines so that isn't a problem. The forend also includes M-LOK slots on the sides and the bottom, so you can add any M-LOK compatible accessory (like a bipod) you might want.
The adjustable Magpul X-22 stock is lightweight, at just over 2 lbs. It lets you sub out the factory wood or polymer stock on your 10/22 with a lightweight, higher-tech rifle stock for not a lot of money: Magpul asks about $130.
Or…if you wanted to go a little crazy . . .
M1 Carbine Stock for 10/22
You can go the classic route by adding something like an M1 Carbine-style stock to your rimfire rifle. A few companies have started producing M1-inspired stocks (with the covered handguard) for Ruger 10/22 actions. Heck, Ruger even makes a couple of M1-inspired models so if you wanted to enjoy a little bit of an anachronism without having to find .30 Carbine ammo…why not?
E. Arthur Brown's M1 Carbine 10/22 Tribute stock goes for the very reasonable price of $119. It's made of beech rather than walnut, but it looks the part.
A smart feature they include is two different handguards, one for use with standard Ruger sights and a second in case you install a rear sight on the receiver (as pictured above). They even make a dummy "stick magazine" cover – it attaches to the standard 10-round magazine – to complete the effect.
It may be kitschy, but — again — the Ruger 10/22 is a gun that's made for having fun. Some folks compete with them and some hunt with them, of course, but most of us shoot our Ruger 10/22 rifles for sheer pleasure of it and this M1 dress-up kit is darn cool.
These are just a handful of ideas for 10/22 upgrades that can get you a bit better function and add some flair to your rifle. They barely scratch the surface of what's available out there. Have you customized your 10/22?  Sound off in the comments.