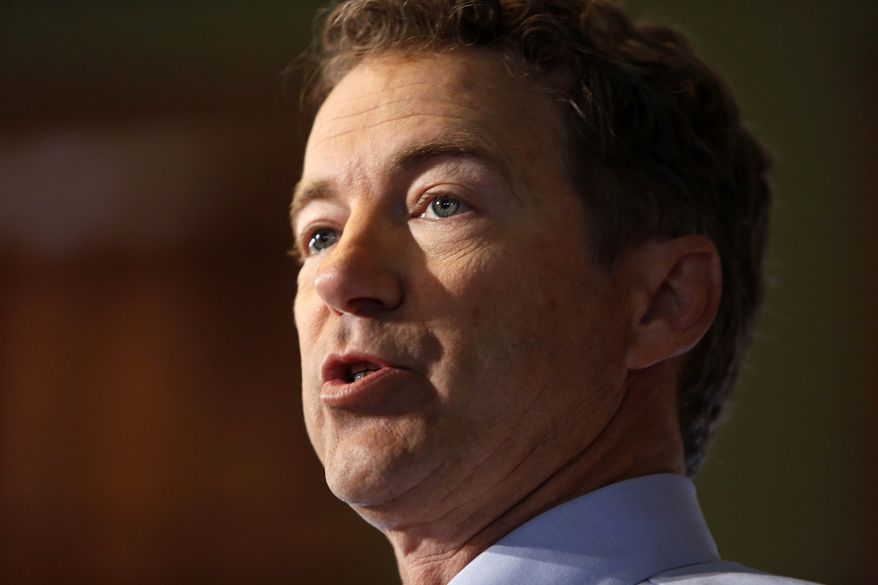 Although the big political story this weekend was the (utterly unsurprising) announcement by Hillary Clinton that she is running for president in 2016, there was something else that may have slipped under the radar. Every significant announced (or potential) GOP candidate for president attended the convention except two: New Jersey Governor Chris Christie and Kentucky Senator Rand Paul. Although Christie has made some headlines for pardoning Pennsylvanian Shaneen Allen who was caught up in the web of New Jersey's asinine firearms laws . . .
Christie received only a "C" grade from the NRA in his 2013 re-election campaign and isn't generally known for taking strong stands in defending the Second Amendment. His absence therefore was not surprising.
Not so much for Sen. Paul, who received an "A" rating from the NRA, and is generally known for being one of the most libertarian members of the Senate. Although the WSJ's Washington Wire Blog reports that "the NRA chalked up Mr. Paul's absence from Nashville to scheduling concerns," it also reported that the junior senator from Kentucky was being shunned due to his connections with another group – the National Association for Gun Rights.
Top NRA officials are unhappy that Mr. Paul has for years lent his name to fundraising solicitations for the National Association for Gun Rights (NAGR), a group that fashions itself a more conservative alternative to NRA. Mr. Paul's aides have been told by the NRA he will be unwelcome to participate at NRA events as long as he remains affiliated with NAGR, according to people familiar with the conversation.
Although NAGR and the NRA have the same objectives in mind, the two groups have differed on ways to achieve those ends. For instance: the NRA supports national concealed carry reciprocity; NAGR opposes it on the grounds of federalism, calling it a "trojan horse" for more government control in a recent press release.
According to the Washington Times,
Mr. Paul's image is used on NAGR's fundraising materials, adn the group consistently sends out both emails and letters credited to Mr. Paul on gun rights issues. Before the 2014 midterms the senator hosted a telemarketing call with about 6,000 NAGR supporters requesting $100 donations to help win political races, and in January he appeared at a NAGR-sponsored event in New Hampshire.
The Times article is worth reading in full, and it explains why NAGR tends to be a little controversial in some gun-rights circles.
Raising money is certainly important in presidential politics, and whatever the reason, Paul was a no-show at a venue where a lot of committed activists were in attendance, many of whom still have to decide who should receive their support in 2016.