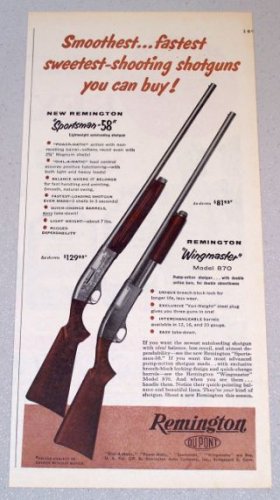 I'm the proud owner of a (rebuilt) Remington Wingmaster 870. I'm not a "shotgun guy" – but I'm learning. I bought it at a pawn shop, to be used for home defense. I immediately took it to a gunsmith I trust, who rebuilt it from the ground up – took it from what looked like an abused weapon to one that runs and runs and runs. He also added a magazine extension tube, shortened the barrel to within an inch of the legal limit, added a front sight, and cleaned it up. That was stage one. Now I'm perfectly happy shooting it as it is. But my dad had trouble dealing with it's length/weight (he's 84), and the rest of my family is not built like I am (6'4″, 235 or so lbs.). So it looks like I'm in the market for some parts for the venerable 870. No problem…Midway USA to the rescue. But not so fast, buck-o. The Mighty Wingmaster is apparently the shotgun version of a Jeep Wrangler – or what the AR-15 is to carbines – a platform that allows, nay encourages you to modify it in almost any way you can imagine.
I'm looking at a pistol grip, a folding stock, and an adjustable stock. All three offer advantages – and disadvantages. Here are the three I'm considering:
A pistol grip makes for a short weapon, but it means you gotta hold 'er steady. No bracing this one against your shoulder – there's nothing to brace. Hogue says pistol grips "are molded from a fiberglass-reinforced polymer assuring stability and accuracy. Non-slip stocks are durable, weatherproof and extremely comfortable with a standard length of pull of 14-1/4″ or with a shorter 12″ length of pull for small shooters or for use with body armor. The Tamer grip provides hours of comfort and recoil protection with it's Sorbothane insert, palm swells and finger grooves."
The folding stock is kind of the best of both worlds. Which worries me. It's light a light switch – off or on, with no in-between. And I'm afraid the very people that need it shorter will find shooting a pistol grip sans stock to be a handful. (No pun intended.) Advanced Technology makes this one. The Midway USA catalog says it "Allows the shotgun to function with the stock extended or folded. Quick release button allows buttstock to fold or unfold instantly. Reversible for right and left-handed shooters. Stock includes integral pistol grip, mounting adapters and required hardware. This Marine model features stainless steel hardware for corrosion-resistance."
The adjustable stock (just like you'd find on an AR-15) seems to offer a good compromise. But I'm not sold. I'm not sure if it will adjust to be short enough for comfort, and long enough to suit me. Plus, it makes it look like an AR-15, which is not necessarily a good thing (I'm already intimidating the Hell out of my girlfriend over the "guns in the house" thing). Not sure I want to add "black assault weapon" to my list of perceived sins.
The Knoxx Industries SpecOps adjustable stock boasts "an M4-style sliding stock allows the length of pull to be adjustable from 11-1/4 to 15-1/4″ to fit most shooters or those wearing heavy clothing. Lacking the recoil reduction capabilities of other the Knoxx stocks, it is the cost effective choice for those who find 12 gauge recoil tolerable."
Remember, I'm not just looking for something for my use. It's got to make the shotgun usable for everyone from my 12-year-old daughter to my 84-year-old dad. (Not that they're gonna be shooting it a lot, but if it's purpose is home defense, I'd like them to be able to use it.)
So now, I'm turning to the ever-growing TTAG community for some advice. If you've had any experience with different shotgun stocks, lemme know. I'll be interested to hear what you think.