An EDC flashlight is one of the best pieces of gear you can carry, along with a decent pocket knife and/or a multitool.
The basic features to look for in an EDC flashlight are durability, output (in lumens), and length of charge. In other words, get you one with a metal housing that can take some abuse, one that puts out a good amount of light and takes awhile to run out of juice. A good pocket clip is also key.
It's up to you whether to get a more standard model or a tactical flashlight. The latter will tend to be more durable, and will be rated for impact in case you need to use it as an improvised weapon.
Since an EDC flashlight is also meant to be portable, you're looking for a balance of factors. The smallest length, diameter and weight with the highest output in lumens while still being durable.
As for your light's power source, it's best to go with a flashlight with a removable battery. Some have fixed rechargeable batteries, which is fine for the most part, but leaves you in the lurch if you forget to charge it.
Removable batteries let you switch between rechargeable batteries or disposables at will and/or as needed. Therefore, flashlights powered by AA batteries, CR123a or 18560 batteries give you some flexibility, as rechargeable li-ion batteries and disposables are available for both.
So, what are some good examples of worthy lights? Here are 7 outstanding EDC flashlights. This list isn't meant to be exhaustive, just some good examples with some good features that should get you thinking about what you want and need in an EDC light.
The Fenix PD35 TAC is a great choice. It features a Cree XP-L LED light source, with output of 8, 60, 200, 500 or 1000 lumens, and a max distance of 200 meters. Battery life is 140 hours of operation at the lowest setting and 1 hour 10 minutes (depending) at the highest.
The housing is aircraft-grade aluminum, with a knurled housing for grip, castellated housing around the tail switch, and a pocket clip.
The base model is black, but there are some different finishes available (digital camo) and a tactical model as well.
Dimensions are 5.4 inches long, with a 1-inch diameter head, perfect for most pockets though a holster is included if you wanted to wear it on your belt. Weight excluding batteries is 3.1 ounces. Power comes from either one 18650 Li-ion battery or two CR123a batteries. You have to supply the batteries or pay an extra $25 to get one that includes them. MSRP is $69.95 for the base model, but you can get one cheaper if you shop around.
If you want even more portability, the Olight S1 Mini Baton is very small, but quite powerful for its size. Powered by a single rechargeable CR123a battery (with micro USB charging port), the Mini Baton has five brightness settings, starting at 0.5 lumens up to 600 lumens, with a maximum beam distance of 130 meters.
The light source is a Cree XM-L2 LED, and has a strobe setting. (I start impromptu raves with it all the time. It's a thing.) Run time (depending on output level) is 15 days of operation down to 55 minutes.
The housing is textured anodized aluminum, with a side switch and pocket clip. Dimensions are 2.13 inches long and 0.83 inches in diameter at the head, and it weighs a scant 4.52 ounces. Olight throws in the battery, so no worries there. MSRP is $49.99.
Another good compact flashlight option is the FourSevens Mini Turbo MkIII. The Mini Turbo MkIII uses a Cree XPL-HI LED light source, with a minimum output of 1.5 lumens and maximum output of 700 lumens and max beam distance of 200 meters.
There is a burst mode, which is a strobe, if you desire one, as well as beacon and SOS modes as well. The party piece is that you can set the configuration mode to your liking, so you get to choose what settings the button (on the rear) actuates.
Battery life is 90 hours of use on the lowest setting and 50 minutes on the highest. Dimensions are 2.38 inches long, with a head diameter of 0.96 inches and loaded weight (with batteries) of 1.8 oz. The housing is 6061-T6 anodized aluminum.
MSRP is $65 or $75 with a charger for the single RCR123 Li-ion battery. You can also use CR123a batteries in a pinch, but it will diminish max output to 500 lumens. Not uber-cheap, but quite compact for the light output, which makes it a good EDC flashlight.
Still not bad for a pocket flashlight.
Some people, though, want more tacticality. They are oh so tactical. REALLY tactical. You just don't know how tactical they are. If your name is Chad or Kyle, and you only wear Oakley sunglasses, drive a Jeep Wrangler Unlimited (Call of Duty Modern Warfare 3 edition) and wear Coyote Tan or FDE Kydex underwear with 5.11 tactical pants to your office job, then Streamlight may have just the EDC flashlight for you.
Actually, they're great for anyone.
The Streamlight ProTac series has some great lights, including two compact carry models for EDC use. Both have 6000 series aircraft aluminum with a black anodized finish (tactical) with castellated light and rear switch housings in case you need to hit something with it. The glass lens is tempered for impact resistance. Both have different light configurations in Streamlights TEN-TAP programming, so you can set what the button selects. Both have a strobe function for having a tactical rave.
First is the ProTac 1L, the more compact model.
The ProTac 1L is capable of output of 22 lumens (low mode) to 275 lumens (max distance of 143 meters) with run time of 24 hours to 2 hours depending on settings. The pocket clip is said to be unbreakable. The 1L is 3.43 inches long, 0.9 inches in diameter at the head, and weighs 2 ounces with a battery. The power source is one CR123a lithium battery. They go for about $40 on Amazon.
If you want a bit more power, but still with a compact form, the ProTac 2L is much the same but adds a second CR123a battery. This bumps max output to 350 lumens, max distance to 159 meters, overall length to 4.77 inches (head and barrel diameter remain the same) weight to 2.8 ounces and runs about an extra $10.
Minimum output rises to 30 lumens, with a run time of 35 hours and max output (350 lumens) has a run time of 3.25 hours. It's the same, just a bit bigger and a tad more powerful; you might call it the ProTac Long Wheelbase.
Both are excellent compact EDC flashlights, and are very affordable.
NiteCore also makes some good lights for the tacticool set AND those folks wanting a compact-yet-powerful EDC light. NiteCore doesn't screw around with illumination, as their lights tend to feature higher outputs than many others despite their compact size.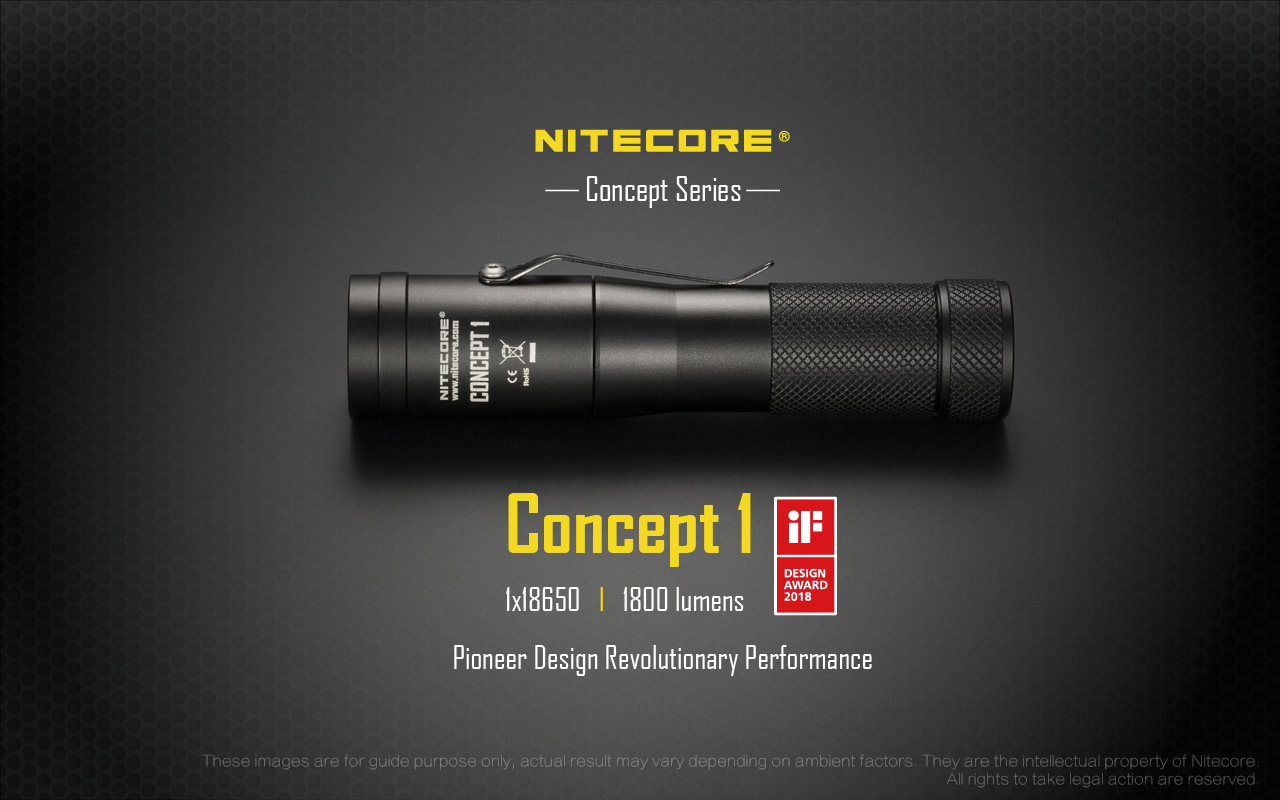 If you want a sleek, powerful light, the Concept 1 uses a Cree XHP35 HD E2 LED and boasts a max output of a massive 1800 lumens at the highest setting, with lower levels of 1, 80, 300 and 800 lumens as well. On the minimum setting, run time is 300 hours, but falls to 30 minutes (depending) on the highest setting.
Best use is with a 3.6V 18650 battery (with output of more than 8 amps) but dual CR123a or RCR123a batteries can be used if needed, though 123a batteries will only yield 800 lumens of output and max distance of 220 meters. It also features a strobe mode and the light will blink to indicate charge status.
The aircraft grade housing is impact resistant, with a knurled rear quarter, stainless steel pocket clip and magnetic battery cover so you can actually mount it to a magnetic surface. Dimensions are 4.39 inches long, and the head diameter is 0.96 inches and weighs 2.18 oz. Light, compact, sleek and powerful. Without batteries, it's about $60 on Amazon.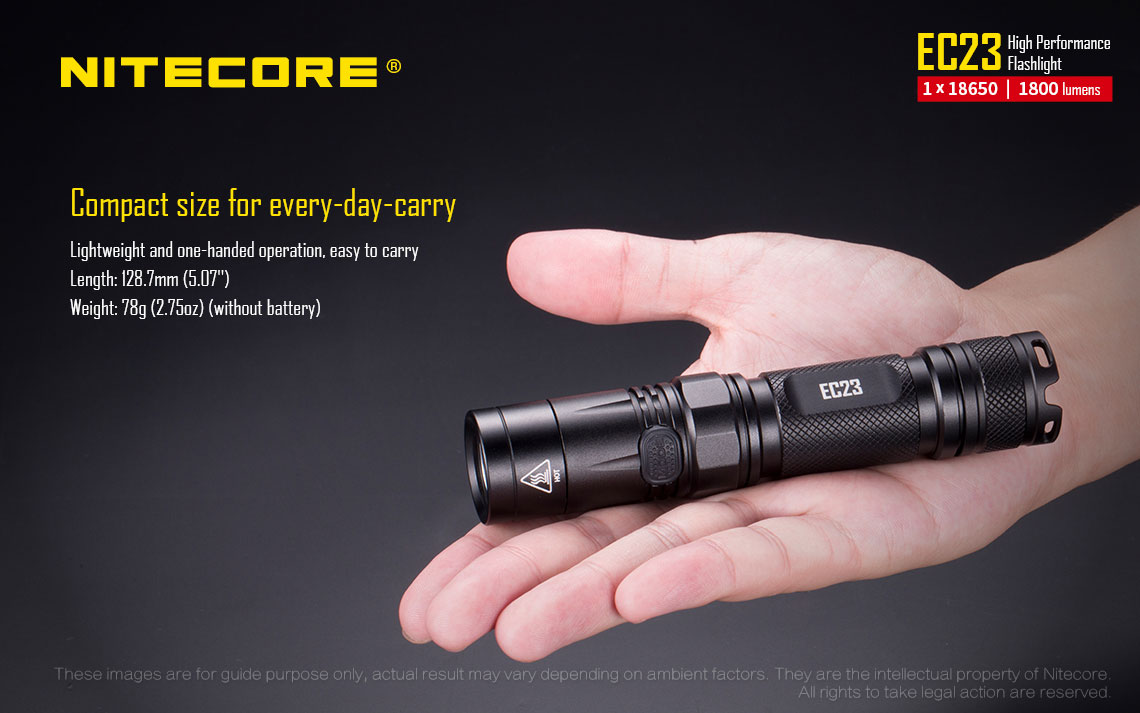 If you wanted to go the tactical route, the NiteCore EC23 is essentially a tactical version of the Concept1. Outputs are almost the same with graduated output levels of 1, 55, 300, 908 and 1800 lumens, and max distance of 255 meters. Run times likewise range from 300 hours to 30 minutes in the 1800-lumen Turbo mode.
However, the EC23 adds a knurled housing, castellated rear housing and a slide switch to control the button program. The push-button is on the rear and the slide switch is on the barrel. The EC23 also adds a location beacon pulse mode.
The EC23 is slightly bigger, at 5.06 inches long, 1 inch in diameter at the head and 2.75 oz in weight. The power source is the same; a single 18650 battery (3.6V, 8A+) or two CR123a/RCR123a batteries (sans Turbo mode) can be used. However, the tactical model is actually cheaper by about $13 for the base model sans battery; you can get a flashlight/battery/charger bundle for about $73.
These are just SOME of the great EDC flashlights available on the market right now. There are literally scores of great options out there. Feel free to sound off about some of those others in the comments and let us know what's in your pocket.