Writing for ammoland.com, Major Van Harl USAF, Ret. came across Short Lane Chamber Adapters at his LGS. The product gave Major Harl a major you-know-what. Although he didn't test it – and you know we will – I reckon it's a solution in search of a problem. Who looks at their 12, 20 or .410-gauge shotty and thinks, hmmm, if only it could get it to shoot .22? And 9mm! And .45 Long Colt! Never mind the extra weight up front, I could be The Lord of the Gun! One long gun to rule them all! Make the jump for the relevant deets and links . . .
Wisconsin –(Ammoland.com) So, I am in the big box gun store looking in the used long gun section and I spot an H&R single shot 20 gauge with rifle sights.
The tag said $99 and I could not figure out why so cheap a price. Then I opened up the action and found the rifling. People buy these rifled shotguns and then discover that in fact they are really only good for one thing, shooting slugs at extremely accurate long ranges. 
If the shotgun is one where you can remove the rifled barrel and replace it with a smooth bore then that is very handy. If, however, you have a shotgun that is rifled and a replacement barrel is not an option, you are very limited in how you can engage with said long gun.
I have this "thing" for used H&R single shot shotguns and believe if they are in good shape and priced $100 or less you never pass them up. So I bought this little orphaned shotgun and told the wife I was getting it for the daughter.
A big problem with rifled shotguns means slug-only ammo is fired down the tube and slugs are expensive. If you think you are going to buy 50-100 rounds of slug ammo and head to the range to get familiar with your new rifled shotgun, you are in for a costly day of shooting.
If you think you will slip some birdshot rounds of 20 gauge into the mix you will be disappointed. The rifling will basically spin and sling the shoot out of the barrel and it opens up into a very large pattern just feet from the end of your shotgun. You are not going to shoot rabbits or birds at thirty yards with a rifled shotgun.
Now an interesting side note is, if you are looking for an "alley sweeper" at very close range, bird or buck shot fired out of a rifled shotgun barrel can provide that unique and perhaps useful pattern.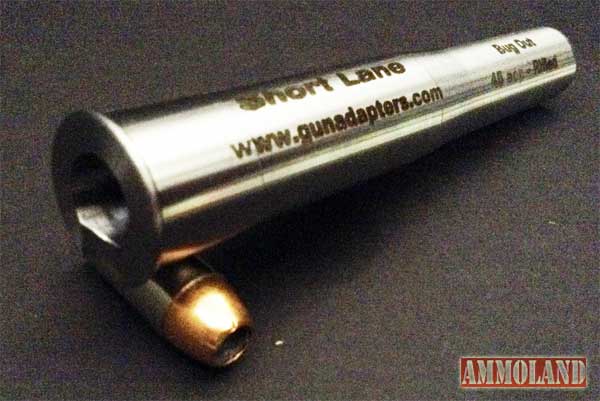 If you want to extend the capabilities of your rifled, break open shotgun (and for that matter you smoothbore), Short Lane Chamber Adapters (www.gunadapters.com) has a great line of adapters that can be inserted into your 12, 20 or 410 gauge shotguns ( http://tiny.cc/zz2nqx ).
The adapters allow you to shoot multiple rim-fire and center-fire pistol rounds of ammunition very accurately from your shotgun. The 20 gauge Pathfinder Kit is a packaged selection of three inserts; 20 gauge to 22LR, 20 gauge to 9mm, and 20 gauge to 410/45Long Colt. The 20 gauge to 22LR adapter should allow you to use the most economic way of shooting your shotgun.
The only problem in this area is just trying to find 22LR ammunition.
Ray Banister the President of Short Lane advised me they consistently get 3-4 inch groups at 50 yards with the 20 gauge to 22LR (rifled) adapter. Now this is depending on your personal shotgun and ability to shoot that firearm. If you add a scope to your shotgun Mr. Banister suggests, you will get even better groupings.
The 20 gauge to 9mm is allowing the shooter to hit a 6 inch metal plate out at 100 yards. Engaging "walkers" at 100 yards with your cheap 9mm ammo is much more efficient in time of crisis than using up your expensive and heavier 20 gauge ammo.
Buffalo Bore Ammo (buffalobore.com) has an excellent 9mm standard press SKU 24K/22 ball ammo you could use. Short Lane specifically instructs you not to use Plus-P ammunition in their adapters. In time of crisis you should always engage with your 22LR if at all possible before moving to the large, harder-to-replace center-fire ammo. With the 20 gauge to 410 / 45 Long Colt (not rifled) you can use 410 gauge shotgun ammo in your 20 gauge smooth bore shotgun. Buffalo Bore Ammo makes some great standard pressure 45 Long Colt ammunition.
The 45 LC SKU 3H/20 uses a 225 gr. Barnes XPB lead free bullet, but my favorite is the 45 LC SKU 3I/20 which uses a 225 gr. wadcutter, flat bullet that I find punches great .45 diameter holes in everything. This would be best used on "walker" size targets are 15-20 yards.
For someone who wants to put together a one-firearm, inexpensive, crisis, long gun emergency tool, a smooth bore single shot 20 gauge shotgun with the above Short Lane 20 gauge Pathfinder Kit would nicely fill that requirement.
Being prepared for an emergency or to redirect evil does not always have to be prohibitively expensive. He who has the tools wins, you just have to acquire the tools before you really need them.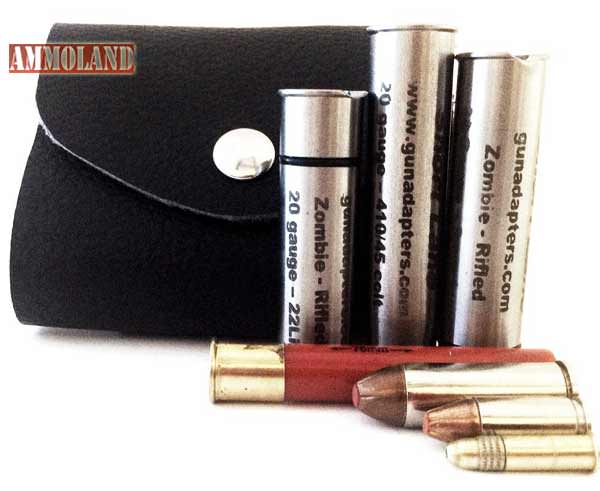 Read more: http://www.ammoland.com/2014/12/shooting-9mm-and-22lr-in-your-20-gauge-shotgun/#ixzz3Lb4M4FjU
Under Creative Commons License: Attribution
Follow us: @Ammoland on Twitter | Ammoland on Facebook