The pistol caliber carbine is one of the best, most versatile firearm platforms there is. You get the increased accuracy and terminal performance of a long gun with reduced recoil of handgun rounds.
This made the Winchester Model 1873 the "Gun That Won The West," chambering pistol calibers like .32-30, .38-40 and .44-40, which were also popular handgun rounds. Law enforcement and others could put the same round in their revolver and their rifle.
Today's pistol caliber carbines are vastly different, as semi-automatic rifles have taken the place of the lever gun and bolt-action rifle. Today's semi-automatic carbines fire pistol rounds as well, with 9mm carbine models being wildly popular.
The pistol caliber carbine is also one of the absolute best home defense guns there is. You get better terminal performance than a pistol with greater accuracy and easier shooting. A "gets it done" round like 9mm becomes far more effective; a hard-hitter like .44 Magnum starts to creep into rifle territory.
So, what are some great places to start? Have a look at the following.
The Ruger PC Carbine is getting tons of press and lots of interest, and for some great reasons. The PC Carbine comes with iron sights, but also has a Picatinny rail in case you want to mount a red dot or other optic.
The 16.12-inch barrel gives the 9mm (or .40 S&W) round more zing and a flatter trajectory at longer ranges. The barrel is fluted and has a threaded muzzle, in case you want to attach a suppressor.
The rifle can accept both Ruger and GLOCK magazines, though the latter requires you attach a compatible magazine well. For $649 MSRP, it's a solid value.
A great many manufacturers also make AR-15 platform rifles chambered for 9mm and other pistol rounds. Design details depend a lot on who makes it; some will accept GLOCK magazines, some don't.
Popular models include those by Palmetto State Armory and CMMG, among others. If you like the AR platform but don't want to start spending rifle ammunition money, it's a great option. Costs and features – say if you want M-LOK furniture or other features – depends on who makes it, of course. You can spend a little or a lot.
Of course, sometimes the old ways are still best, and if you want a bit more punch, the lever-action rifles come good again. Today's carbines have more zip than the old flying ashtray of the .44-40, as .357 Magnum and .44 Magnum have come to the fore.
Models such as the Marlin 1894 and Winchester 1892 as well as from some other companies push modern revolver loads at 300 additional feet per second over handgun velocities, turning a potent handheld round into a respectable rifle round at close ranges. Plenty of deer and hog hunters swear by a .357 Magnum or .44 Magnum from a carbine inside 200 yards if accurately placed.
If you want to get even more tactical, the CZ Scorpion EVO 3 S1 carbine is feature-packed and at a non bank-busting price (starting at $999). The base model features a folding stock, faux-suppressor (though it can be removed and a real one attached) a full-length Picatinny rail for your favorite red dot or other optic, and M-LOK furniture.
The standard model has a 16.2-inch barrel, but a pistol model with an 7.75-inch barrel is available too, though sans stock (or it would need to be classified as an SBR). The Scorpion is notable for having ambidextrous controls, and the charging handle can be swapped to either side as needed.
If you don't mind dumping a bit more cash into the venture, there are some excellent up-market examples.
The semi-auto KRISS Vector system pistol-caliber carbines are based on their similar submachine gun models. The Vector features a 16- to 18-inch barrel, depending on the model, and are equipped with fixed or adjustable AR-15 stock. The safety switch is ambidextrous, though the charging handle is not. The Vector features a 13-inch Picatinny rail on the top of the receiver for use with the optics of your choice or iron sights if you choose.
They accept KRISS AND GLOCK magazines as well, so that's a bonus. If you want to add a 33-round GLOCK magazine, you totally can.
However, it has a party piece, in that the Vector can be used with conversion kits. Since the barrel is part of the lower receiver, you can swap out the 9mm lower for any other caliber you want, including .45 ACP, .40 S&W, .357 Sig and 10mm. That would make it tactical AND practical! MSRP is around $1500 for entry level models.
Another up-market pistol caliber carbine is the SIG SAUER MPX PCC, an AR-style carbine in 9mm. It has a lot of the features you'd expect; ambi controls, adjustable folding stock, a floating M-LOK handguard, fully railed receiver, single-stage Timney trigger and a recoil compensator on a 16-in barrel. It's great for 3-gun, plinker or as a home defense gun. Basically, it's an AR-15 in 9mm, ready for optics and for a workout on the range.
It's not inexpensive. Expect to pay $1600+.
Speaking of German brands that cost a pretty penny, an interesting gun you might find on the used market is the H&K USC in .45 ACP. Unfortunately, it was discontinued in 2013 so you'll have to find a previously owned model, but it still makes a great home defense gun or big-bore plinker.
Barrel length is 16 inches and its simple blowback operating system and iron-tough components make it an investment-grade piece. Treat it right, and it runs for life.
If you'd rather have something simple, reliable but also cost-effective, there are some great options out there.
The KelTec SUB2000 is a good, affordable choice, available in 9mm and .40 S&W. The SUB2000 can be folded for easy storage or transport, and has some decent features for a carbine that costs only $500 in MSRP. A railed M-LOK handgaurd, a telescoping stock and a 16.25-inch barrel make for easy shooting, and it takes a wide variety of popular pistol magazines.
The Beretta CX4 Storm, with an MSRP of $699, uses Beretta double-stack magazines so capacity isn't terrifically limited. The PX4 Storm has swappable controls, so it can be run by right- or left-handed shooters. A railed receiver if you want an optic is there, along with iron sights and a cold-hammer forged 16.6-inch barrel. You can choose models made for use with PX4, 8000 or 90-series magazines, in .40 S&W, 9mm or – more rarely – in 9x21mm IMI.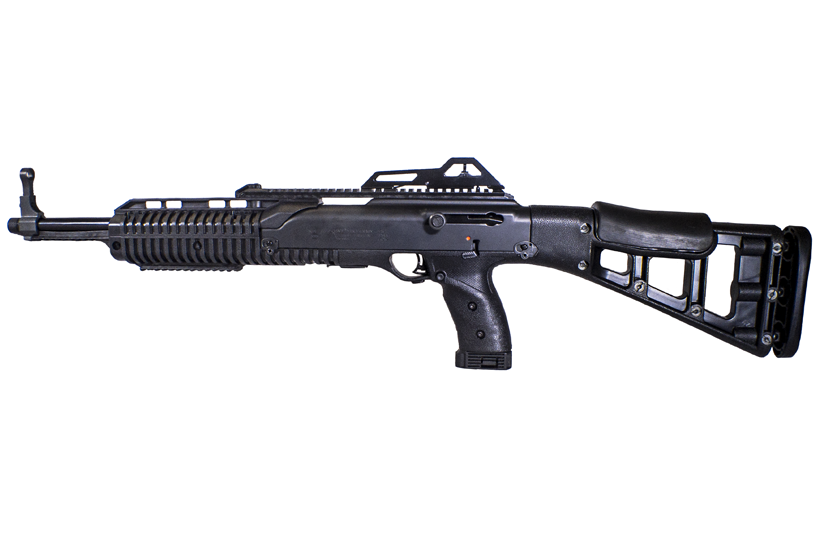 Say what you want, but Hi Point makes reliablemcarbines, in 9mm, .40, .45 ACP, oddly enough .380 ACP, and 10mm. They're inexpensive, with MSRPs coming in under $400 in some models. Along with a railed receiver and included adjustable sights, you also get an adjustable stock and some choices of finish including camo patterns. Again, say what you want, but a lot of owners report that they're tanks that go bang every time.
Then again, some people like something a little different. Something classic. Solid. Some want the feel of walnut and blued steel, and as it happens, a few different companies still produce the venerable M1 Carbine.
Best-known among them is AutoOrdnance. These semi-automatic carbines still shoot .30 Carbine rounds, basically a hot 7.62mm pistol round, and are a proven implement of personal defense at close range. You get iron sights, an 18-inch barrel, a 15-round magazine and not much else.
It's an elegant weapon for a more civilized age. Bare-bones models start around $1,000, and you better learn how to keep it greased (along with a good supply of magazine springs) to get the most out of it. With that said, it's still an American Classic.
Any additional models you felt were left off the list? Angry that I spoiled "Game Of Thrones" by telling you that Jon Sn…just kidding! Sound off in the comments!