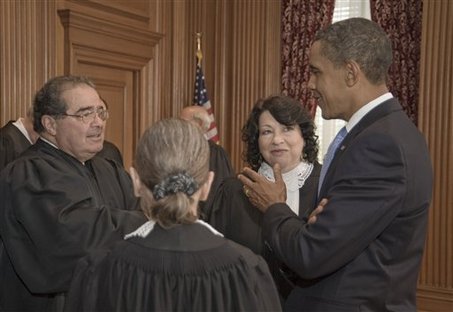 Justice Antonin Scalia may have gone on to his reward, but his judicial philosophy has only become more powerful here in the mortal realm. Don't believe me? President Obama — of all people — appears to have endorsed Justice Scalia's judicial philosophy of original intent for interpreting the U.S. Constitution. Just yesterday . . .
he stunned this political observer by referring to the "clear," plain language and original intent behind the wording in the U.S. Constitution. Mark Landler and Jennifer Steinhauer, reporting for the New York Times on Tuesday, had the story:
"The Constitution is pretty clear about what is supposed to happen now," Mr. Obama said during a news conference after a meeting in California with…[Southeast Asian] leaders. He said that the Constitution demanded that a president nominate someone for the court and that the Senate either confirms or rejects. "There's no unwritten law that says it can only be done on off years," Mr. Obama said. "That's not in the constitutional text."
I, for one, welcome President Obama to this brave new world (for him, anyway) of Constitutional interpretation, and applaud the philosophical growth and maturity that he is showing. By adopting the philosophy that the original intent behind the plain language of the Constitution is of utmost importance in deciding the meaning of those words, he has put himself squarely along side the late Justice Scalia, along with Justice Clarence Thomas.
He has taken the first step into a wider world, and (one can only hope) soon see the logical beauty of the judicial analysis behind such recent court decisions as D.C. v. Heller, in which the majority opinion authored by the late Justice Scalia relied on an originalist interpretation of the plain text of the Constitution to hold that the Second Amendment to the U.S. Constitution protected an individual right to keep and bear arms.
At the time, the President indicated that he disagreed with the decision, but I am confident that his own intellectual integrity will lead him to endorse the decision, for consistency's sake.
It will also be interesting to see what kinds of nominees the president will come up with to fill the new vacancy on the court. I am sure that the Federalist Society can promulgate a list of hard-hitting legal minds that follow the originalism (or possibly just pure textualism) that Obama has now endorsed.
Or: perhaps the President is just an intellectual fraud and unprincipled Nixon-style politician who latches on to whatever argument his speechwriters throw at him to justify whatever increases his own political power.
I'm sure it's one of those two options.