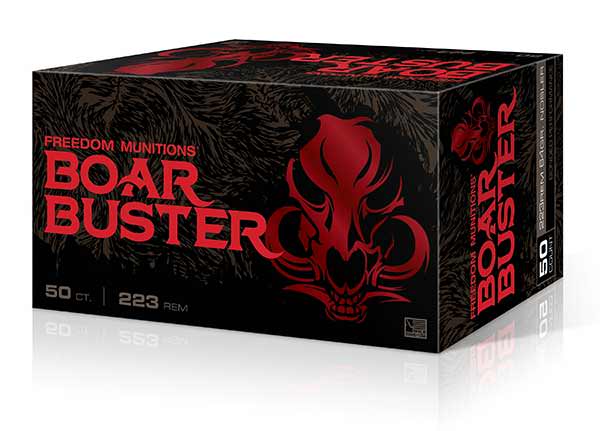 Press release [via ammoland.com]
Lewiston, ID – Freedom Munitions – America's largest direct-to-consumer manufacturer of ammunition– announces the immediate release of their first line of hunting ammunition, Boar Buster. As with all of Freedom Munitions' offerings, Boar Buster is proudly made in Lewiston, Idaho, USA. Freedom Munitions' Boar Buster ammunition was designed for flawless function and performance when hunting with modern sporting rifles. Utilizing only . . .
the most dependable primers, brass cases and Vihtavuori powder, Boar Buster features a Nosler Bonded Performance bullet making it one of the most lethal combinations against feral hogs, bears and other animals with thick hides and strong bones.
The Bonded Performance bullet has been designed for reliable feeding, controlled expansion, weight retention and deep penetration. Unlike other bullets that are designed to be frangible, the Bonded Performance bullet is designed to stay intact and create a more devastating temporary and permanent wound cavity.
"We developed Boar Buster because we saw a need in the market for a modern sporting rifle specific hunting load ammunition that feeds reliably and achieves the deadly performance that is needed to stop a boar in its tracks." Stated B.J. Norris, Marketing Manager. "Freedom Munitions decided that our customers' ammunition should actually do what the box says it can do."
Featuring a copper plated, lead bonded projectile, Boar Buster ensures prevention of core-jacket separation.
"The jacket and core of the bullet are chemically bonded together which creates a consistent mushrooming effect that is ideal for penetrating thick hides and crushing bones." Said Jansen Jones, Vice President of Sales & Marketing for Freedom Munitions.
Initial offerings will be a 64 grain 223 Remington and 168 grain 308 Winchester. For pricing and to purchase Freedom Munitions' Boar Buster Ammunition, visit www.FreedomMunitions.com.
Freedom Munitions is dedicated to producing high quality, reliable and affordable ammunition. Freedom Munitions is a division of Howell Munitions & Technology which specializes in the development of ammunition, components, loading machinery and Original Equipment Manufacturer production. Using state of the art processes developed in Lewiston, Idaho, Howell Munitions & Technology and its brands achieve success by a commitment to quality, personalized service and a dedication that is unmatched in the shooting industry. For more information, visit www.FreedomMunitions.com.