It was only a couple of decades ago that crossing state lines left most law abiding people effectively disarmed. That began to change as "shall issue" concealed carry reforms swept through the country. I particularly remember how criminals were targeting drivers of rental cars in Florida because they could be fairly certain that the people behind the wheel were from out of state, and thus effectively disarmed . . .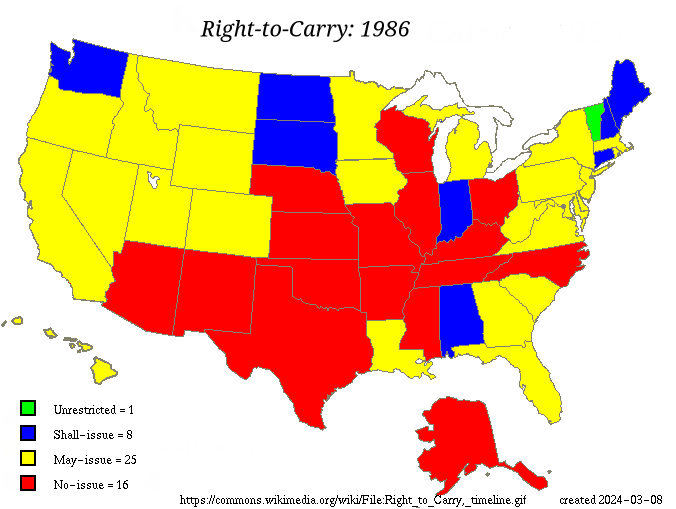 Florida responded by changing their law to allow for interstate reciprocity, and to enable non-residents to obtain Florida concealed carry permits. Florida permits are now one of the most popular for those who wish to obtain an out-of-state permit. Oh, and the state stopped giving rental cars a distinctive license plate. Both steps resulted in a drop in visitor victimization.
Most other states followed Florida's lead. Now a majority of states recognize permits from many, if not a majority of other states. There are still a few states that heavily restrict a citizen's right to defend himself. They are mostly concentrated on the coasts; California, Hawaii, and that cluster of  northeastern seaboard states; New York, New Jersey, Massachusetts, Delaware, Maryland, Connecticut and the District of Columbia.
Other states still have varying restrictions on reciprocity, but the pressures are building for a national recognition of the right to carry. Such a bill has the votes House and likely the Senate, but has been thwarted by Harry Reid, Senate Majority leader, and the current administration. Should Republicans take the Senate in November and then the White House in 2016, a national reciprocity bill could well make it to the President's desk for his or her signature.
There are some in the gun community who do not welcome the idea, claiming that it would affect states' ability to control their own gun laws, setting the stage for [more] national gun control. You?
©2014 by Dean Weingarten: Permission to share is granted when this notice is included.
Gun Watch