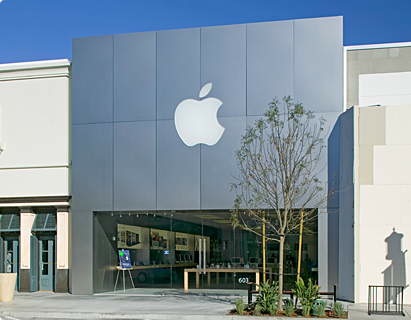 I'm a recent convert to All Things Mac. From the PR emanating out of Cupertino, you might think that Macficiandoes are all sunshine, sweetness and light, who all join hands for the morning groupthink and Shambala sing-along. Um…not so much. Perception, meet (a nasty dose of) reality, at least in San Diego. The NBC affiliate reports that one robber is dead and two are under arrest at the Apple Store at Otay Ranch Town Center after an early morning smash-n-grab went awry.
Seems Apple is serious about security, and not just on the Interwebz. Security guards at Apple stores carry real guns, and apparently know how to use them. One would-be robber was shot dead, and the other two were apprehended near the scene by police. The botched robbery occurred just before the store opened this morning. The store manager was already at work when three suspects smashed the glass doors at the front of the store and were confronted by the store's security guard. The guard began firing when one of the suspects produced a handgun.
Also of interest: apparently, over 40 rounds were exchanged by the robbers and the security guard. No info (yet) on how many came from the security guard's gun, nor how many of the three perps were armed.
Of course, any time you have brick-n-mortar commerce, the risk of robbery exists. And I'm happy that Apple elects to defend their stores and not just roll over and take it like so many retail operations do nowadays. And it's a measure of how much Apple products are worth on the five-finger-discount market. But it will be interesting to see the reaction of the press to what happened today at one of the stores run by a company that is so closely aligned with the values of the touchy-feely crowd.
As a parenthetical note of interest, this entire post was written and posted from my iPad 2.