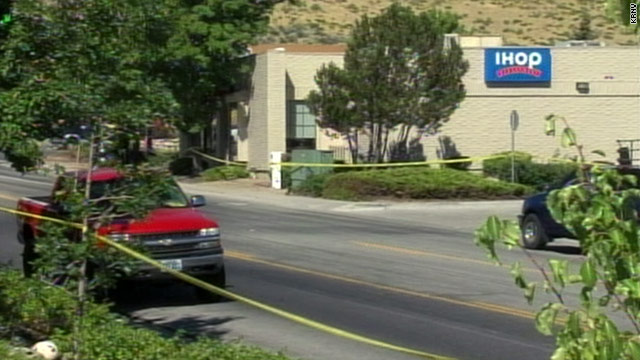 This just in, another nut-case with a gun has unleashed a flurry of bullets, this time in Carson City, Nevada. From CNN.com:
Seven people were shot after a man walked up to an IHOP in Carson City, Nevada, and shot a man on a motorcycle before walking inside the restaurant and opening fire, The Reno Gazette-Journal is reporting.

The owner of a store in the same shopping mall told the newspaper that he saw a man wearing a red shirt and black shorts pull up to the store in his blue minivan, take out a rifle and shoot a man on a motorcycle. The man then walked into the IHOP and began firing, the owner, Ralph Swagler, told the Gazette-Journal.

After shooting inside the IHOP, Swagler told the paper that the shooter then turned his gun to his store and began firing. He then pointed toward an H&R Block in the same mall and shot again.
We don't know much more than this at present. Some reports indicate that law enforcement took the shooter out, apparently mortally wounding him. Other reports indicate that two of the victims were members of the U.S. Military, although there is no speculation as of yet if there is any connection between the military and any motive the shooter might have had.
More details, as soon as we get 'em.