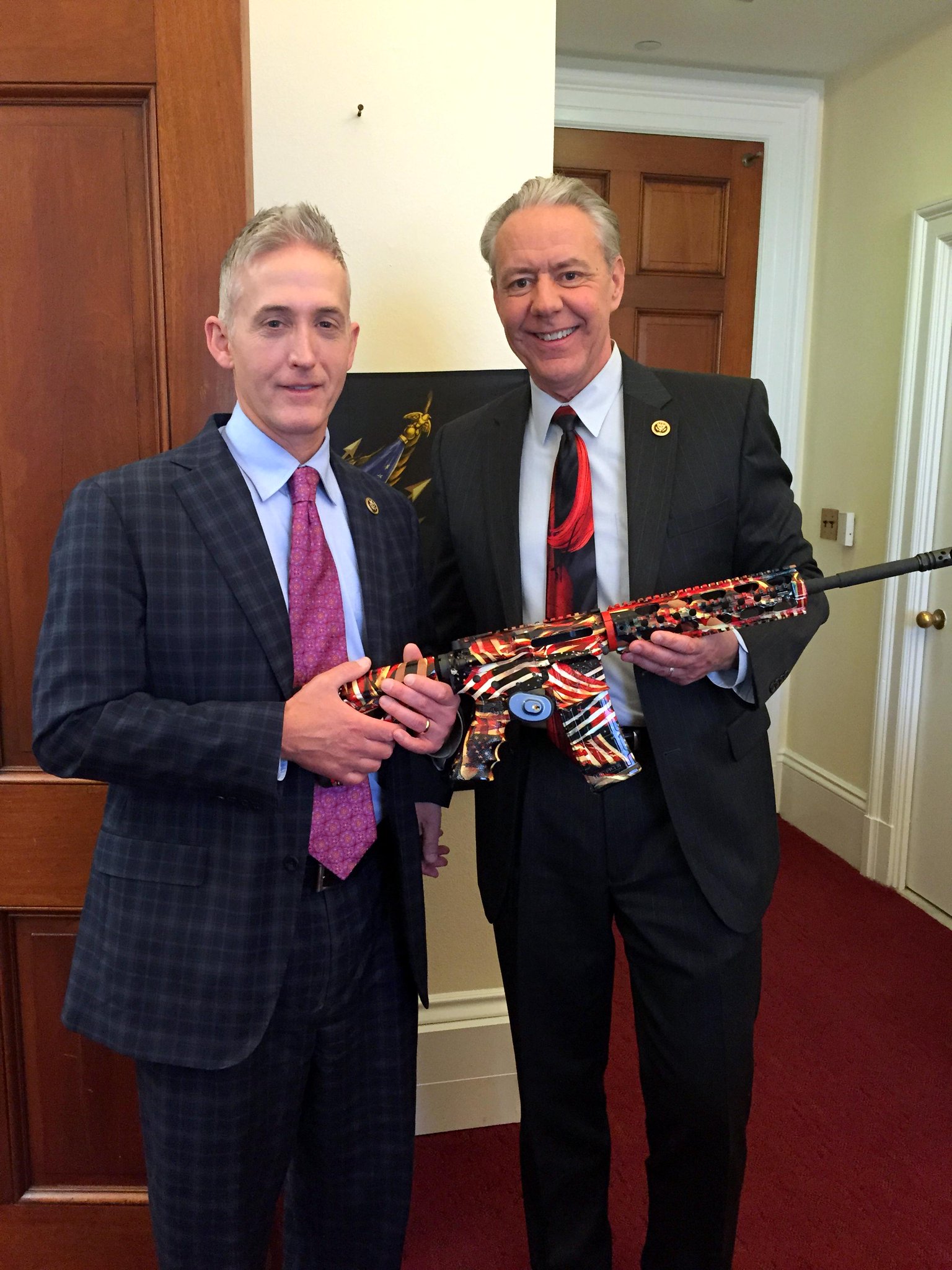 Washington, DC police have announced that a Congressman who posted a photo of himself with what appears to be a colorfully-painted AR-15 outside his office didn't actually break any laws, reports HuffPo. Apparently, the DC city attorney general leaped into action when Rep. Ken Buck (R-Colo.) posted a photograph on Twitter posing with the scary rifle along with fellow Rep. Trey Gowdy (R-S.C.) and "referred the matter to the Metropolitan Police Department for further investigation." The District, naturally, bans certain rifles based on purely on aesthetics and the rifle in the photo sure looks like one that might have been covered under DC law . . .
As part of their investigation, the boys at Metro apparently started their investigation by, well, punting it over to the Capitol Police, since challenging sitting Congresscritters is probably a good way to end careers at DC Metro. The Capitol Coppers immediately launched their investigation by…well, reading their own regulations, I guess.
"[Capitol Police Board] regulations … specifically provide that members of Congress may maintain firearms within the confines of their office and they and any employee or agent of any member of Congress may transport within the Capitol grounds firearms unloaded and securely wrapped," Lieutenant Kimberly Schneider said.
Indeed, 40 USC sec. 5104(e) states:
(A) except as authorized by regulations prescribed by the Capitol Police Board—
(i) may not carry on or have readily accessible to any individual on the Grounds or in any of the Capitol Buildings a firearm, a dangerous weapon, explosives, or an incendiary device; (emphasis added.)
A quick internet search revealed the Capitol Police Traffic Regulations for the United States Capitol Grounds, which refers questions related to firearms to "Appendix J". Appendix J is, unhelpfully, not included in the book, so if anyone knows where that might be found, please let me know in the comments.
I know some of our astute readers will immediately make the analogy to the case of David Gregory, who flagrantly violated DC's magazine ban in furtherance of a gun control agenda, but this just isn't the case. The Capitol Police are at least making reference to some sort of written exemption for a special privileged class of individuals; the David Gregory rule appears to be an unwritten bit of arbitrarily-applied law that states that anyone who is powerful, popular, wealthy, beautiful, or politically connected to the same can break byzantine and incomprehensible firearms laws with impunity.
In any event, Representatives Buck and Gowdy apparently won't have to worry about spending any time in the DC klink for this. Good for them. Now, if only the rest of Americans enjoyed the same rights as their elected representatives.
DISCLAIMER: The above is an opinion piece; it is not legal advice, nor does it create an attorney-client relationship in any sense. If you need legal advice on this subject, you are strongly urged to hire and consult your own counsel. This post is entirely my own, and does not represent the positions, opinions, or strategies of my firm or clients. Especially the bit about the "David Gregory Rule" – that was pure satire, folks. Don't cite that one in court.