Joseph asks:
I recently purchased my first handgun (an S&W M&P45 full size) and wanted to participate in the monthly Combat Shoot/Steel match at the local Fish and Game range. However, I need a holster but I don't know what kind would be best to use. What do you recommend?
Why does it seem like I can't open my mailbox these days without seeing a new question sitting there that I know for sure will get me into trouble with some portion of the firearms community? Oh well, here we go…
Let me preface this by saying that I'm not going to recommend any "race" holsters. If you want to trade off some safety for speed go ahead, but you do it at your own risk. I don't use a race holster and unless you're in the top 5-10% of shooters at your event you won't really see any benefit from one.
When you're looking for a holster for competition use there are a number of factors that you need to consider. The first one is that whatever holster you choose needs to COMPLETELY COVER THE TRIGGER AND TRIGGER GUARD in order to be legal in most competitions. There are some holsters that ONLY cover the trigger and triggerguard (the aforementioned "race" holsters) which are legal but still unsafe in my opinion, especially for newer shooters.
Retention is the biggest concern. The holster needs to keep the gun from falling out even under the most strenuous conditions, like jumping over obstacles or during a sprint from one station to the next. I realize that in steel challenge the gun won't actually be in the holster very long, but a dropped gun or one that falls out of a holster is usually an instant match disqualification even if you're not the one playing at the time. I've known loose holsters to be the cause of a number of unhappy trips home even among the top competitors, and it seems dumb to gamble your whole day on using something that doesn't have active retention.
Active retention means that a physical device of some sort is holding your gun in the holster, and no matter how hard you try you won't be able to pull it straight out. Disabling the retention depends on the model of holster, and there are definitely some that do it faster than others and safer than others, but it's usually accomplished by pressing a button conveniently located near somewhere your fingers already naturally go.
Speed is second (or third, whatever) on my list. You need to get the gun out of the holster quickly, and that means an outside the waistband kydex (or similar plastic) holster. A rigid plastic holster will keep the gun exactly where you expect it to be, and an outside the waistband approach means that you can get your whole hand on the gun easier than if you needed to move some of your squishy flesh out of the way. A stiff leather holster may be able to do the job, but in my opinion plastic is the way to go here.
So what specific holster do I recommend?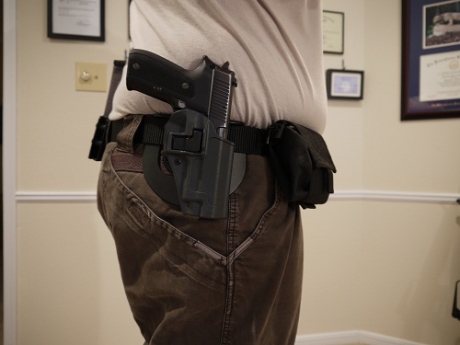 I used to be a huge fan of the Blackhawk SERPA style holster. It's a well made kydex holster that uses active retention and has a seemingly obvious means to defeat the active retention — you hit a button positioned where your index finger would be when you draw the gun. However there are issues with the design of this system, issues which have caused multiple people to accidental pull the trigger and discharge their weapon in an unsafe manner. I refused to believe it myself until a former special forces soldier did it on the practice range right next to my foot, and after that I vowed to never use one again.
This is my current favorite for "best competition holster" — the Safariland ALS holster. It provides a solid active retention system that is easily defeated by an intuitive mechanism, with the control placed right next to your thumb. It has worked for me for nearly a year now, and while it does take some getting used to I've grown to like it.
That's my opinion on the matter: active retention kydex or plastic outside the waistband holster.
Admittedly, in Steel Challenge the handgun won't be in the holster very long, but I believe in using the same gear in every competition style so I wanted to recommend a holster that would be great for every style of competition. Heck, it would even work in IDPA if you conceal it correctly.
[Email your firearms-related questions to "Ask Foghorn" via [email protected]. Click here to browse previous posts]