There's been some discussion about "offset iron sights" on a gun and why they're useful, so I figured that while I'm stuck on this airplane heading to Las Vegas for SHOT 2012 I may as well explain it to you lot. And for once it has almost nothing to do with "tactical" shooting done by "operators" who are "downrange" in the "sandbox" and instead comes from cheaters like me looking to gain that extra second worth of advantage in competition.
Always cheat, always win — the only fair fight is the one you lose.
Unmagnified optics, like an EOTech or an Aimpoint Micro or even a pair of regular iron sights, are perfect for close range shots. Their lack of magnification means the shooter is more aware of their surroundings (instead of being "pulled into the scope" and losing situational awareness) and transitioning from target to target is much easier. And while they may not have pinpoint precision accuracy they're good enough to get the job done.
Magnified optics, such as a telescopic sight, provide exceptional accuracy at distance. Steel plates at 600 yards are no problem for those with some glass on their gun, and when a precision shot is required there's no substitute for a finely tuned and well zeroed scope.
The issue is that in competition shooting, for the more popular divisions you need to choose one magnified or electronic optic as your primary optic and that's it — no piggyback red dots or even laser sights are allowed. The loophole through which we competition shooters regularly drive our trucks is that iron sights (which are unmagnified and unpowered) don't count. So, in theory, you can have as many as you want on your gun without penalty.
The benefit to offset iron sights comes when you have a "high power" scope on your gun.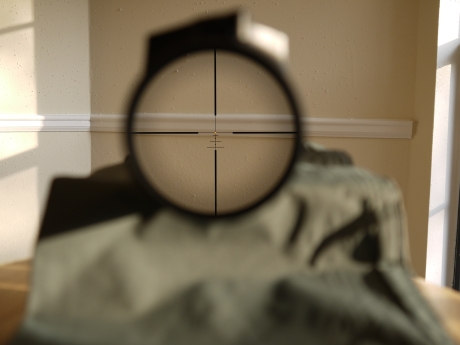 Some variable power telescopic sights (like this Swarovski I reviewed) are manufactured to be able to have the magnification essentially turned off and let the sight work as if it were a red dot. However, the low minimum magnification limits how high the maximum magnification can be, so you end up in the 4-5x range as your maximum magnification.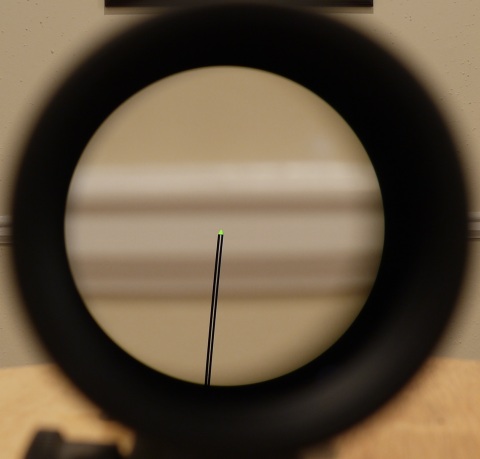 Higher power scopes can go anywhere from 9x (like my Accupoint) to 25x, giving the shooter a distinct advantage with long distance targets. However, unlike the Swarovski these scopes can't go all the way down to 1x. My Accupoint only goes down to 3x, which is enough magnification to make transitioning from target to target just a tad slower.
The solution to needing the ability to reach out and ping long distance steel while still being able to "BUST 'EM" all over the close distance targets is offset iron sights. Offset irons allow you to use a high power scope as your "primary" optic while still being useful for short range targets.
This video (now close to 2 years old) shows my first adventure with offset iron sights and nicely illustrates their usage. Instead of having to remove your optic or reconfigure your rifle, offset irons gives you the ability to simply rotate the gun about 45 degrees to one side and then run the gun the exact same way you would if you were using the primary optic. The controls and the trajectory remain the same, and as long as you've properly zeroed the iron sights in the new position your shots will be just as accurate as if they were mounted up top.
Here's a better video that illustrates the real power behind offset irons (start at 1:45 and ignore me dropping my magazines by accident). On a variable zoom scope with a 1x setting you would need to manually operate the controls on the scope to bring it down to 1x or live with the higher power setting when going for the four close targets behind the barricade, costing you time or possibly throwing your shots off target. With offset irons all you need to do is quickly rotate the gun 45 degrees and you have a pair of iron sights ready to go, no messing around with controls.
Especially on stages that require precision shots (like the above stage, where the distance targets had an "A" zone about 1 inch square) followed immediately by "rapid" shots the ability to quickly transition between a magnified optic and an unmagnified optic can mean gaining back precious seconds against the competition.
Offset iron sights give the shooter the option to have a high powered scope and a set of iron sights simultaneously available and gives them the ability to switch between the two almost instantly without changing the ergonomics of the firearm or altering the trajectory. For those who fancy themselves precision shooters and live for the distance shots yet still want to be able to post a competitive score offset iron sights offer a cheap option that keeps them in their current division but still lets them have that leg up over the other competitors.
Whether or not you need offset iron sights is up to you. Frankly I've been so impressed with my .300 BLK red dot powered AR-15 build, a rifle which has no magnified optics and so requires no offset iron sights, that I'm going to try running that for a while and let my Pretty Princess competition rifle enjoy some time as a safe queen. But on a scoped rifle it really does make a lot of sense.
If you have a topic you want to see covered in a future "Ask Foghorn" segment, email [email protected].
To browse previous Ask Foghorn segments visit http://www.thetruthaboutguns.com/category/askfoghorn/.